NOTE: This article covers the first-time setup under the Bark Premium subscription plan.
Bark is an award-winning technology solution created by parents, for parents to offer a better, easier, and more effective way to keep children safer online.
In this article, you'll discover how to get started with Bark, how to access our community resources and support team, and how to be on your way toward keeping your child safe online. 
Setup Checklist 
Things to Know
Bark offers layered protection. This means we have different levels of coverage for your child's devices (think phone, tablet), accounts (think Gmail, Instagram), and shared devices (think Xbox, home computer). 
We recommend first setting up the devices that your child has access to, followed by connecting their personal accounts and shared devices.
When it comes to monitoring:  
You OR your child can connect accounts for monitoring.
We'll let you know what is needed to monitor a particular platform or device (like account passwords, a computer, etc). Every platform we monitor is a little bit different in design, so how Bark is able to monitor each one is unique to what those app developers have allowed. We have worked to have the most comprehensive coverage allowed in the industry. 
1. Set up Bark Parent/Guardian Account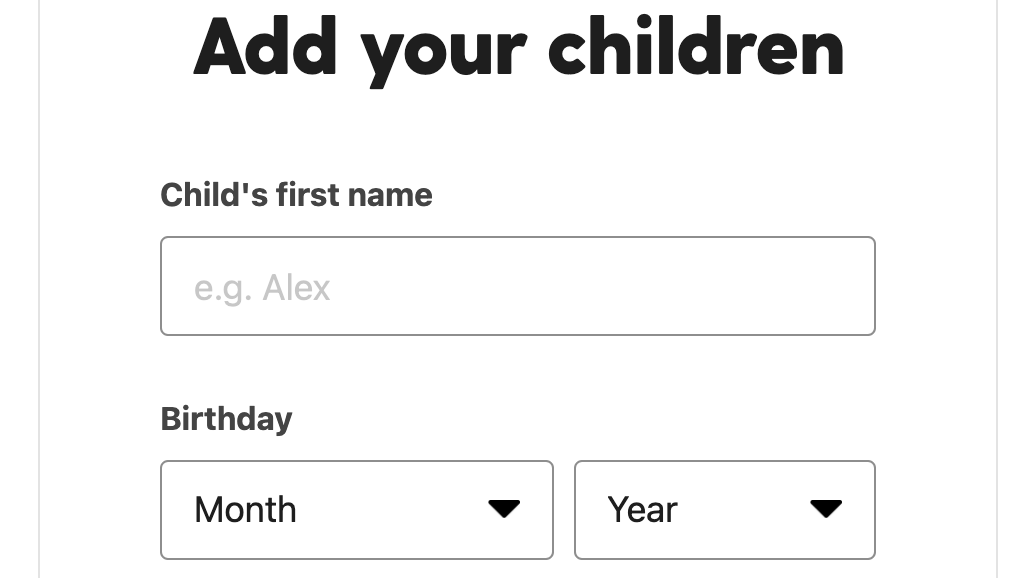 Select the email, social media, and device(s) that you know your children use.
Bark monitors over 30+ different platforms for potential problems. Don't see a particular platform? Don't worry, you can still block or schedule access to millions of apps and sites later.

Add your payment information.
Payment information from a parent/guardian is required by the Children's Online Privacy Protection Act (COPPA) to give Bark consent to monitor your children's accounts and devices. You will not be billed until the end of your trial. You can change your plan or cancel at any time!
Enable screen time and web filtering by installing the app for kids and teens on their devices. Follow our guides below to get them set up!
For the Bark Phone™️: Open the Bark for Kids app on the child's device.
Review first-time setup instructions.


For Other Androids: Install the Bark for Kids app  on the child's device.
Download from bark.us/android (not the Google Play app store).

For iOS: Install the Bark Kids app  on the child's device.
Download from the Apple App Store. 


For Chromebook: Install the Bark for Chromebooks app on the child's laptop.


Download from the

Google Play Store.


For any other device: You'll need the Bark Home to be able to filter other devices, like gaming consoles, computers, and Smart TVs. Learn more about the Bark Home™️.
You can manage your child's screen time schedule and web filtering rules at any time from your dashboard on the app or site. Below we include some quick tips to get you started on scheduling routines!
Schedule Routines

Default rules: The default app and web filters when another rule isn't currently applied. Make sure to customize this one!
Bedtime: Limit device usage when it's time for lights out and customize what kids can access during that time.
School time: Limit what can be accessed during the school day. 
Free time: Dedicated time to use devices just for fun and customize what they can access during their fun time.

Customize the Rules

When you customize each routine's rules, you have the option to allow or block whole categories (think Social Media) or particular apps (think Snapchat).

Our categories cover millions of apps and sites, so if you don't see an app listed, chances are it's covered under a category like Games or Social Media.

You can also input specific sites and apps as exceptions.

After making changes, please allow a few minutes for your rules to take effect. Restart the child's device and clear their browser cache to speed that along.
4. Enable Monitoring on Their Devices
Androids and the Bark Phone:
You have already installed and configured the Bark for Kids app in a previous step!

iOS: Install the Bark Desktop App  on a home computer or laptop.
Download from bark.us/ios

(not the Mac App Store)

.



Amazon Fire: Install the Bark for Kids app  on the child's tablet.
Download from the Amazon App Store.


Computer: Install the Bark extensions  on the child's Chrome or Edge browser.
Download from the Chrome Web Store or Edge Add-ons site. 


5. Connect Accounts for Additional Monitoring Coverage
Choose how you'd like to get connected.
Select the child's account that you'd like to connect.

Enter the child's login credentials for the account.

You may get a prompt asking you if you're sure. If applicable, you will click Allow, as seen in the example below:
(Don't worry if you forgot to connect an account, you'll be able to add the new account later!)
6. Set Alert Notification Settings
Add emails to receive alerts (can include partner, spouse, or family member's emails).
Add a US phone number if you'd like to receive text notifications for alerts.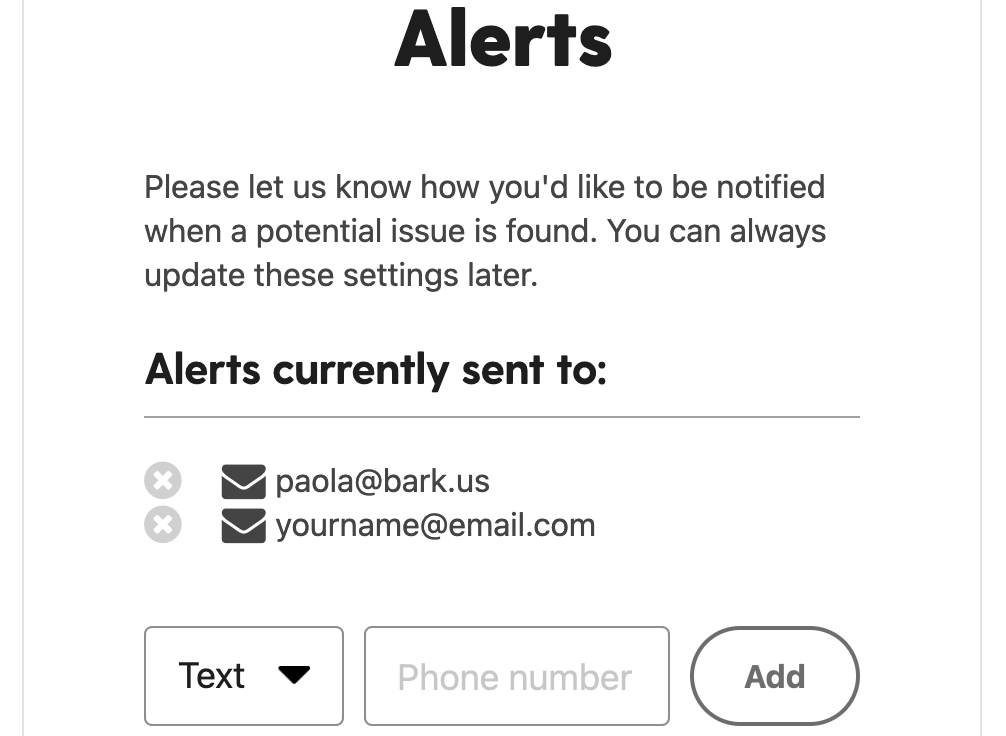 7. Download the Parent/Guardian App
You did it! You got through the first-time setup! You can add or remove accounts whenever you like at no additional cost. 
Next Steps:
Want to add additional devices and accounts to Bark for free?
Considering a new phone for your child?
Check out the Bark Phone™️! With Bark's Premium features built into the phone and the ability for it to grow with your child, it provides the coverage parents and kids have been looking for. 
Want to filter any in-home device?
Consider the Bark Home™️ device as an add-on to your family's safety tools. Bark Home is a small piece of hardware that you connect to your home Wi-Fi router. Once activated, it allows you to apply web filtering and screen time rules to any internet device in your home (not just iOS and Android devices!).
Need help or have additional questions?
We are happy to assist! Reach out to Bark Support, and we'll help every step of the way.