We built Bark to help families work with their children to stay safe online, and we are excited to provide that service for you and your family!
This article is applicable to customers whose subscription plan includes content monitoring, like Bark Premium. If you do not already have a subscription plan that includes content monitoring, upgrade today!
How do notifications work?
We will

ONLY

alert you if there's a

potential issue

like a risky application, bullying, depression, etc. in your child's devices and accounts.

Learn more about what makes Bark different here. You can also adjust alert sensitivity settings for each child.
We do not send a notification of every single blocked website or app (for your sanity!), just the ones that may require your attention, like blocked Sexual Content websites/apps.
You can add additional emails and phone numbers (like those of a spouse) so that they also receive alerts on your children's monitored activities.
You can keep track of alerts, accounts, devices, and rules for your children from this

dashboard. This dashboard is accessible via bark.us on any device or via the Bark parent/guardian app.
Are there any additional communications I will receive?
How do I view my Alert Settings?
On a computer
Select the top right dropdown menu > Alert Settings.
On a mobile device
Select ≡ More in the bottom right > Alert Settings.
In Alert Settings, what does each section mean?
Alert Sensitivity
This section refers to the sensitivity of our content monitoring algorithms at surfacing alerts for potential issues. It is broken down by child. You can adjust the sensitivity for your older children to be different from the sensitivity for your younger children, for example. Learn more about adjusting alert sensitivity settings here.

Adding Contacts
This section is where you can add or remove emails and phone numbers that receive alerts. For example, you may add your email, phone number, spouse's email, and spouse's phone number here. (Do not add children's emails or phone numbers here.)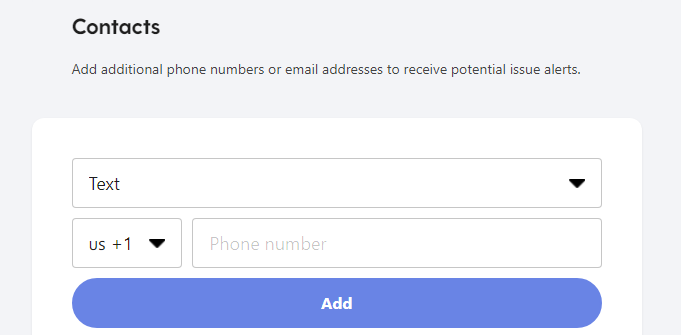 Other Preferences
This section lists other communications preferences, like subscribing or unsubscribing from the Weekly Recap, Conversation Starters, and Family Quizzes.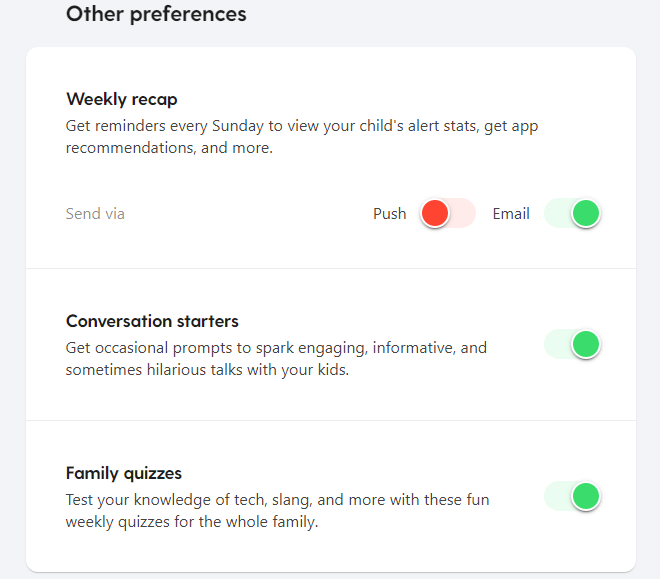 What does an alert look like?
If our system finds something potentially alarming, you and any other notification contacts will receive an email, text, or app alert along with a snippet of the conversation or media for your review, as seen in the example below. We also include recommended tips on how to handle the situation.
Reviewing Alerts via Email
If we detect potential problems, email notification contacts will receive an email notice like this. When they click on Review Alerts, it will take them to the dashboard to see the alert.

Reviewing Alerts via App
If you've downloaded the Bark parent/guardian application on your Android or iOS device, you will receive an app push notification from Bark, allowing you to tap on the notification to take you to the Bark app and see the alert.
Reviewing alerts via text:
If you've set up text notifications, you will receive a text notification from Bark saying...
Bark alert: You have an alert to review for [Your Children].
Please review: [link to alert]
This allows you to tap on the link and be taken to your Bark dashboard to see the alert.
How to Use Your Sorting Filters for Alerts
Whether on a computer or on mobile, you can use the sorting filters at the top of your Alerts page to sort by child, platform, reviewed alerts, unreviewed alerts, and more.
You likely are using two sort filters the most: Needs Review vs. Reviewed
To view the issues that haven't been read yet, make sure Needs Review is checkmarked and that Reviewed is not checkmarked.
To view issues that have already been marked as read, make sure Reviewed is checkmarked and that Needs Review is not checkmarked.
NOTE: If you have another notification contact receiving alerts, they may have reviewed an issue before you did, so you may need to look at the Reviewed issues in that case.
To get more granular with the sort filters, click Show all filters, as seen below: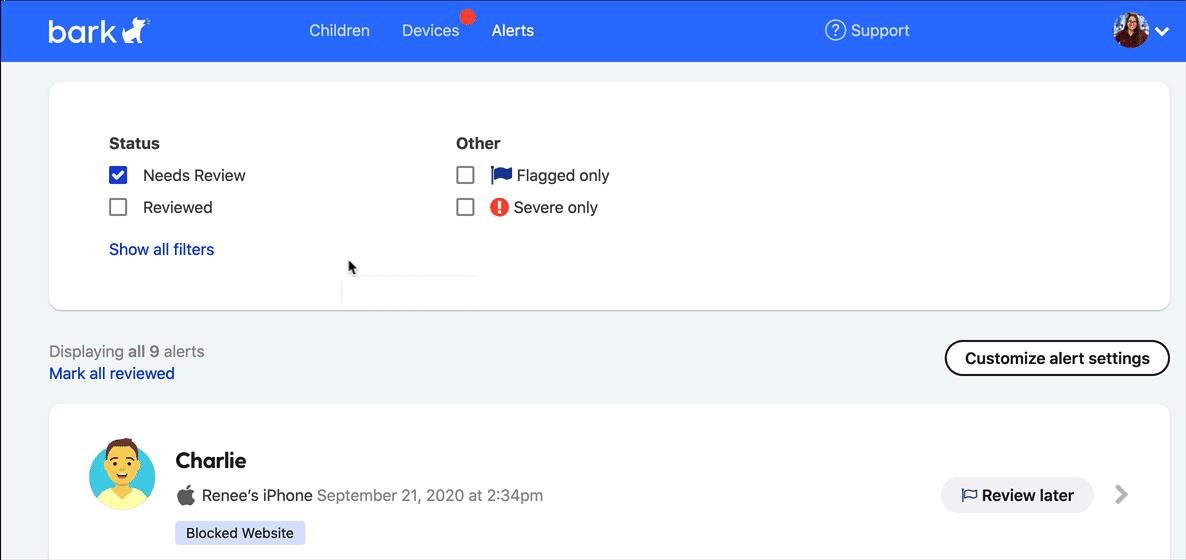 Now, you can sort by the following variables, which you can combine to fit your use-case:
Type: A filter that can be applied to view all issues found for a particular category — such as violence, bullying, and sexual content (this list is not exhaustive).
Children: A filter that can be applied to view all issues found for a particular child.
Accounts: A filter that can be applied to view all issues found on a particular platform, like Android, Twitter, etc.
The flagged only filter refers to a "review later" function within an issue (displayed below). This filter allows you to return to an issue quickly.

The severe filter allows you to target any identified severe issue. A severe issue is an issue that has hit a certain threshold of severity, like threat of immediate physical harm as an example. Severe issues are further identified by a red exclamation mark, as seen in the example below:

Have additional questions about reviewing alerts?
Bark Support is here to help! Please reach out to us.