We built Bark to help families work with their children to stay safe online, and we are excited to provide that service for you and your family!
If you do not already have a subscription plan that includes content monitoring, upgrade today!
A few things to note:
We will ONLY notify you if there's a potential issue like a risky application detected, or cyberbullying, depression, and more in your child's messaging and web browsing. (See more about what makes Bark different here).
We will continue to monitor your child(ren)'s connected email/social media accounts in the background.
You can keep track of how many activities we have analyzed for your child(ren) from this dashboard.
You'll receive a weekly recap email every Sunday covering the online activity of your children along with any categories that had issues during the week, like cyberbullying, sexual content, and more.
What happens when I receive an alert and how does it look?
If our system finds something potentially alarming, you and any other notification contacts will receive an email, text, or app alert along with a snippet of the conversation or media for your review for context.
NOTE: We do not send a notification of every single blocked website (for your sanity!), just the ones that may require your attention, like blocked Sexual Content websites.
Reviewing alerts via email:
You will receive an email notification like this, allowing you to click on Review Alerts to take you to your parent dashboard and see the alert.
NOTE: You will always receive important alert emails even if you have opted out of promotional emails. Ensure your contact information and sensitivity settings are up to date.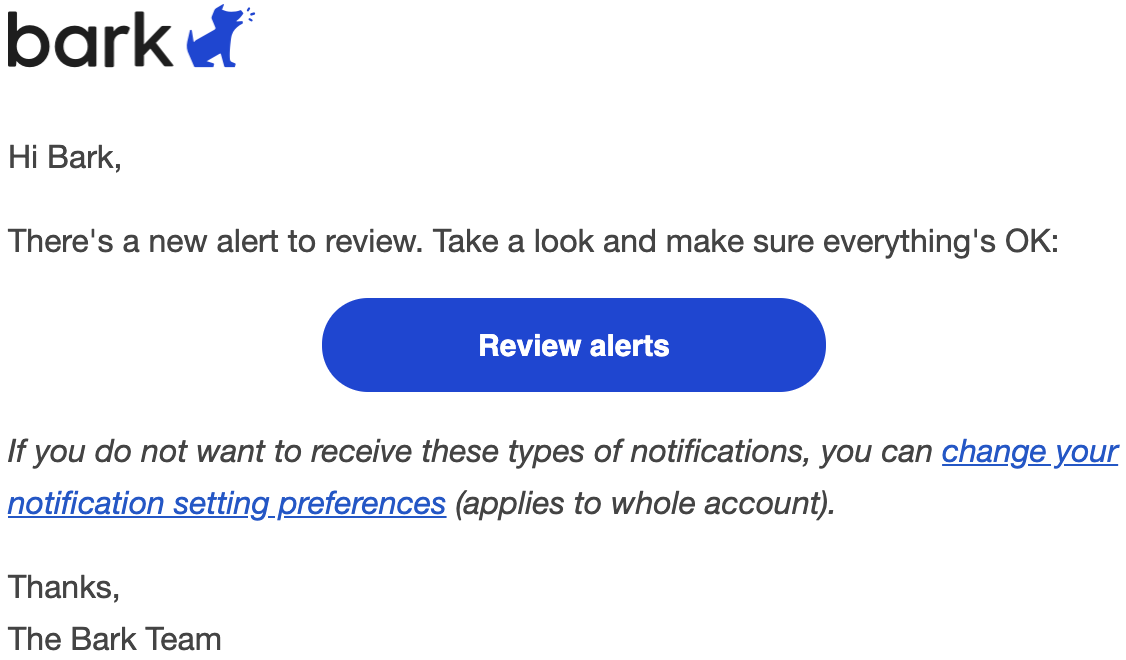 Reviewing alerts via app:
If you've downloaded the Bark parent application on your Android or iOS device, you will receive an app push notification from Bark saying "Potential Problem Detected on Your Child's Accounts," allowing you to tap on the notification to take you to the Bark app and see the alert.
Reviewing alerts via text:
If you've set up text notifications, you will receive a text notification from Bark saying something like:
"Bark alert: We've detected a potential problem with your child's account. 

Please review: [link to alert]"
This allows you to tap on the link and be taken to your Bark parent dashboard to see the alert.
Need additional assistance?
Bark Support is committed to helping every step of the way. Please don't hesitate to reach out to us!