This article is for compatible Android devices. Monitoring Amazon Fire tablets and Chromebooks require different setup steps.
Get Started
Watch this video to learn how to monitor an Android device. If you'd like some additional tips — or if the video doesn't play — follow the step-by-step instructions written below.
STEP 1: Grab hold of your child's Android device.
STEP 2: Open the web browser app, which is most commonly the Chrome app, and type in the following: bark.us/android
STEP 3: Tap on Download on that page, as indicated below in red.

NOTE: If prompted, tap allow on this prompt in order to save the Bark app to your child's Android device, as seen below: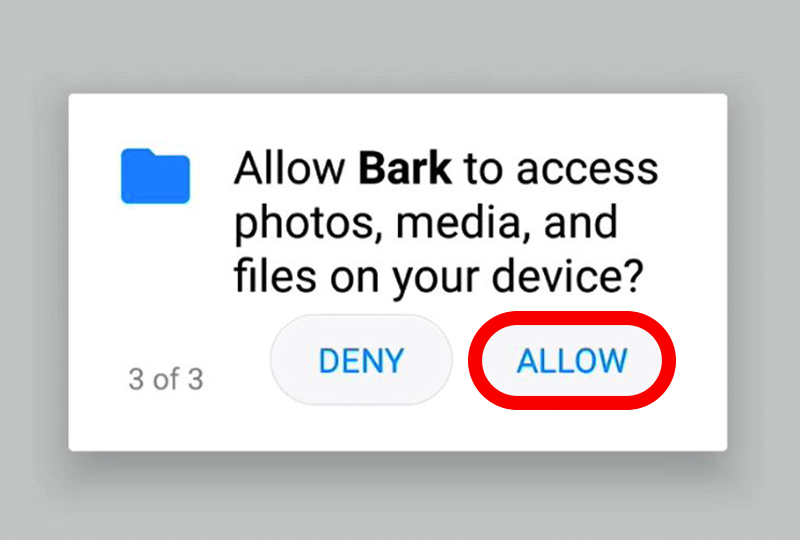 STEP 4: Wait for the download of the app to complete, and then tap Open, as seen below:

NOTE: if you don't see an option to open the bark-for-kids.apk file after the download completes, you can find it in the web browser's Downloads page or a My Files app. An example of Samsung's My Files app is seen below:

STEP 5: Tap Settings to enable Install Unknown Apps or Sources.
After opening or attempting to install the file, a security prompt will likely appear, warning you about installing apps from "unknown sources." Bark is not an unknown source, so don't worry. (What are apps from unknown sources?)
Tap Settings on the prompt below: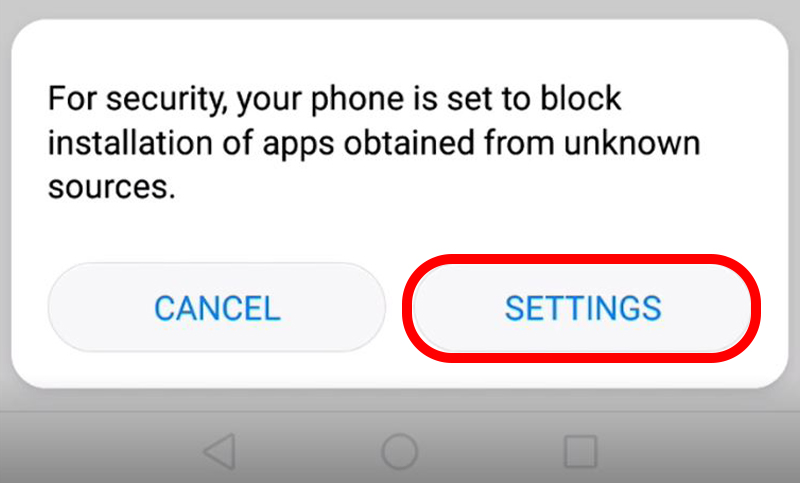 Toggle on Downloads from Unknown Sources (or something similar that contains "Unknown Sources" or "Unknown Apps"), as indicated below:
A Quick Note About Family Link:
Are you using Family Link presently? If so, see here for additional instructions on enabling "Apps from Unknown Sources" from your parent Family Link app.
Don't have Family Link and want to learn more? Click here for information on this free tool.
NOTE: The following is an example of the Unknown Sources option under Android Settings. If you're having trouble finding the setting on your child's device, we recommend just searching for "unknown" in your child's Android Settings app and look for "Install unknown apps," as seen below:

After enabling Apps from Unknown Sources on your child's device (and if applicable, on your Family Link parent app), select the back navigation button to continue with the installation of the Bark for Kids app.

Open the bark-for-Kids.apk file again, and now you should be able to tap Install.
STEP 6: Open the Bark for Kids app.
Look for the Bark for Kids app on the device's home screen or App Drawer with this icon:
STEP 7: Enter your parent credentials and tap Get Started.
STEP 8: Follow the on-screen instructions to allow permissions.
You will see several screens that will ask for permission to monitor your child's device.
Select the child's name that uses this Android device or select Add Another Child to add a new child to your Bark account.
Select Connect on the first prompt.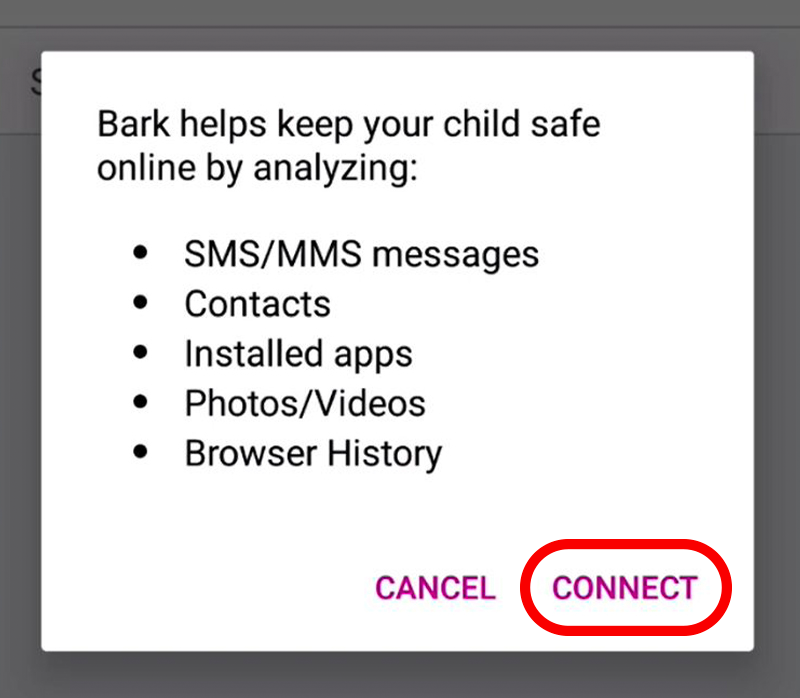 Tap Allow on the following few prompts.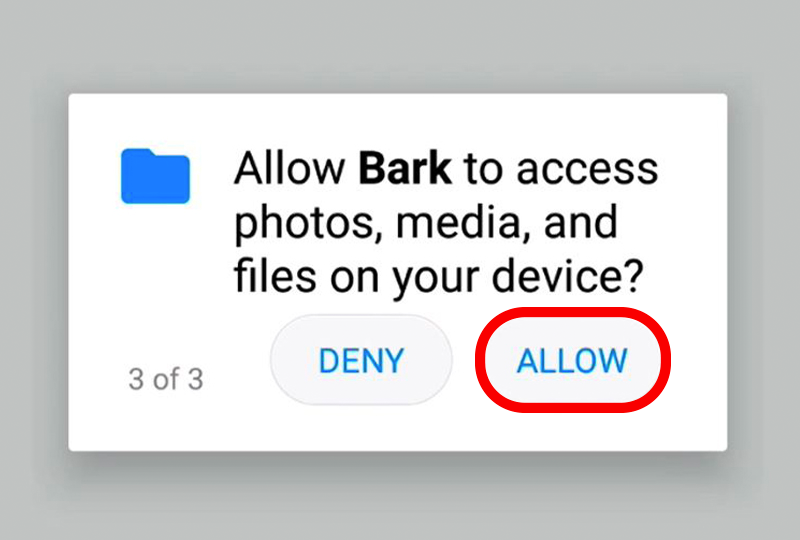 If your child's device is on Android version 10 or above, you will be prompted to turn off Private DNS in Settings. When prompted, tap Open Settings: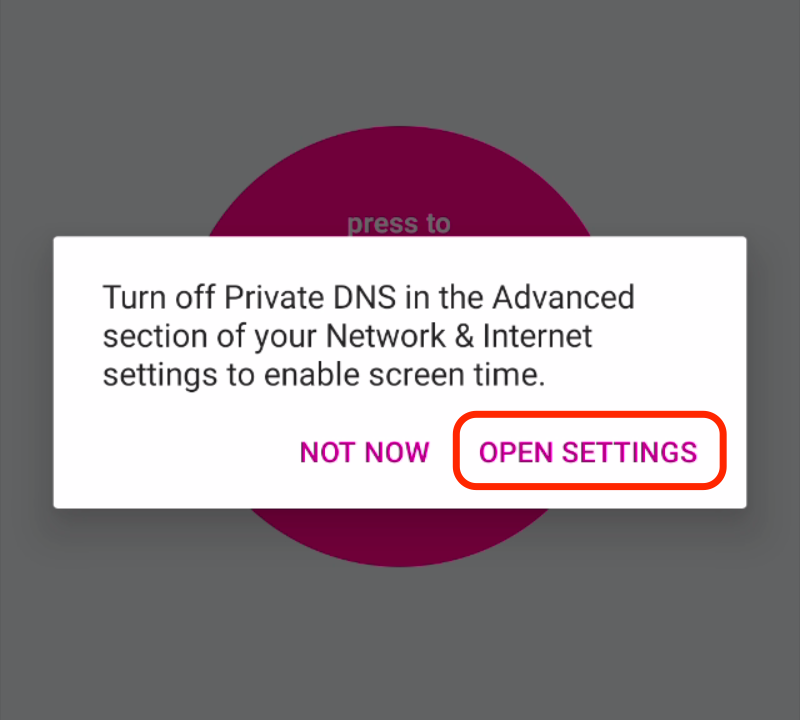 Then, tap Advanced > tap Private DNS > Turn Off:

Tap the Home button to return to the Home screen and apps.
Open the Bark for Kids app. You will see this prompt about installing a VPN > tap OK.
Depending on your device, this following prompt can look two different ways. If applicable, tap Do not show again on the prompt and tap Start now.
| | |
| --- | --- |
| Older Androids | Newer Androids |
STEP 9: Select Open Settings when prompted.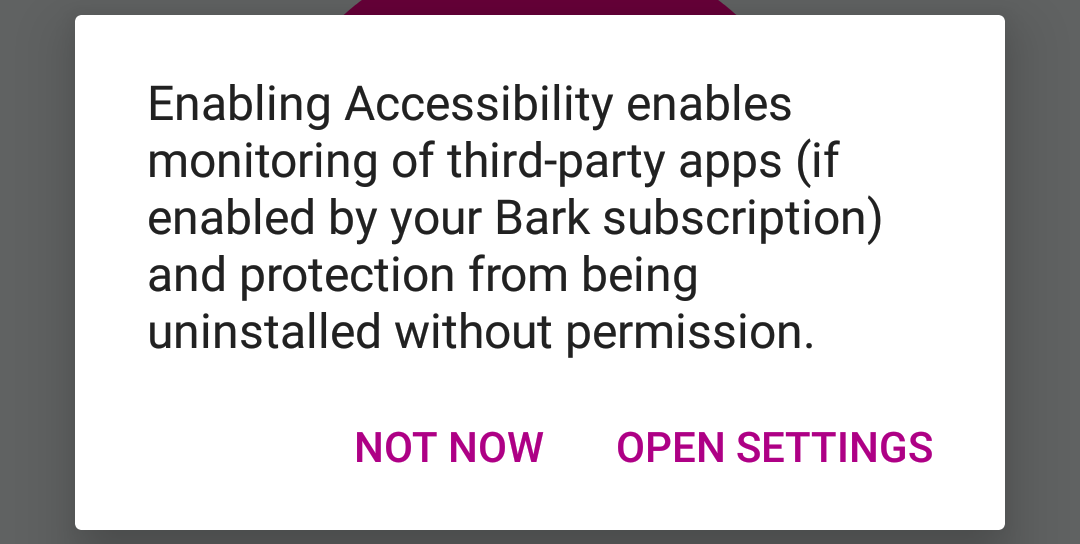 STEP 10: Tap Bark under the Services or Installed Services section in Accessibility.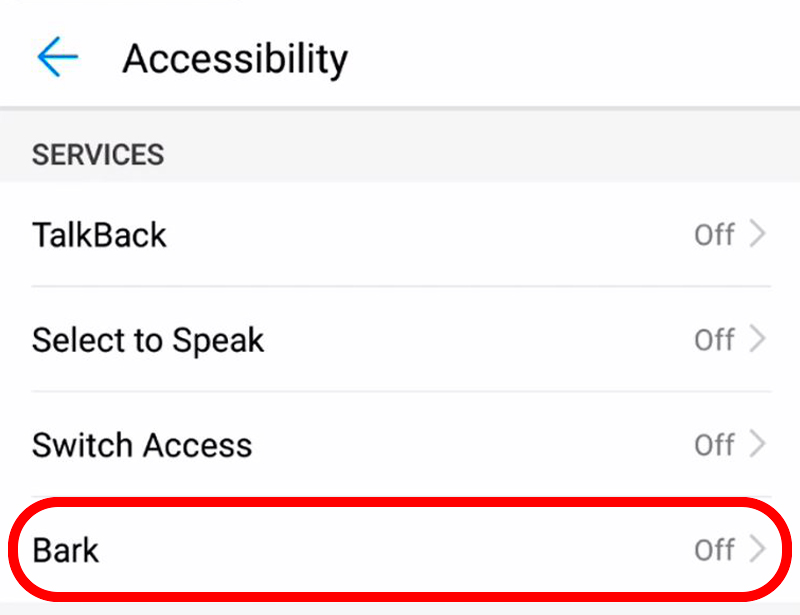 STEP 11: Within the Bark menu that appears, toggle the switch for Bark to On.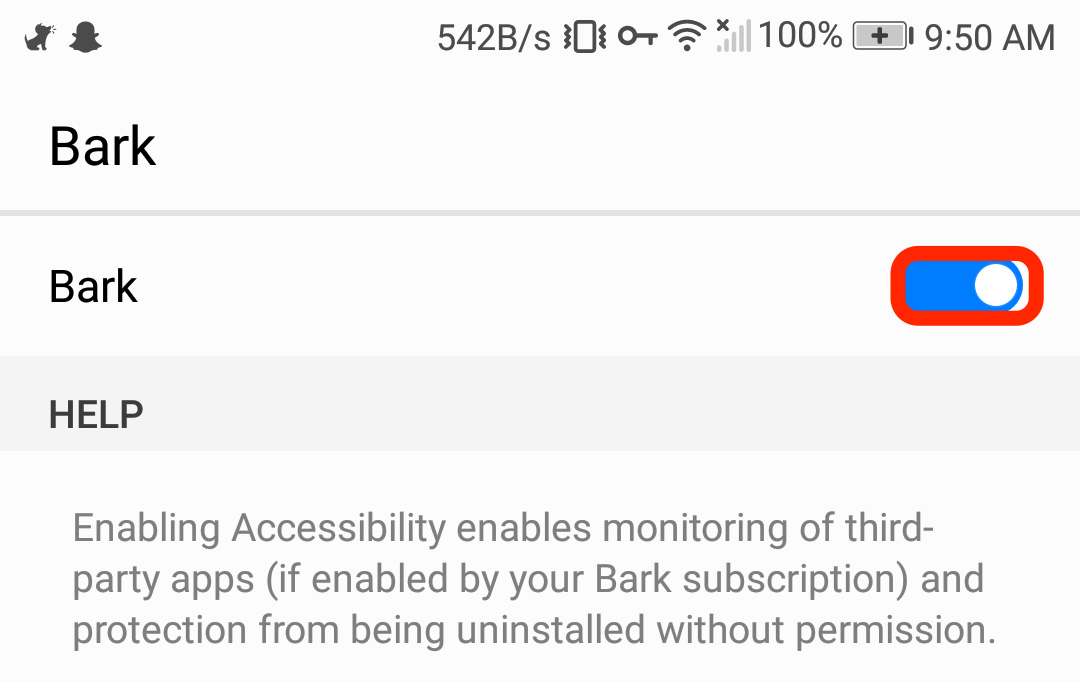 STEP 12: Press OK on the following prompt.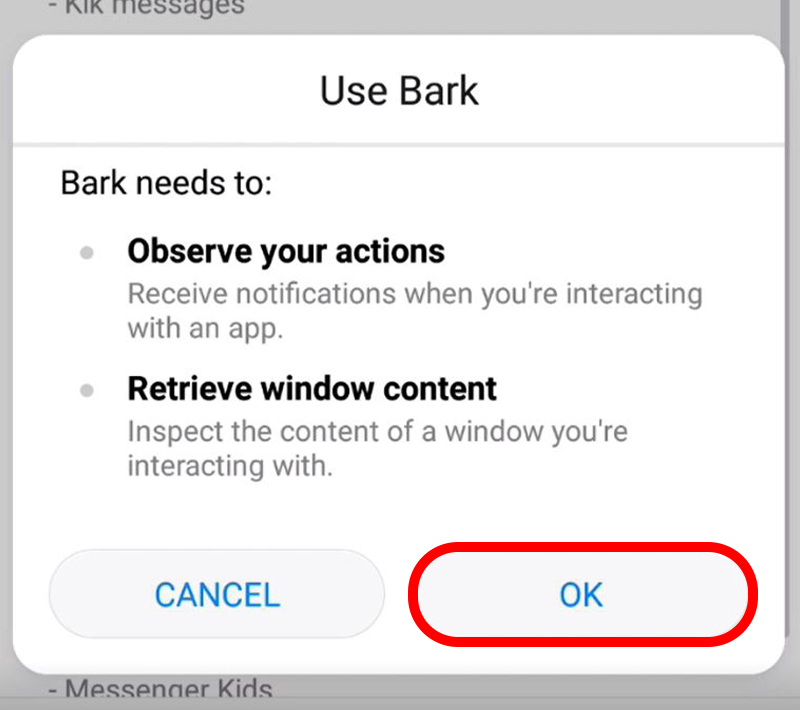 STEP 13: Return to the Bark for Kids app, and tap the Check-In button.
When asked about enabling Location Services, tap Allow.
Then, tap the Check-In button again, and this time, it will actually be able to send you your child's location via email, text, and/or app notification.
STEP 14: Open the Chrome app.
Ensure that Secure DNS is turned off in the Chrome app of your child's device.
On Chrome, tap the 3-line menu > Settings > Privacy > Use secure DNS > set the slider to Off.
STEP 15: Fine-tuning.
To test the monitoring or to adjust settings, open the Bark for Kids app and tap the settings icon (see images below):

Descriptions of settings:
Upload over Wi-Fi only: If your child's Android device needs to conserve cellular data use, then you may consider turning on the setting of "Upload over Wi-Fi only." Otherwise, leave disabled.
Test monitoring: If you want to make sure the Android device content monitoring is set up properly, tap on "Test monitoring." A message will then pop up letting you know if it looks good!
Check for updates: Tap on this option to see if there's an update to the Bark for Kids app. Updates will ensure your child's device monitoring is not interrupted.

🚧 NOTE: Do NOT logout of the Bark for Kids app, or monitoring will be impacted.🚧
LAST STEP: Set your Time Zone in your Dashboard.
Now you can tap the Home button on your child's device and set it aside.
Navigate to your dashboard, select Account Settings from the dropdown menu on the top right, and set/verify your time zone:

Now you're done!
From your Bark dashboard, you will now see the device has been associated with your child under their profile. Here is an example:

The app will also automatically monitor the content on many social media apps without needing to connect them to Bark with your child's login credentials, like Snapchat, VSCO, and Discord.
Remember to also connect your child's other social media and email accounts to Bark for additional monitoring from your Bark parent dashboard.
NOTE: Please allow some time for the web filter and content monitoring to sync up with your child's device for the first time. Web activity gets cached or queued and this is why it can take some time for the web filtering to get settled on your child's device.
Best Practices
Consider talking to your child about Bark and why the Bark Kids app needs to remain installed. We also have added uninstall protection to the Bark for Kids app. The child app can be uninstalled with your Bark parent password.
Don't worry, if somehow the app stops working or is deleted, we'll notify you via email, text, and/or the parent app.
Managing Screen Time & Web Filtering Rules
Manage web filters, block apps, and more from your dashboard. Click here for more information on managing your rules and limits: Set Rules & Limits
Reviewing Alerts
If Bark detects instances of cyberbullying, sexual content, self-harm, or other worrisome content in your child's messaging or media on their Android device, we will send you a notification.
Learn more here about what makes Bark's content monitoring unique.
Need additional assistance?
Check out our frequent troubleshooting solutions. If you still need help setting up your child's Android device, please don't hesitate to reach out to us.