To learn more about Bark's Screen Time & Web Filtering, click here.
Overview
You can find the following topics in this article. Click on one to jump right to it:
How to Manage Screen Time & Web Filtering Rules
STEP 1: Log in to your Bark dashboard or parent / guardian app.
STEP 2: Select the Screen Time tile under the applicable child.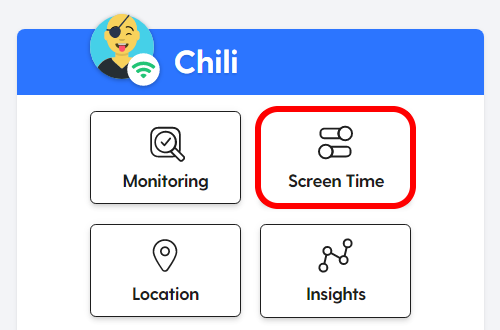 STEP 3: At the top, you'll be able to select Devices and Rules. Below we'll go over each option in detail.

Devices
This section shows you all of this child's Screen Time devices, whether we're filtering them through the Bark Kids App, the Bark Home™ device, or through a router with Bark filtering built-in.
If you notice a red exclamation mark ❗ by a device, click on the device for steps to fix it.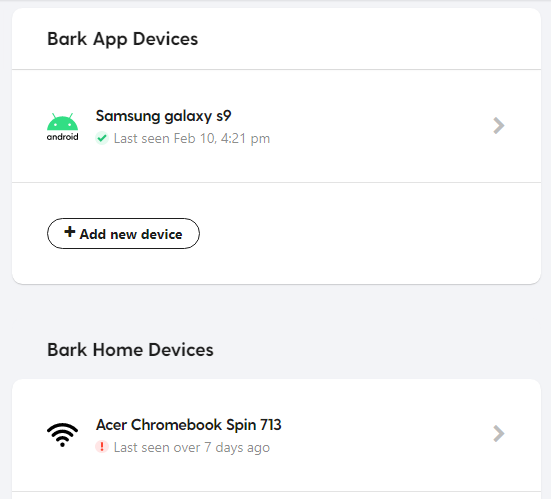 Rules
In this section, you can see a summary of the child's current routine / ruleset. For more details, or to customize the current routine further, you can select ⚙ Settings.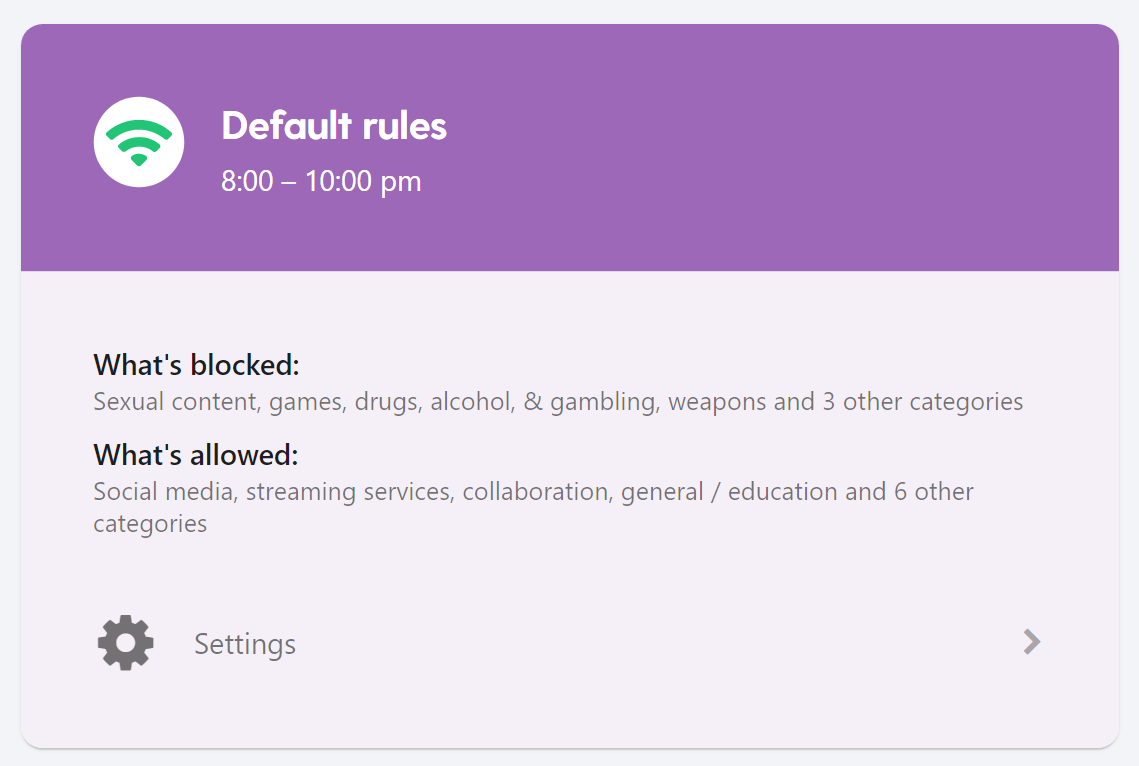 Customizing rules
After selecting ⚙ Settings under the current routine, you can adjust the rules by selecting Apps & Websites or you can copy rules from another profile by selecting Copy Rules.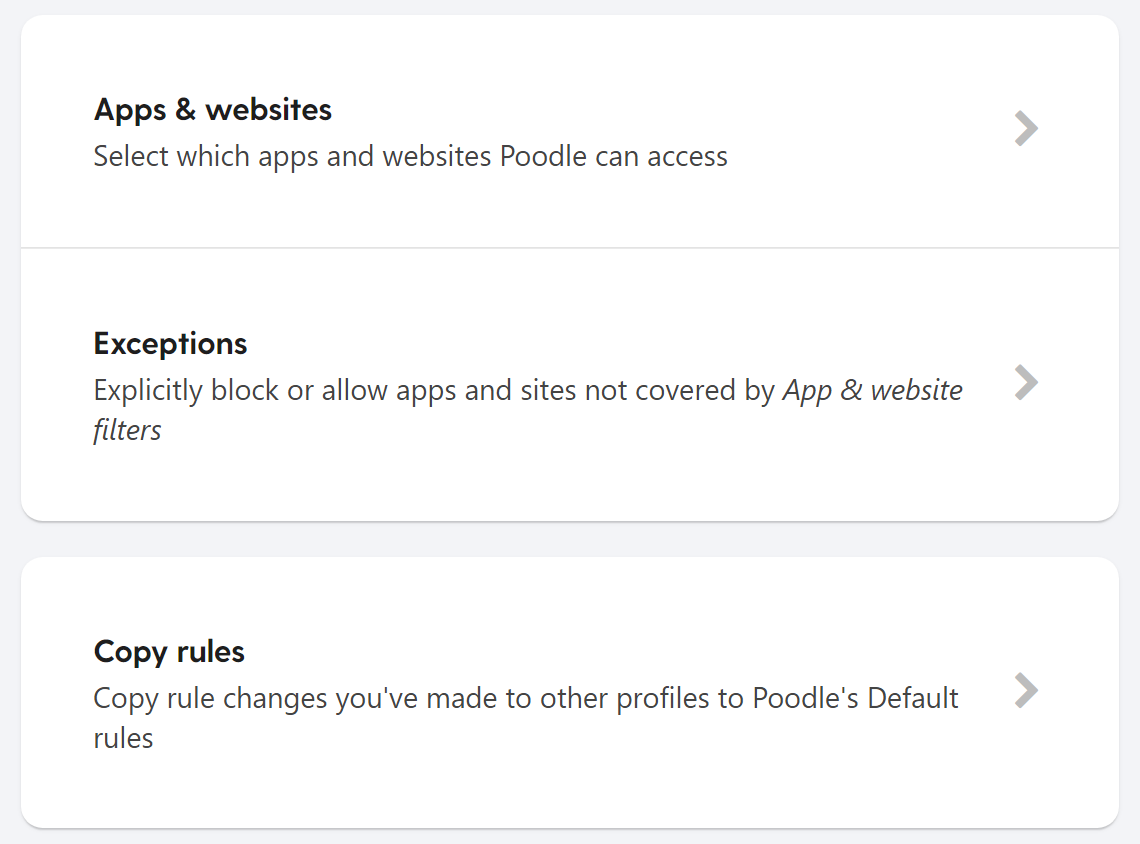 Apps & Websites
When you edit the rules for a routine, you have the option to allow or block whole categories (e.g. Social Media) and/or particular apps (e.g. Instagram).
Keep in mind that our categories cover thousands (if not millions) of different apps and sites! Thus, if an app isn't listed, it's likely still categorized under something like "Social Media" or "Games." You can always add specific exceptions as well.

SafeSearch
We also offer Safe Search at the bottom of the rules list.
When enabled for a routine, this feature gets locked in on your child's devices and filters explicit search results from the Google, Bing, and DuckDuckGo search engines. You can also enable Safe Search (known as Restricted Mode) for Youtube search results.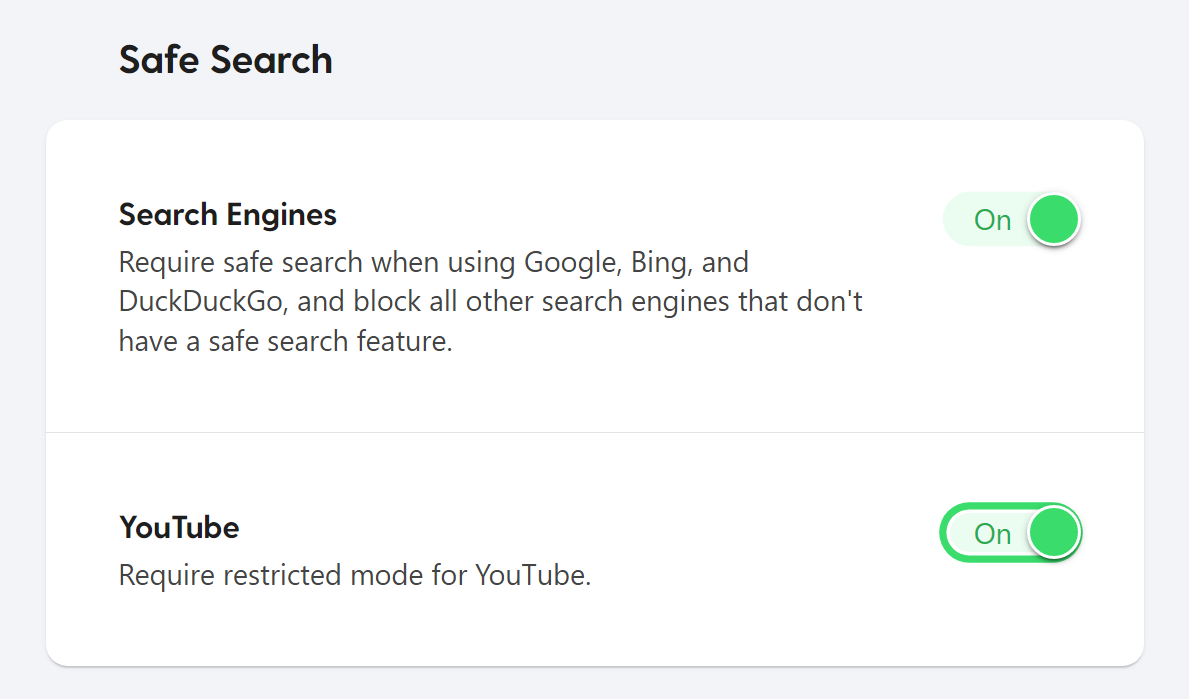 Exceptions
After adjusting rules for the categories and apps, you may need to add specific Exceptions.
Here you can further allow or block specific websites for this child. This supersedes the rules you've already set for categories. In other words, if you block the Games category under App & website filters, but go into Exceptions and allow game123.com, then all games will be blocked except game123.com.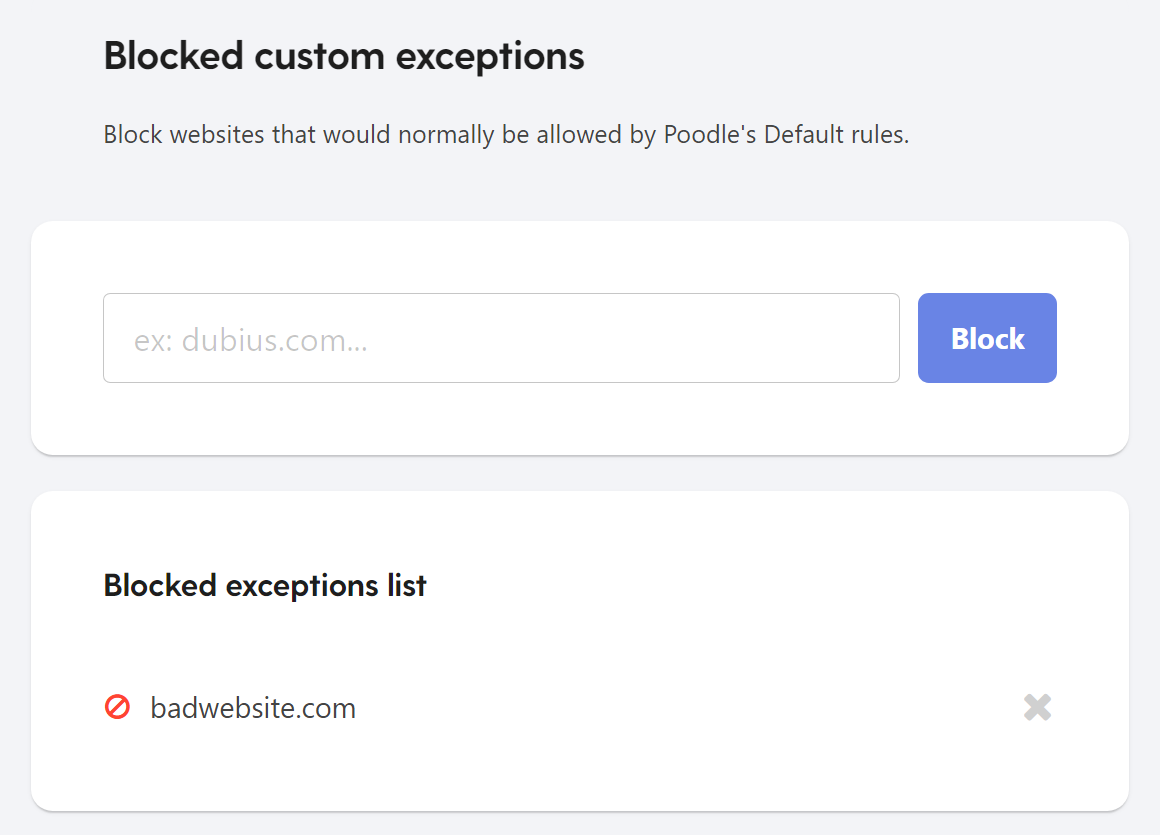 Recently Blocked Activity
We also have the Recently Blocked Activity section for troubleshooting.
For example, if your child asks "Why is Bark blocking this site?", you should navigate to this section under Exceptions, click on the site that was blocked and review why it was blocked. You can even allow it right away if needed.

Report Miscategorized Site / App
To report a miscategorized site or app, select More info under the recently blocked site/app. You will then see something like this, explaining why it was blocked: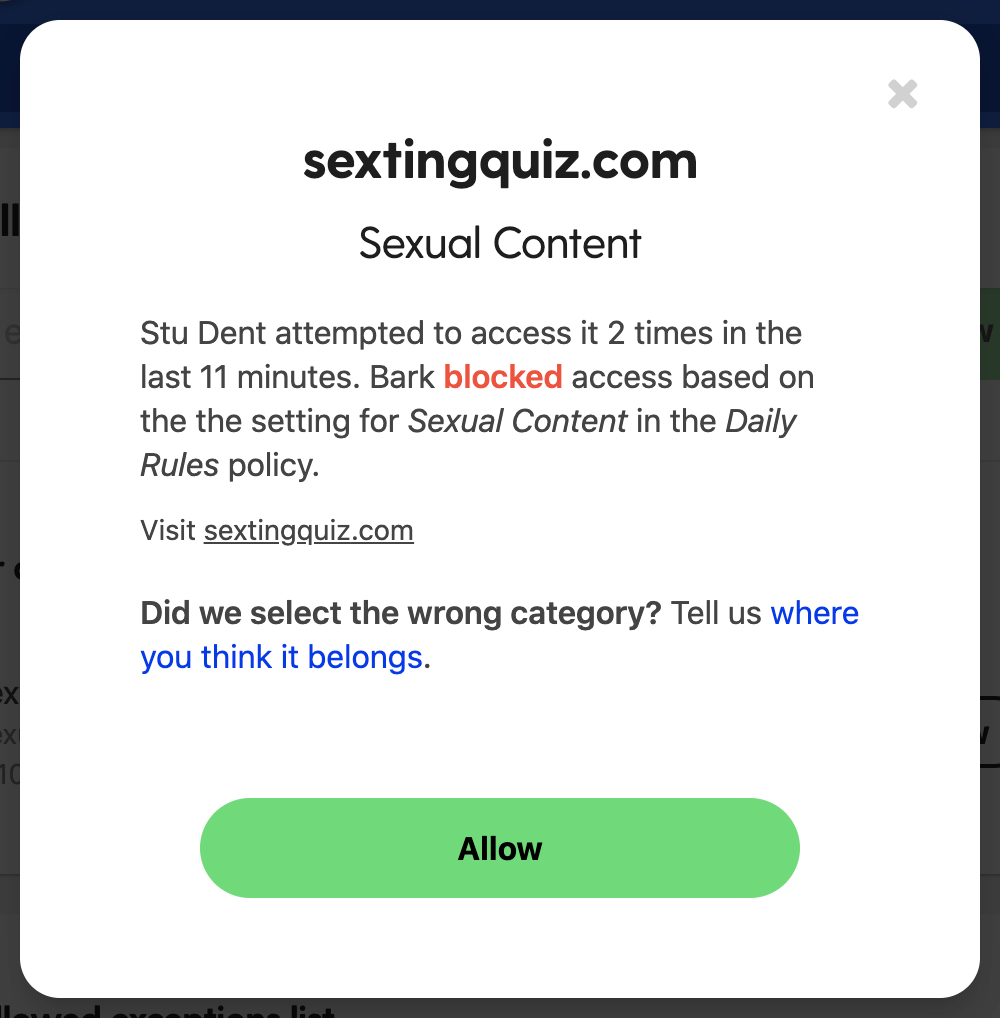 You can then click on Tell us where you think it belongs, add a comment, and pick what category you think it should be: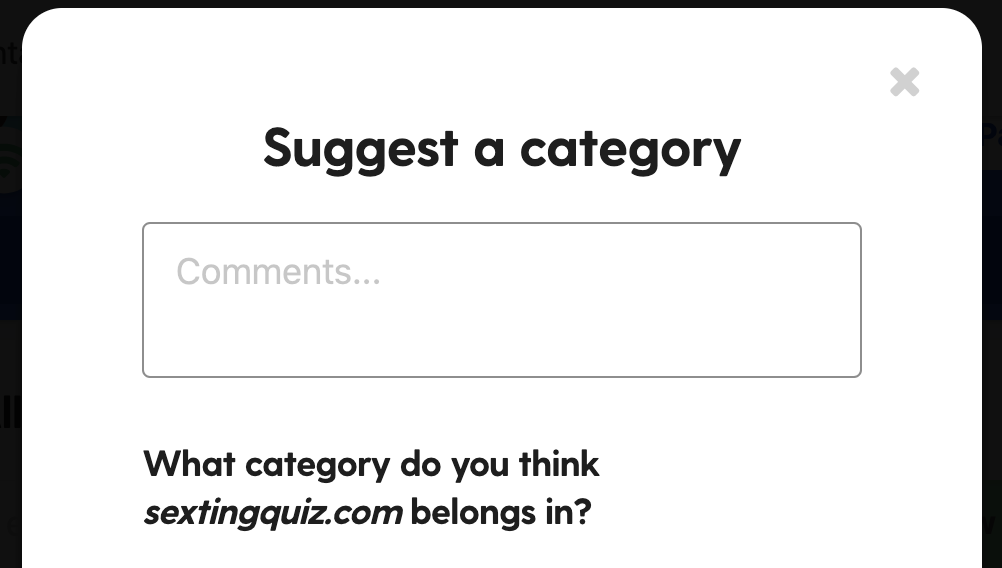 Testing Screen Time Rules
This article discusses how to test whether specific filtering rules are being applied to your child's device: Testing Screen Time & Web Filtering
Switch Screen Time Rules
The Switch Rules option allows you to add a temporary override to the current screen time rules applied for this child or profile.

Example:
Let's say that right now is supposed to be Charlie's Free Time routine, but Charlie needs more time to focus on his homework today. I can temporarily switch them to School Rules by selecting Screen Time > Switch Rules. In the pop-up, I'd then select School, and enter in what time I'd like this temporary override to end.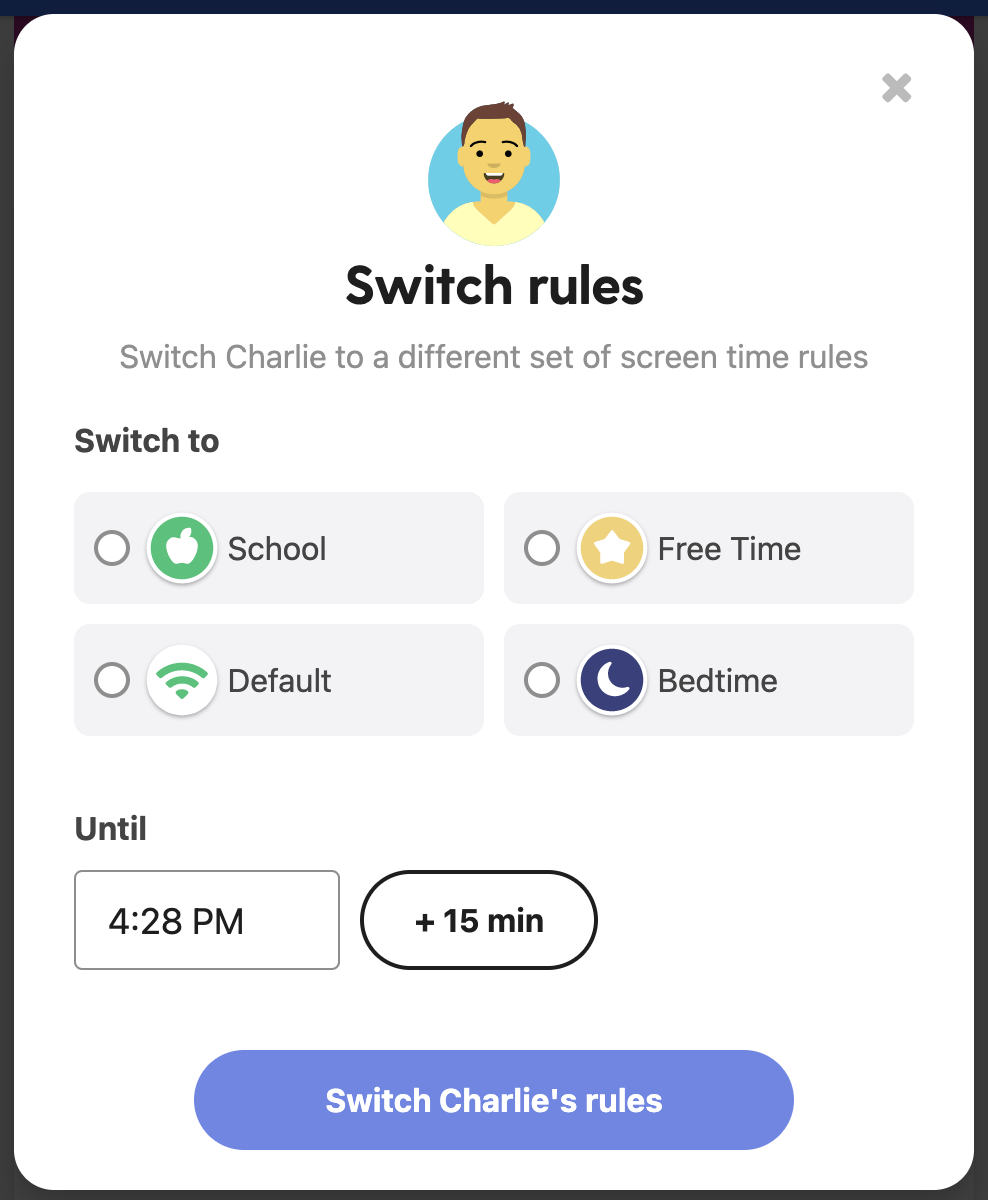 If Charlie finishes their homework earlier than I had planned for, I can go to their Screen Time > Routine Schedule, > select Weekly at the top > find the override, and select the trashcan to delete it. It'll then fall back to Charlie's original routine!

Pause the Internet
When you select Pause all devices under a child's screen time settings, you are pausing the internet on their devices. In other words, you are blocking all internet access. To learn more about the Pause feature, reference this guide: Pausing the Internet

Routines
Want to set up different rulesets for different times of the day or days of the week? Select 📅 Schedule > ➕ button to set up a routine!
In this example, Bedtime is a routine that is scheduled for later today.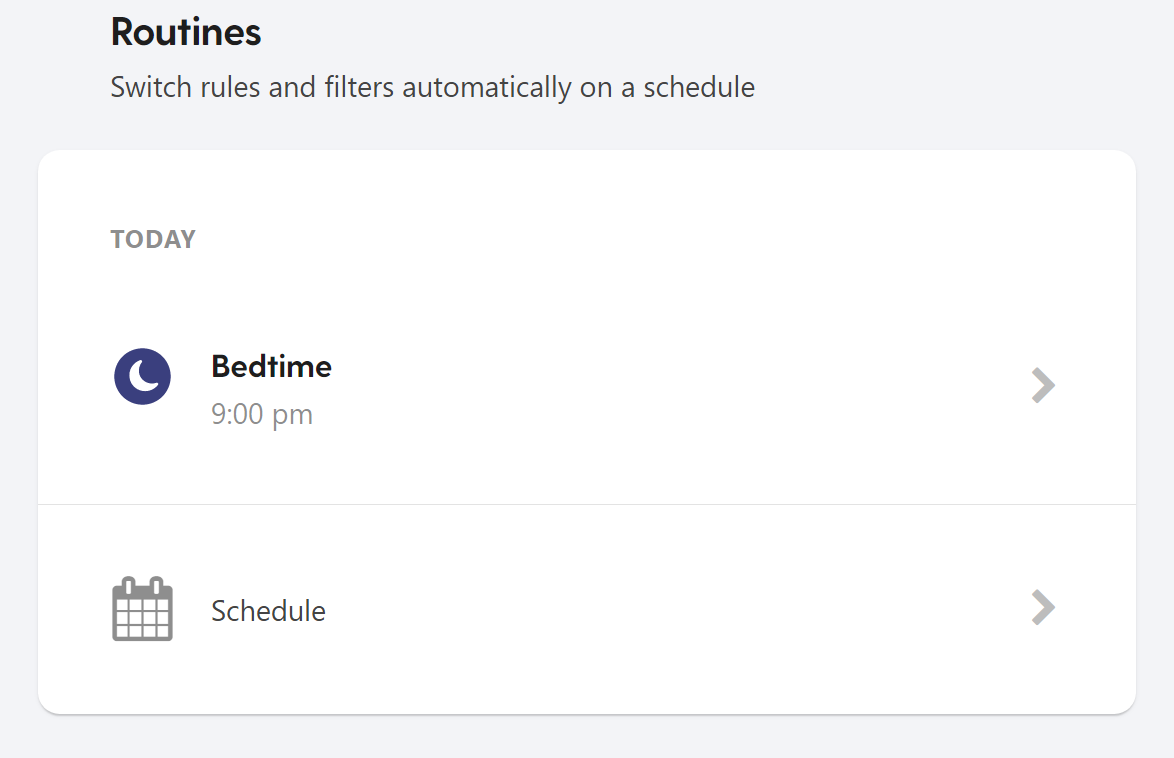 You can adjust your view to see the schedule from a Weekly perspective or the Daily perspective. Use the Daily view and click + on the top to add a new scheduled ruleset (e.g. School Time, Bedtime). Then, use the Weekly view for a summary of the child's resulting schedule.
Below is an example: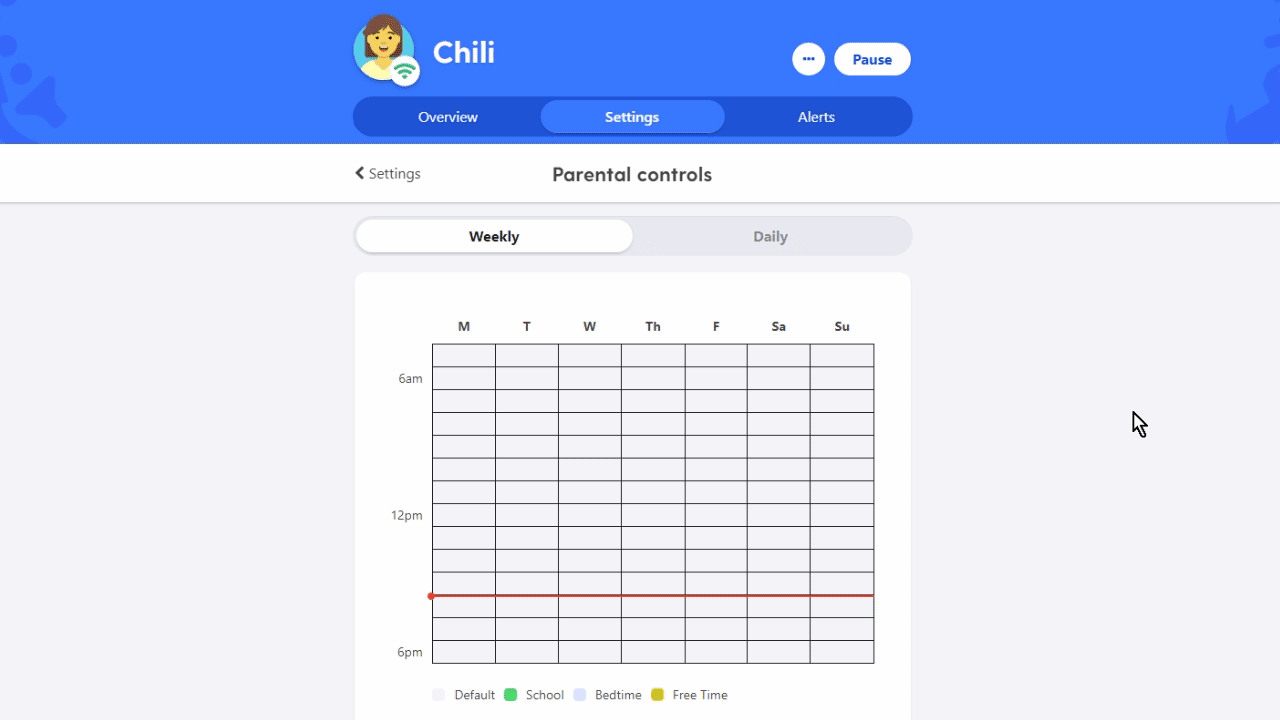 Adding rulesets to a routine
Prefer to stick to one solid ruleset to keep it simple? Just focus on the Default Rules routine!
Otherwise, you're able to use these routines / rulesets to set the boundaries that work best for your child. Below are the ways we thought through these different options, but you're welcome to use them in whatever way works best for your family.
🟦 Bedtime: Limit device usage when it's time for lights out. Customize what kids can access during Bedtime.
🟩 School time: Limit what can be accessed during the school day. Customize the apps/sites they need for school, like Zoom.
🟨 Free time: Dedicated time to use devices just for fun. Example use cases:
a) "I only want my child to have access to social media for an hour a day."
b) "I only want my children to access social media after they're done with their homework."
⬜️ Any other time (Default rules): The default ruleset when another ruleset isn't currently applied / scheduled.