To learn more about Bark's Screen Time & Web Filtering see here.
Overview
You can find the following topics in this article. Click on one to jump right to it:
Quickly Manage a Child or Profile
STEP 1: Log in to your Bark dashboard on your mobile parent app or via bark.us on a browser.
STEP 2: Scroll down to the child or profile you'd like to manage settings for. Below we break down a few important sections!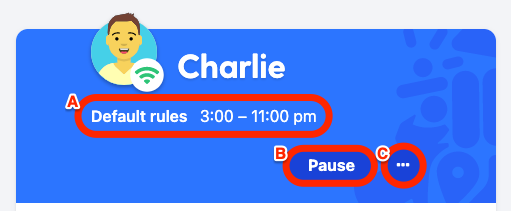 A. You should look at the text and avatar icon in this section to see which Screen Time ruleset is currently applied to the child's devices (in the example above, it is applying Default Rules from 3:00pm - 11:00pm). If there is no circle icon or rules text in this section, it just means you haven't set up a Screen Time device for that profile yet.
B. You will also see an option to Pause the child's internet. This blocks all internet activity on all of the child's devices.
NOTE: Even when paused, the Bark VPN on your child's device still allows communication over the local network, meaning Wi-Fi backups to a computer and Wi-Fi printing are still able to happen uninterrupted. In addition, if your child's device is a cellular device, it will still be able to make cellular phone calls and text messages in the event of an emergency.
C. You can select the ... menu 💬 and quickly add a device or app for monitoring, add a screen time rule exception, switch temporarily to a different screen time rule, or request a check-in. This button will likely be the one you use the most often!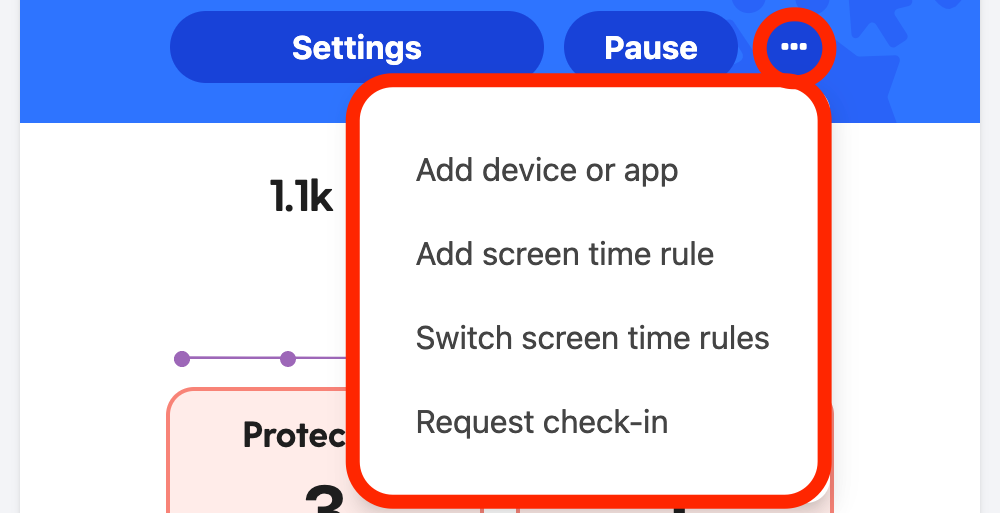 How to Manage a Child or Profile's Settings
When clicking into an individual profile's Settings, you will see the following screen. Below we will go over each option.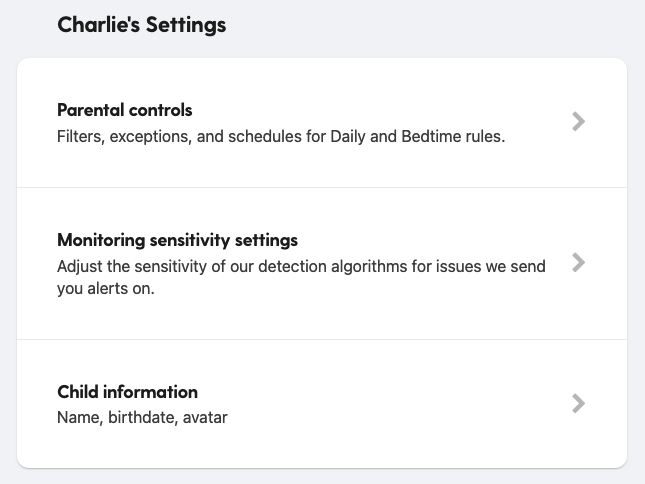 Monitoring Sensitivity Settings
Here you can adjust the sensitivity of alerts for things like Bullying, Depression, Sexual Content, and more.
Click here
to review a guide with more information.
Parental controls
This is where you can set a schedule, adjust rules for what your child can access online, and more.
Schedules
You have the ability to customize the child's daily schedules with blocks that have unique rules. You can adjust your view to see the schedule from a Weekly perspective or the Daily perspective. Use the Daily view and click + on the top to add a new scheduled ruleset (e.g. School Time, Bedtime). Then, use the Weekly view for a summary of the child's resulting schedule.
Below is an example: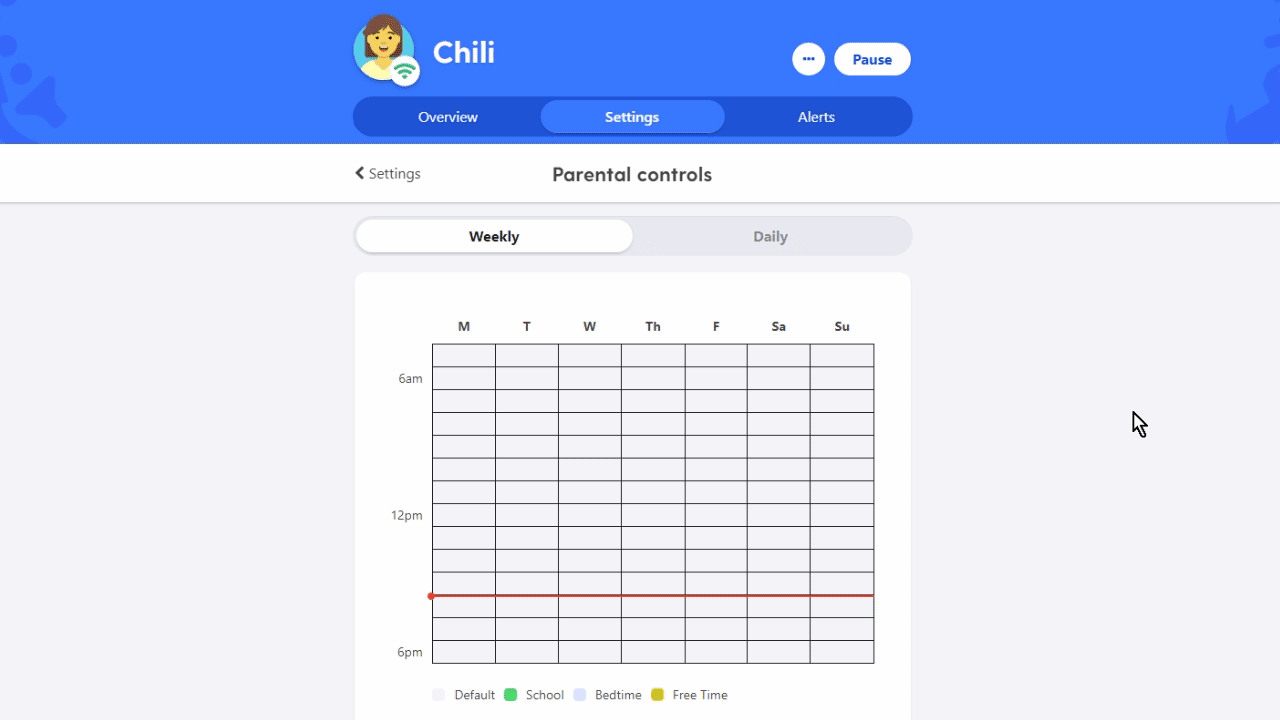 Screen Time Rulesets
Add or remove rulesets whenever you need!
⬜️ Default rules : The default ruleset when another ruleset isn't currently applied / scheduled.
🟦 Bedtime: Limit device usage when it's time for lights out. Customize what kids can access during Bedtime.
🟩 School time: Limit what can be accessed during the school day. Customize the apps/sites they need for school, like Zoom.
🟨 Free time: Dedicated time to use devices just for fun. Example use cases:
a) "I only want my child to have access to social media for an hour a day."
b) "I only want my children to access social media after they're done with their homework."
When you edit the rules for a ruleset, you have the option to allow or block whole categories
(e.g. Social Media)
or particular apps
(e.g. Instagram)
. Keep in mind that our categories cover thousands
(if not millions)
of different apps and sites! Thus, if an app isn't listed, it's likely still categorized under something like "Social Media" or "Games." You can always
add specific exceptions
as well.

Switch Screen Time Rules
This feature can be found in a couple of places: the ... menu 💬 under a child or profile, or in the screen time schedule settings. What switching rules does is essentially add a temporary override to the current screen time rules applied for this child or profile.
For example, let's say that Charlie needs more time to focus on his homework. I may want to temporarily switch them to School Rules for a period of time. I'd do so by selecting Switch Rules, clicking on School, and then entering in what time I'd like this temporary override of School Rules to end, as seen in the example below: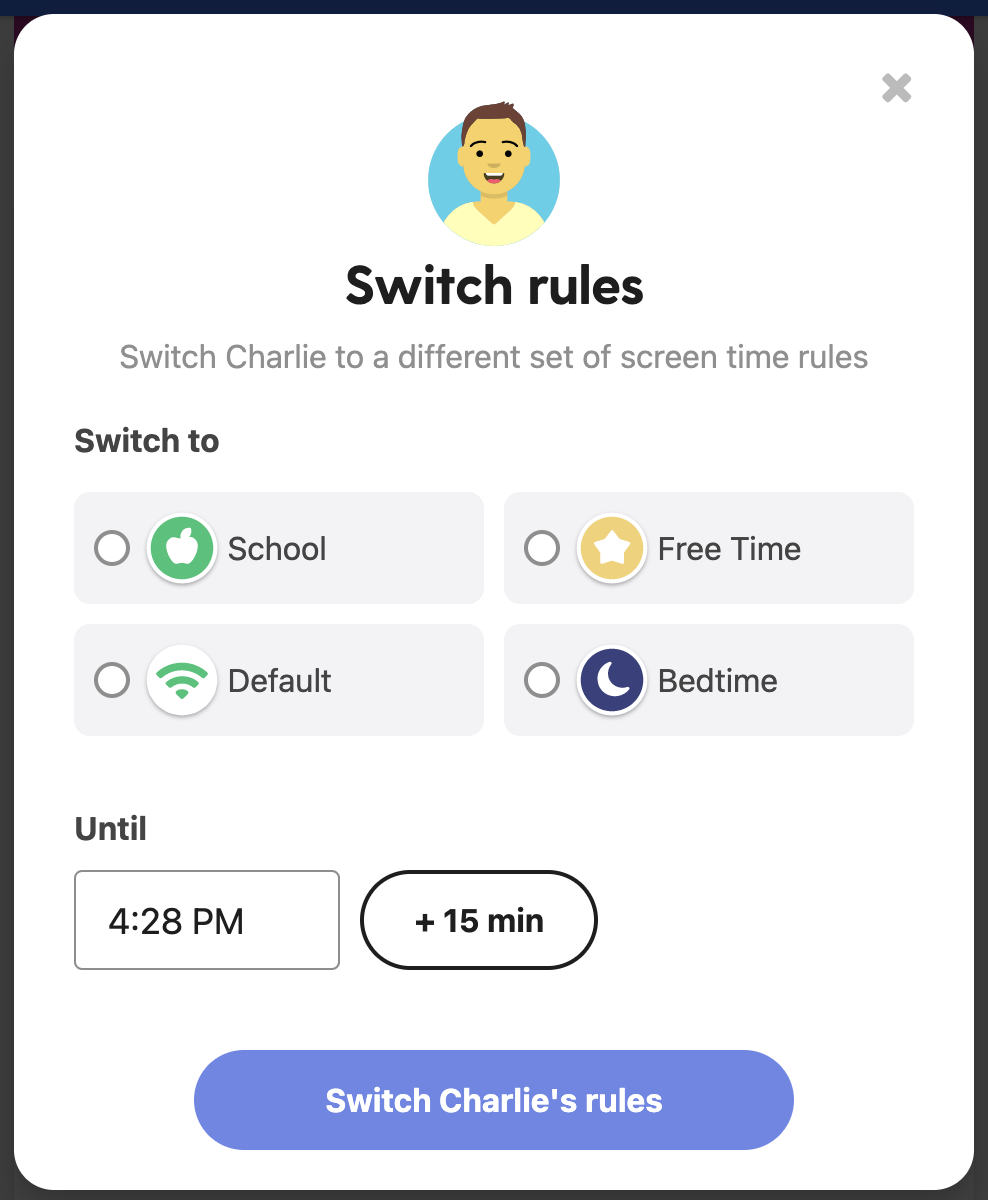 If Charlie finishes their homework earlier than I had planned for, I can go to their schedule, find the override at the top, and select the trashcan to delete it. It'll then fall back to Charlie's original schedule!

SafeSearch
We also offer Safe Search at the bottom of the rules list.
When enabled for a ruleset, this feature gets locked in on your child's devices and filters explicit search results from the Google, Bing, and DuckDuckGo search engines. You can also enable Safe Search (known as Restricted Mode) for Youtube search results.
Exceptions
After adjusting rules for the categories and apps, you may need to add specific Exceptions.
Here you can further allow or block specific websites for this child. This supersedes the rules you've already set for categories. In other words, if you block the Games category under Filters, but go into Exceptions and allow game123.com, then all games will be blocked except game123.com.
Recently Blocked Activity
We also have the Recently Blocked Activity section for troubleshooting.
For example, if your child asks "Why is Bark blocking this site?", you should navigate to this page, click on the site that was blocked and review why it was blocked. You can even allow it right away if needed.

Report Miscategorized Site / App
To report a miscategorized site or app, select More info under the recently blocked site/app. You will then see something like this, explaining why it was blocked: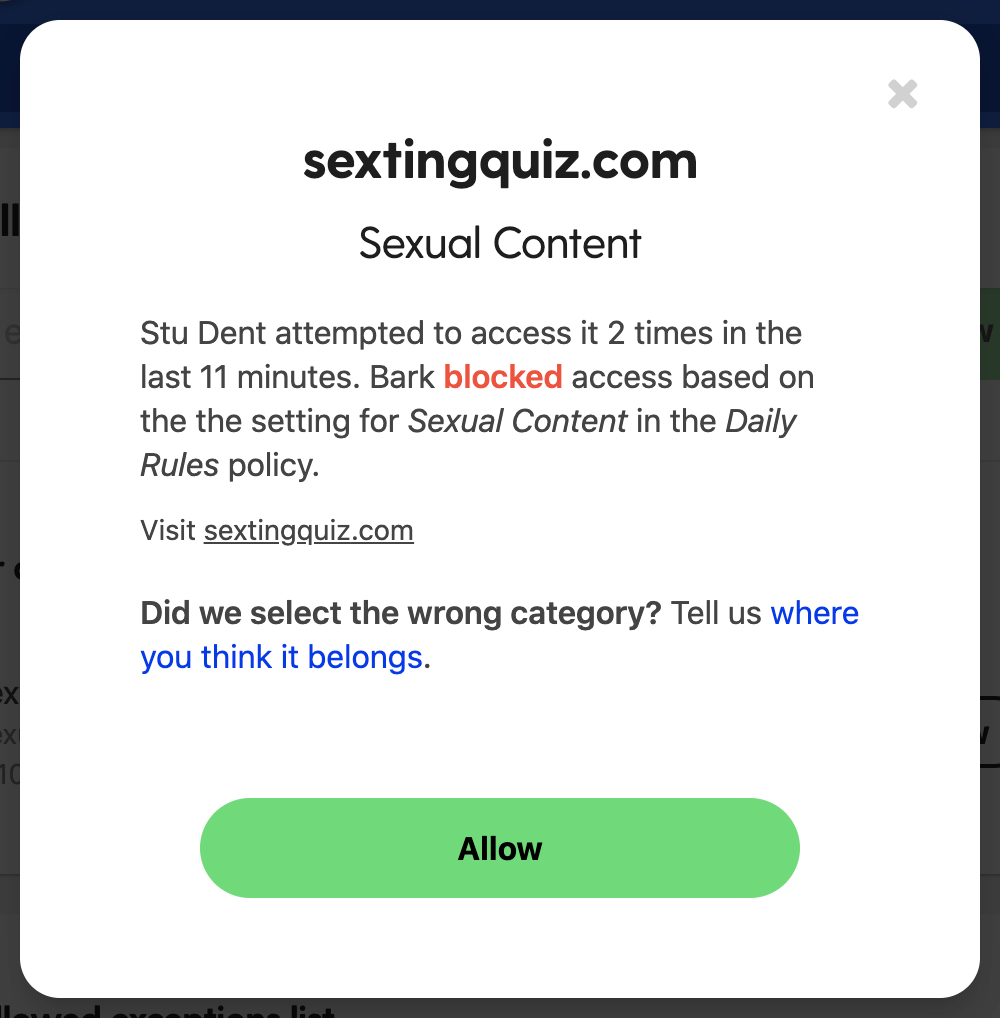 You can then click on Tell us where you think it belongs, add a comment, and pick what category you think it should be: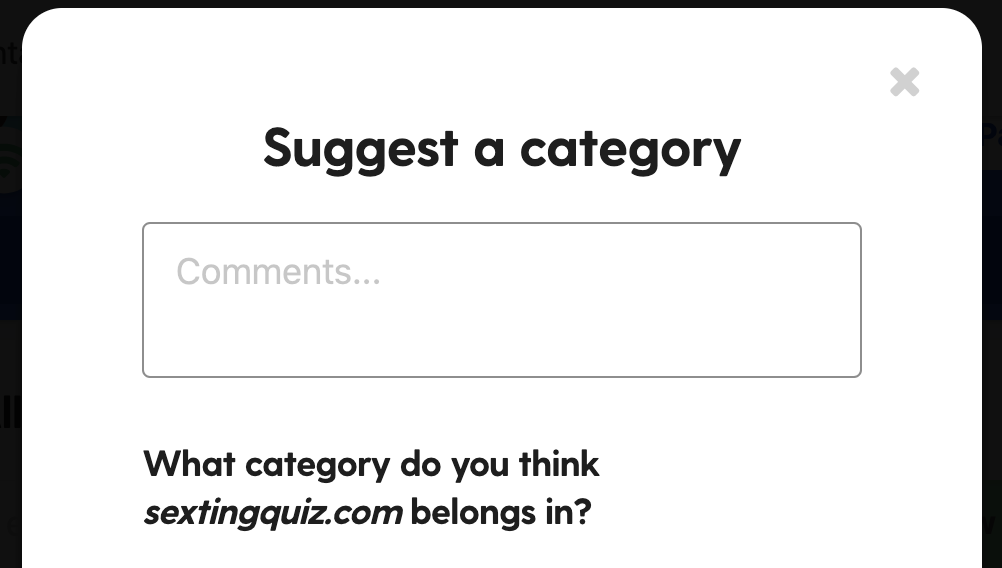 Testing Screen Time Rules
While you can see the status of
on-the-go
and
in-home screen time controls
in the
Devices and Apps
section of the child's profile, this article discusses how to test whether specific
filtering rules
are being applied to your child's device: Testing Screen Time & Web Filtering