This article discusses troubleshooting solutions for issues encountered with monitoring the content of Android devices via the Bark for Kids app.
I'm having issues activating my child's Bark Phone
We're sorry to hear that! You can find steps to troubleshoot here:
I'm having issues installing the Bark for Kids app on my child's Android
If your child's Android device is a Bark Phone, check out these instructions!
If your child's Android device is not a Bark Phone, and you use Google Family Link, you will follow these additional steps to installing the app.
If your child's Android is still unable to "install apps from unknown sources," check out the instructions applicable to your plan:
Seeing a "Grant Access" Message
If you are receiving an error message that is prompting you to grant permissions to the Bark Kids app (as seen below), tap on Grant Permissions and make sure to select Allow on the prompts that appear.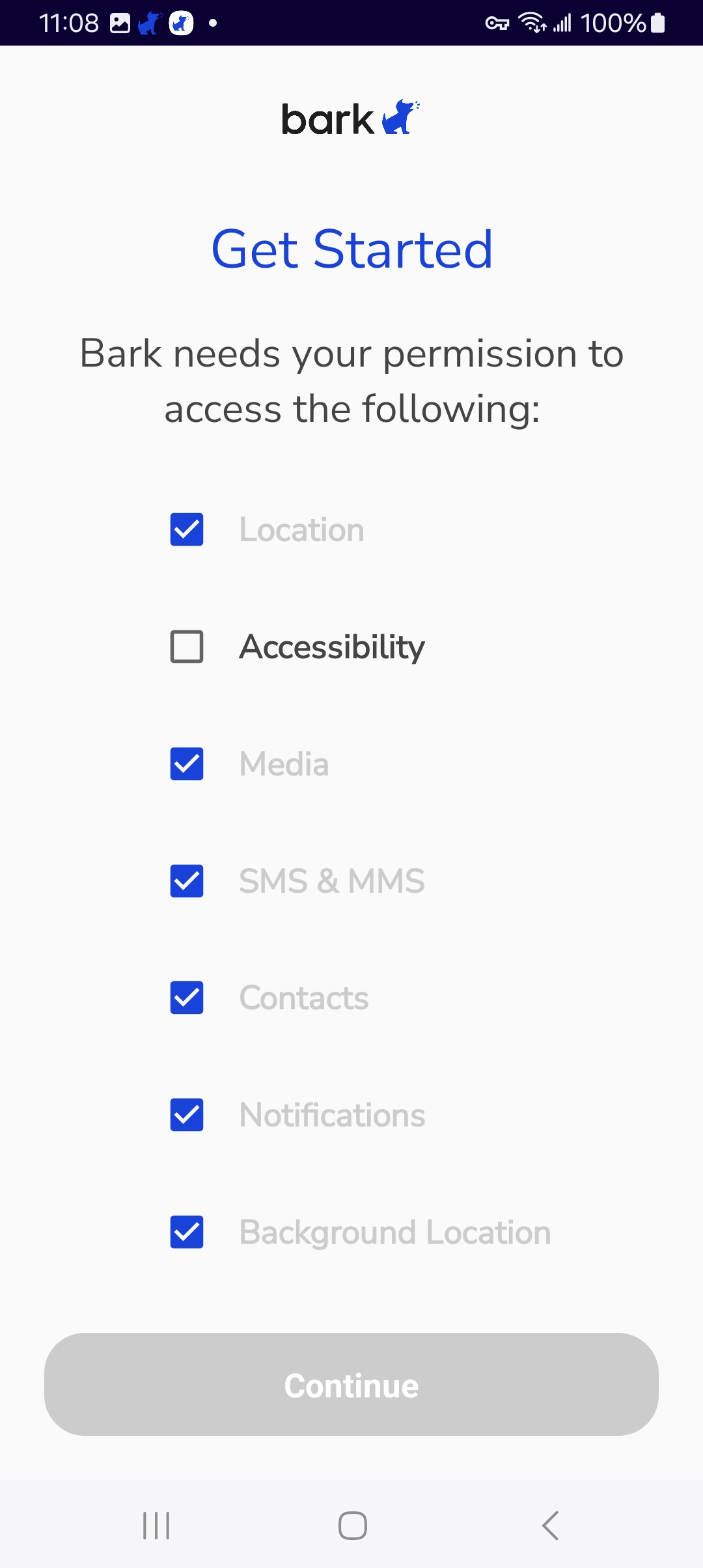 If you still cannot fix the permissions, let's try this:
Look at which permission(s) say Denied.
(the above example shows that the Location permission was denied)
Open the Settings app on your kid's phone or tablet.
Tap on Apps.
Find and tap on Bark (you may have to enter a device code).
Tap on Permissions.
Allow the missing permission.
Open Bark Kids again.
Tap Check in.
What are some reasons content monitoring may not be working?
There are a few reasons you may be seeing that the monitoring is not working:
App is outdated: Make sure that the Bark for Kids app is up to date.
Accessibility is disabled: Check that Bark is enabled in the device's Accessibility settings.

Security application installed: We have found that there are some security apps that may affect Bark's monitoring frequency, so try uninstalling, removing, or disabling those apps to see if they help address your Android monitoring issues.

Task Manager app installed: It is possible that you might have a task manager that automatically closes applications periodically. If you do, please add Bark to the whitelist (ie. apps that are excluded from being automatically closed) of the application. If the app does not have a whitelist, consider uninstalling it.

Aggressive optimization settings: It is possible that the Bark for Kids app may have been impacted by battery optimization settings on your child's Android device. Battery optimization settings exist on every device but where they are located on the device can vary based on the phone model and Android version.
Battery Optimization for Android 9+
Battery Optimization for Android 6-8.1
💡 To find out what Android version your child's device is using, navigate to Settings > About Phone > Android version.
How do I know that monitoring is working?
Log in to your Bark dashboard.
Select Monitoring > Devices & Apps under your child.
Find the Android device and look at the symbols:
✅ means all is well.
❗️ means something is not working / action is required. Click on it to fix it!

You can also check that the app is working properly on your child's Android by opening the Bark for Kids app on your child's device, and tap the Settings icon:

Descriptions of settings:
Upload over Wi-Fi only: If your child's Android device needs to conserve cellular data use, then you may consider turning on the setting of "Upload over Wi-Fi only." Otherwise, leave disabled.
Test monitoring: If you want to make sure the Android device monitoring is set up properly, tap on "Test monitoring." A message will then pop up letting you know if it looks good!
Check for updates: Tap on this option to see if there's an update to the Bark for Kids app. Updates will ensure your child's device monitoring is not interrupted.
🛑 Do not logout of the Bark for Kids app, or monitoring will be impacted.
How do I address issues with screen time & filtering on my child's Android device?
Our screen time & filtering features allow you to block or allow apps and sites according to the schedule you've set for the day, bedtime, school time, and free time.
If you're running into an issue with this feature, we've put together this guide to help:
Troubleshooting Screen Time & Web Filtering
(What is the difference between screen time and content monitoring?)
The VPN is blocking text messages from being sent or received
📵 The answer below does not apply to the Bark Phone

—

it is for other Androids.
The Bark for Kids app on your child's Android device adds a VPN that allows you to enforce your screen time & filtering rules. Some newer Android devices have a new form of text messaging called "Chat Features" or "Rich Communication Services." These chat features in texts show typing indicators, read receipts, etc. These extra features layered on top of text messages are what may be causing the problem with your child's device being unable to send texts when the Bark VPN is running. Luckily, it's an easy fix!
You can turn off chat features by following these steps:
Open the Messages app (this is the default text app on Android).
Tap More options>

Settings

> Chat features.
Turn off the

Enable chat features

setting.

Restart your child's Android device.

Open the Bark for Kids app and tap on the Settings icon > Test Monitoring.
Now, your child will have the best of both worlds -- they'll be able to send and receive text messages, picture messages, etc. while also being monitored and getting your screen time & filtering rules applied! The only thing they'd be missing out on are the typing indicators and other chat features.
My child has uninstalled the app
Bark is able to enforce uninstall protection whenever Bark's Accessibility setting is enabled. Take care of it by following this guide:
Accessibility Disabled in Android
💡 The Bark Phone locks down the app even more. Consider ordering it today for more enhanced tampering protections!
Error found when installing the Bark for Chrome extension on my child's Android.
When installed on your child's Android, the Bark for Kids app automatically monitors the Chrome, Firefox, and Samsung web browsers (including incognito browsing mode).
Thus, you do not need to install the Chrome Extension on your child's Android — the Chrome Extension is only for monitoring Chrome on a Windows, Mac, or Chromebook computer.
What does Bark monitor on Android devices?
On Android, Bark can monitor texts, photos, videos, web browsing, and many installed apps, including TikTok and Snapchat. If you'd like to see a detailed list of everything Bark can monitor, check out this guide:
What Bark Monitors on Different Platforms
I have a limited cellular data plan. Is there a way I can prevent Bark from using cellular data to monitor?
If your child's device is an Android, and your family is on a limited cellular data plan, you can elect to turn on a setting that prevents Bark Kids from using any cellular data.
Keep in mind that this means it will be longer before you receive alerts on your child's Android activities, since the device will wait until it's connected to Wi-Fi to update Bark's servers on your child's activities.
To enable this setting, open the Bark Kids app on your child's Android > tap on the bottom right gear icon > toggle on Upload over Wi-Fi Only.
⚡ On the Bark Phone, this setting is not available because our monitoring traffic is not counted towards your data usage!
Why are the push notifications for requested check-ins not appearing on my child's device?
If you or your children are not receiving a particular push notification, then there are a few potential culprits. Learn more here:
Not Receiving Push Notifications
Why is the location not working, or why is it showing the wrong address?
Bark's location features rely on the accuracy of the device's GPS chip. There are a number of variables that can temporarily throw off the GPS on your child's device, leading to a check-in or location alert that seems to be slightly off from the child's true location.
For detailed instructions on calibrating the location services of your child's device, check out this guide:
Calibrate Location on the Bark Phone