This article will discuss the break down of the Bark Home Profiles that come with your account by default.
Background
When you purchase and activate Bark In-Home Filtering, it detects all of the devices connected to your home network and automatically drops them under the Unmanaged list. We have empowered you with tools to assign devices to different profiles, so you can customize the screen time rules and schedule for groups of phones, tablets, computers, gaming consoles, etc. 
Below we break down the profiles that come with your account by default. You can also create new profiles to further organize your devices and their rules.
Unmanaged
This is the profile that newly detected devices are assigned to by default. Devices assigned to Unmanaged get the following baseline level of protection:
Apps and sites categorized as Sexual Content are automatically blocked.
SafeSearch on Google, Bing, and DuckDuckGo is automatically turned on.
Other search engines that don't support SafeSearch are automatically blocked (like Yahoo).
Though the above provides some protection, we recommend assigning all devices to a different profile than Unmanaged so you can better customize their screen time rules and schedule. Devices that you don't want filtered at all should instead be assigned to Ignored (not Unmanaged).
🔍 How do I know which device is which? To make sure you're assigning the right device to the right profile, click here.
Anonymous Devices
You may one day notice a sub-section of the Unmanaged profile that is labeled "Anonymous Devices." This is a profile only present for Bark Home users that have "unknown" devices that Bark couldn't automatically identify.

Click into each device and look to see if it has a notice at the top about "private address." If it does, follow these steps.
Otherwise, use this guide to identify the unknown device(s).
Ignored
If there's a device you don't want to filter, you can assign it to Ignored. Parents and guardians will often ignore their personal phones, for example. We highly encourage you to assign networking devices like extenders, repeaters, switches, access points, secondary routers, and mesh satellite units to Ignored.
If you ever need to re-assign an Ignored device, click Bark Home at the top > select Ignored > click into the device in question, then change what profile it is assigned to.
Shared
If there are devices that are used by multiple people, you may wish to assign them to Shared. Families will often assign shared computers, gaming consoles, and/or Smart TVs to this profile.
However, if a family wants to break that down even further to be able to assign different rules to different shared devices, families can create a custom home profile.
Custom
Because each family has different needs, Bark grants you the ability to create custom profiles. You can choose to create a child profile and/or a home profile.
To do so, scroll down to the bottom of the dashboard and select +Add child / profile. You will then select the profile type and name the profile.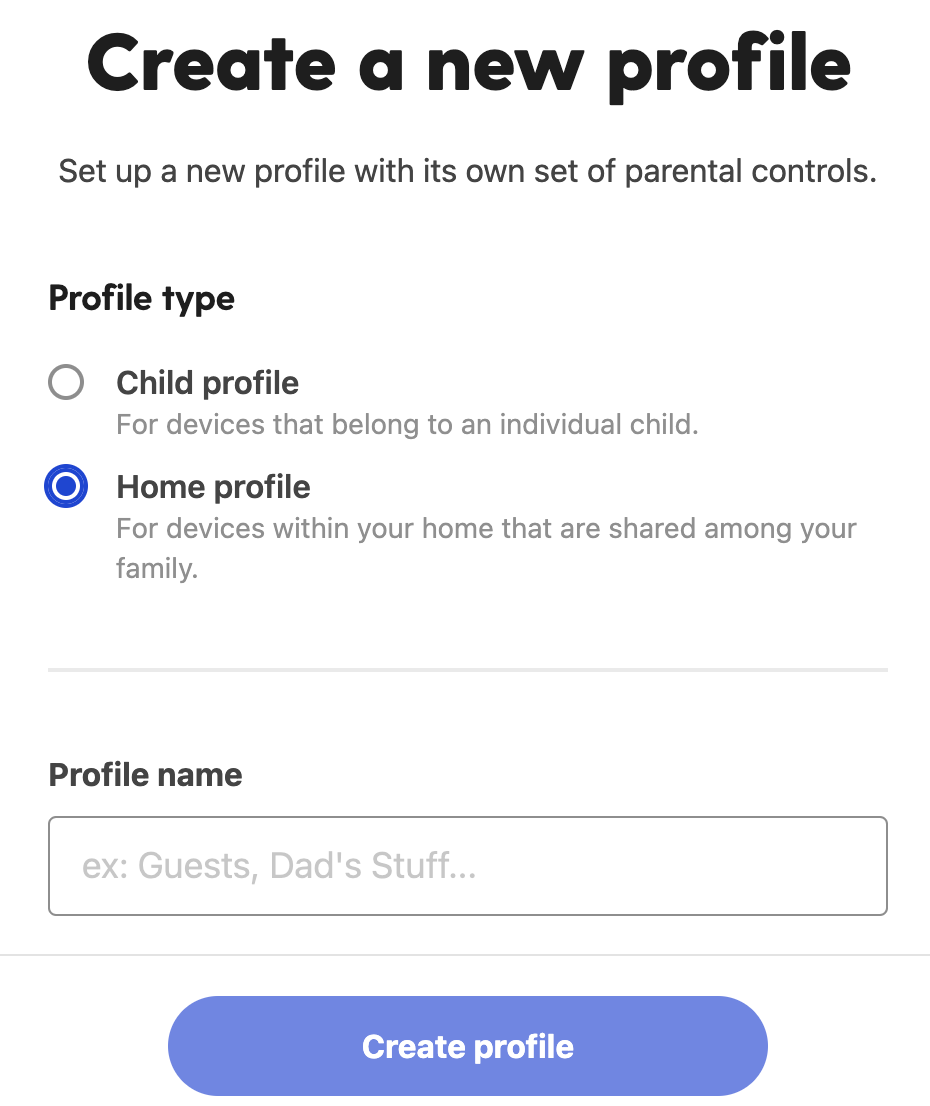 Need help or have additional questions?
We are happy to assist! Reach out to Bark Support, and we'll help every step of the way.