We completely understand that there are instances where you may not be concerned about certain things such as mild profanity, for example. 
Within your child's monitoring sensitivity settings on your Bark dashboard, you can adjust the sensitivity of monitoring alerts to what works best for you and your family! You can even set a different sensitivity for your older child than for your younger child.
Read more about how our self-learning algorithms detect and alert on potential issues here.
Get Started
STEP 1: Visit your Bark dashboard on your app or browser.
STEP 2: Scroll down to the child you'd like to update monitoring sensitivity settings for > select Monitoring > Settings.

STEP 3: Adjust the sensitivity for that particular child's alerts by clicking the dropdown menu next to the alert type. This will apply to any alerts from this point forward.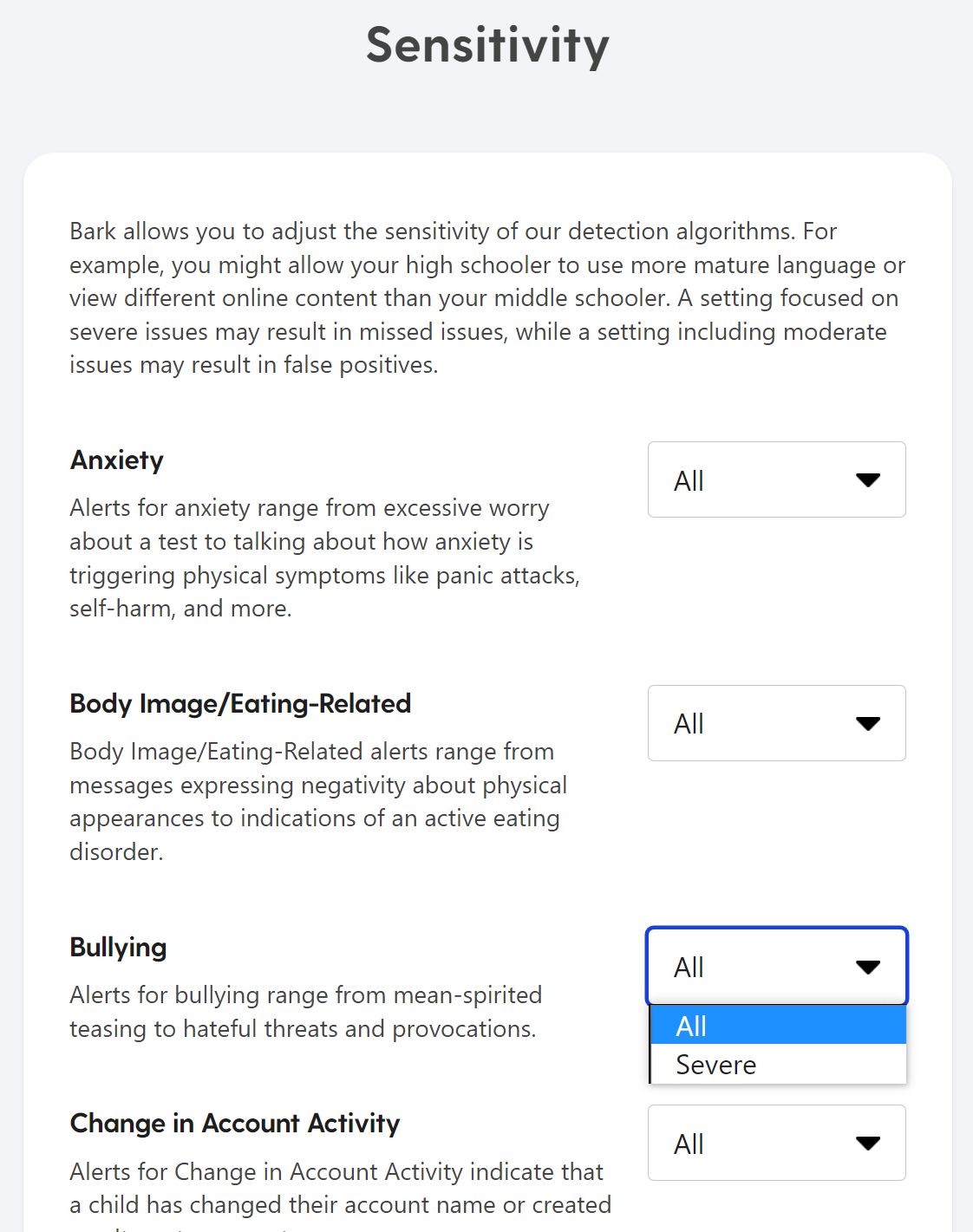 STEP 4: Repeat these steps for each additional child.
That's it!🎉
We recommend starting with the strictest setting and then adjusting little by little to find what works best for you and your family over time. As a rule of thumb, selecting All will increase the amount of issues Bark will alert you to, while selecting Severe will reduce the amount of issues Bark will alert you to — focusing instead on only the most severe content.
Some alert types are On or Off in the dropdown menu because of the nature of the alert type. For example, with the Weapon category there either is a weapon involved or there isn't, so its options are "on" or "off." If your child is discussing weapons in video games or in hunting, you may have turned off Weapon alerts. Rest assured, the Violence category (which cannot be turned off) will still let you know if something more severe takes place, like threats of harm.
After making these changes, you will receive alerts according to the sensitivity setting shown for each child from that point forward. You can adjust these settings per category and per child at any time!
Need help or have additional questions?
We are happy to assist! Reach out to Bark Support, and we'll help every step of the way.