This article is for updating compatible Android devices. Monitoring Amazon Fire tablets and Chromebooks require the Bark Premium plan and different steps.
Watch this video to learn how to update the Bark for Kids app on an Android device. If you'd like some additional tips — or if the video doesn't play — follow the step-by-step instructions written below.
Background
Bark sometimes has to release important updates and bug fixes to the application, so you will want to follow these steps to get your child's Android app updated.
Whenever there is an update available to the Bark for Kids app, we will let you know on your dashboard:

How to update the Bark for Kids app:
STEP 1: Grab hold of your child's Android device.
STEP 2: Open the web browser app, which is most commonly the Chrome app, and type in the following: bark.us/android
NOTE: Is the page not loading?
Check whether the child is "Paused" by following these steps. If still no luck, check whether the Unidentifiable Traffic category is blocked in the current screen time rules by following these steps.
STEP 3: Tap on Download Bark Kids app on that page.
NOTE: If you see a prompt that asks, "Allow Chrome to access photos, media, and files on your device?," tap allow. This is Chrome's fancy way of asking if it's okay to save the file to the device.

STEP 4: Wait for the download of the app to complete, and then tap Open, as seen below.
NOTE
: If you don't see an option to open the bark-for-kids.apk file after the download completes, you can find it in the browser app's

 

Downloads or in the device's

 

Files

 

app. Alternatively, you can swipe your finger down from the top and open the downloaded file that way.

STEP 5: Tap on Install, as indicated below.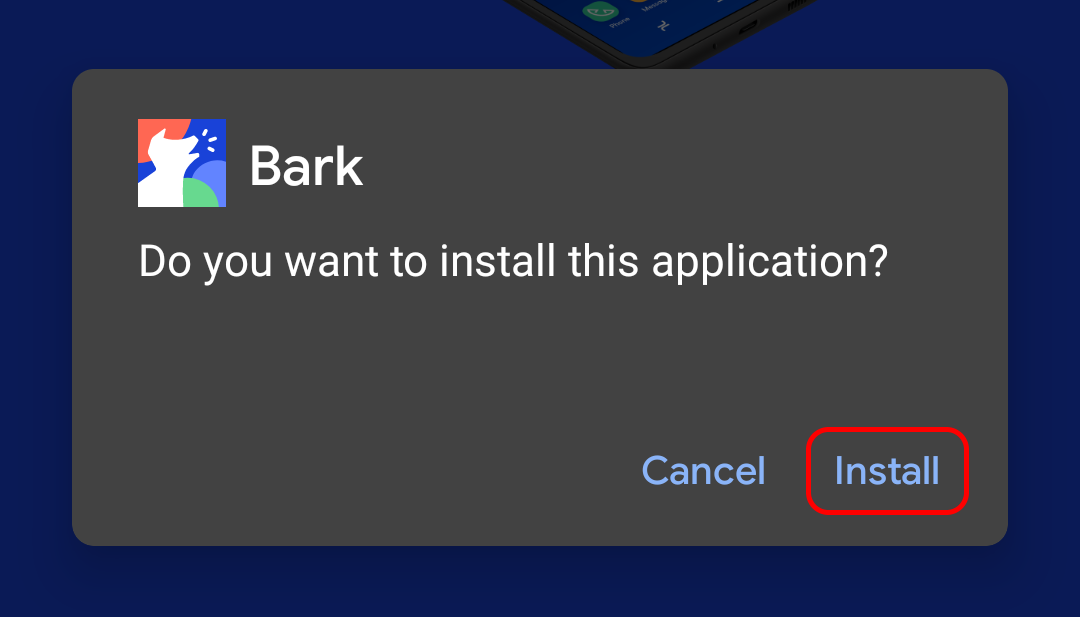 STEP 6: Open the Bark for Kids app.
Look for the Bark for Kids app on the device's home screen or App Drawer with this icon: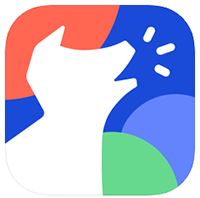 STEP 7: Tap Test Monitoring in its Settings to make sure it's working properly
First, tap on the bottom right gear or cog icon, as indicated below in red:

Then, tap on Test Monitoring.
NOTE: Do NOT logout of the Bark for Kids app, or monitoring will be impacted.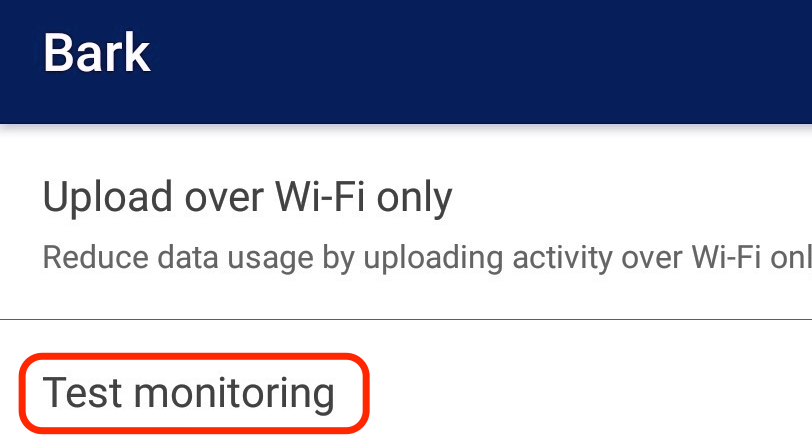 STEP 8: You can now return the device to your child!
Now, on your dashboard, you should see the "Update Available" notice for your child's Android device has disappeared, indicating you successfully updated the app.
That's it! You can now rest assured that your child's Android device is using the very latest version of the Bark for Kids app.
Need help or have additional questions?
We are happy to assist! Reach out to Bark Support, and we'll help every step of the way.