Bark runs an automatic analysis of your child's iPhone or iPad whenever it's been longer than 6 hours since the last analysis. 
However, if your child is home and connected to the Wi-Fi or connected to the computer via USB, you can also prompt an analysis whenever you'd like. This is helpful if you want to analyze your child's iOS device texts, photos, and videos at a certain point instead of waiting for the next automatic analysis. Forcing an analysis will prompt alerts, if applicable, to come through sooner. 
To read more about why we need the Bark Desktop App installed on a computer or the Bark Home device installed on a router to analyze texts, photos, and more on iOS devices, check out this article. 
Get Started
STEP 1: Navigate to the child in question, select Monitoring, tap on Devices & Apps at the top, and scroll down to the iOS device.
STEP 2: Verify the device is detected over Wi-Fi or over USB.
You'd know if it is by looking at the symbol to the left of the device:
If it's a 🔘 grey Wi-Fi or USB symbol, it means it isn't currently detected. For help getting the device detected, check out our guide for USB or Wi-Fi detection issues.
If it's a 🟢 green Wi-Fi or USB symbol, it means we are currently detecting the device!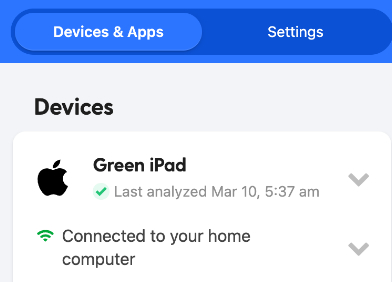 STEP 3: Select the dropdown arrow next to Connected to your home computer (or Bark Home) and click on the Start analyzing button.
Make sure your child's device remains connected to the home Wi-Fi or to the USB cable (whichever one is applicable) during the analysis.
If life gets busy, no worries, Bark will pick up where it left off next time it detects the device.
If you run into an error at the beginning, middle, or end of the analysis, check out our guide for help!

Having issues with iOS monitoring?
Check out this article for frequent troubleshooting solutions. If those don't work, please reach out to us!