After setting up Bark for Schools, your school will have organizational units / groups (sometimes referred to as Active Directories) turned off by default. When an organizational unit or group is enabled in Bark, it means we'll start monitoring the student accounts for worrisome content. Here's a list of what Bark for Schools monitors.
To turn on organizational units or groups, see our instructions below.
Enable or Disable Monitoring
STEP 1: Log in as the Bark for Schools super admin.
STEP 2: Access your school's Monitoring Settings via the menu on the top right: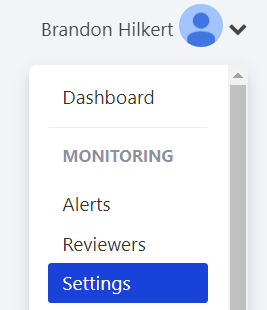 STEP 3: Scroll to the bottom of the screen and toggle on the organizational units / groups that need to be monitored. This will then monitor that organizational unit's emails and documents. Conversely, if a particular organizational unit / group does not need to be monitored, toggle off that particular group.
NOTE 1: Turning on top-level groups will not automatically switch on sub-groups, meaning each unit needs to be turned on individually.
NOTE 2: Changes made to OUs on the Google Workspace level may take up to 24 hours to reflect in the OUs Bark displays.