This article will cover how to use Bark for Schools as a Reviewer.
We developed Bark for Schools with school officials in mind. As such, it is a simple-to-use but incredibly powerful tool for helping your efforts to keep students safe on school-issued accounts and technology.
The very first page you'll see is the dashboard and everything can be navigated from the top right account menu (where your name is located):

Menu Options
1. Dashboard
The dashboard will provide high level statistics around the groups that have been assigned to you.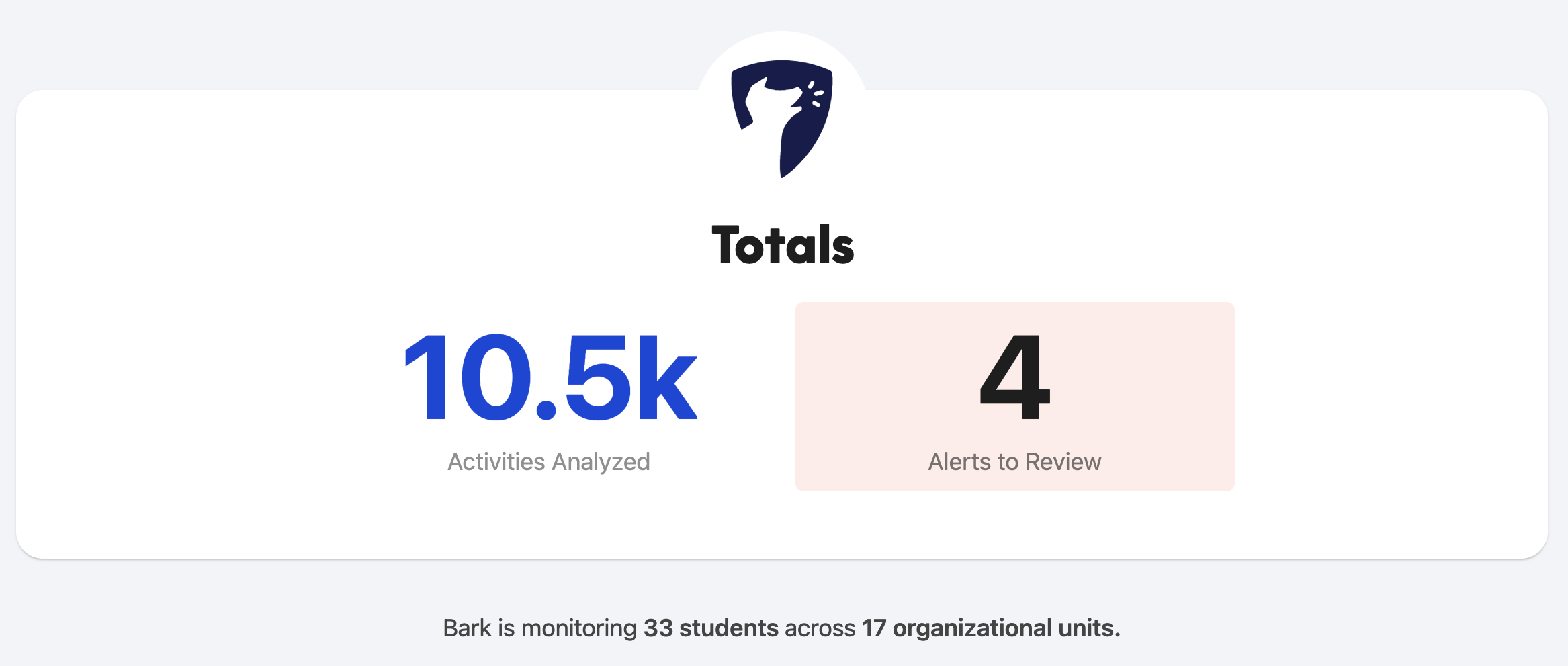 Activities Analyzed
This represents all activity we've seen since Bark for Schools was turned on. The data here will reflect all turned on groups for monitoring - not just your class(es).
Alerts to Review
This represents any issues outstanding for the groups assigned to you. If there is a number here, there is an issue that has been detected but hasn't been looked at by any other Reviewers.
Number of Students Actively Monitored
"Bark is monitoring X students across Y organizational units."
These numbers are based on the organizational units or groups your Bark Super Admin has enabled for monitoring. If the number seems low, you may need to reach out to your Bark Super Admin to verify the configuration is set up properly. For additional assistance, reach out to us.
Reports
The reports section allows you a glimpse of what is occurring across the groups assigned to you, from a statistical standpoint.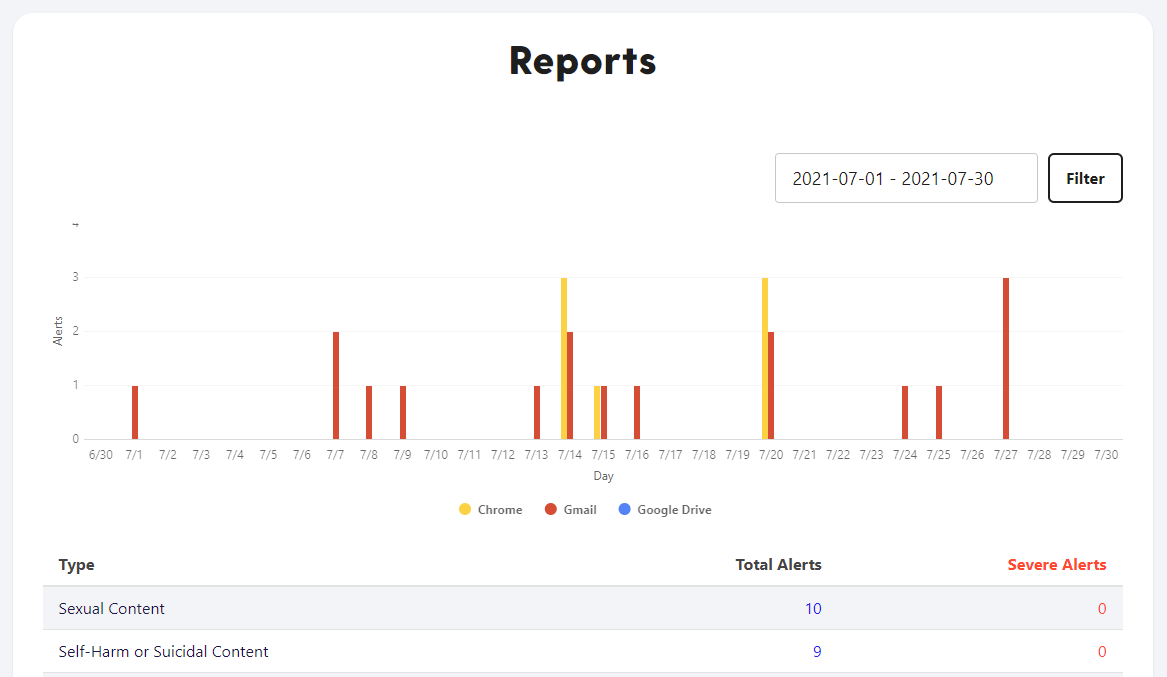 In the images above, we've identified some key sections:
Line graph: This area provides an alert count by day and by platform (e.g. Gmail vs Drive). You can also filter by date on the top right.
Table: This area provides an alert count for the dates selected and breaks them down by type (e.g. Violence, Bullying, etc) as well as by group or organizational unit (e.g. Class of 2025). You can search by a group, or choose one of the groups displayed. Groups in this section are displayed in descending order of alerts generated. Clicking into one of these group names gives a sub-group level view of the data, which is further broken down by student name.
2. Review Alerts
This page is where you'll be able to review what Bark has identified as inappropriate or potentially harmful for a student. We provide a number of filtering options to allow you to get to data very quickly.

In the image above, we've identified some key sections:
A) A filter that can be applied to sort by Category -- such as violence, bullying, and sexual content (this list is not exhaustive).
B) A filter that can be applied to sort by Groups. If you have more than one group (or class, grade) assigned to you, you can filter out by group.
C) A filter that can be applied to sort the student. The student's email, first name, or last name works here.
D) A filter that can be applied to sort by platform. If on Google Workspace, that will be Gmail, Drive, and/or Chrome. If on Microsoft 365, that will be Outlook, OneDrive, and/or Edge Chromium.
E) A filter that can be applied to sort by date.
F) A filter that can be applied to sort by View Status. If an issue has been reviewed by any administrator, the issue can be reviewed by checking the "Reviewed" box. Any viewed issue will have a timestamp and name of the user that reviewed it, as seen in the example below:

G) A filter that can be applied to sort by Other, which are further detailed below:
The flagged only filter refers to a "review later" function within an issue (displayed below). This filter allows you to return to an issue quickly that you had previously marked as Review later.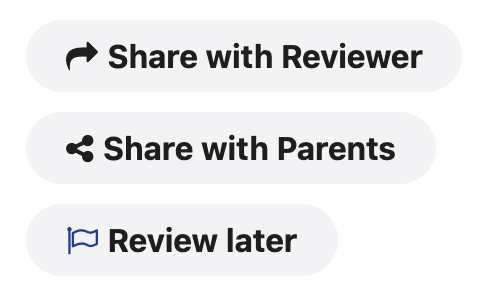 The severe filter allows you to target any identified severe issue. A severe issue is an issue that has hit a threshold in a category and are more actionable. We will always email on severe issues. Severe issues are further identified by a red exclamation mark ❗️, as seen in the example below:

The emergency filter allows you to target any identified emergency issue. An emergency issue is an issue that indicates imminent severe harm to the child. These issues are also accompanied by a red exclamation mark ❗️. We will always email on severe issues. Bark for Schools+ subscribers receive a phone call and text message in addition to an email for these types of issues.
3. Parent Portal
This is a free feature available to you and your administration.
Parent Portal lets you share alerts and responsibility with parents and guardians in an effort to help keep your students safe 24/7. Urgent alerts can happen at times when your administration may not be able to respond — like before and after school, on weekends, and during school vacations. Parent Portal is a completely free service that comes with your Bark for Schools account, and activation is easy.
For additional information on how to explain Parent Portal to your team and the parents in your community, click here.
Still have questions about Parent Portal? Check out our FAQs here.
4. Profile
This page allows you to update first and last name, and emergency contact number. Be sure to click Save after making any changes.
For more information on editing your profile, visit this article: How to Edit Profile Settings
5. Support
This section will allow you to reach out with questions, concerns, suggestions, or anything you need to reach Bark for Schools about.
You can submit a ticket to our team (with team members available 8am-5pm EST, Monday through Friday), schedule a call, and view help articles related to Bark for Schools.
Additionally, you can visit our Facebook group to connect with other schools on student safety, or browse our blog to learn more about topics that can help bolster your student safety efforts.
6. Refer a school
Want to help us in our mission to protect every student and every school and district in America for free?
This page provides you with an email template that you can send to schools and/or districts that you know could benefit from Bark for Schools.
Need additional help?
We have an incredible team behind the scenes here at Bark. For technical questions, we can be reached here. Our team is happy to help!