We built Bark to help families work with their children to stay safe online, and we are excited to provide that service for you and your family!
If you do not already have a subscription plan that includes monitoring, upgrade today!
A few things to note:
We will

 

ONLY

 

alert you if there's a potential issue

 

like a risky application, bullying, depression, etc. in your child's messaging or web browsing. 
We do not send a notification of every single blocked website or app (for your sanity!), just the ones that may require your attention, like blocked Sexual Content websites/apps.
You can add additional emails and phone numbers (like those of a spouse) so that they also receive alerts on your children's monitored activities. 
You can keep track of alerts, accounts, devices, and rules for your children from this

 

dashboard. This dashboard is accessible via bark.us on any device or via the Bark parent/guardian app.
If our system finds something potentially alarming, you and any other notification contacts will receive an email, text, or app alert along with a snippet of the conversation or media for your review, as seen in the example below. We also include recommended tips on how to handle the situation.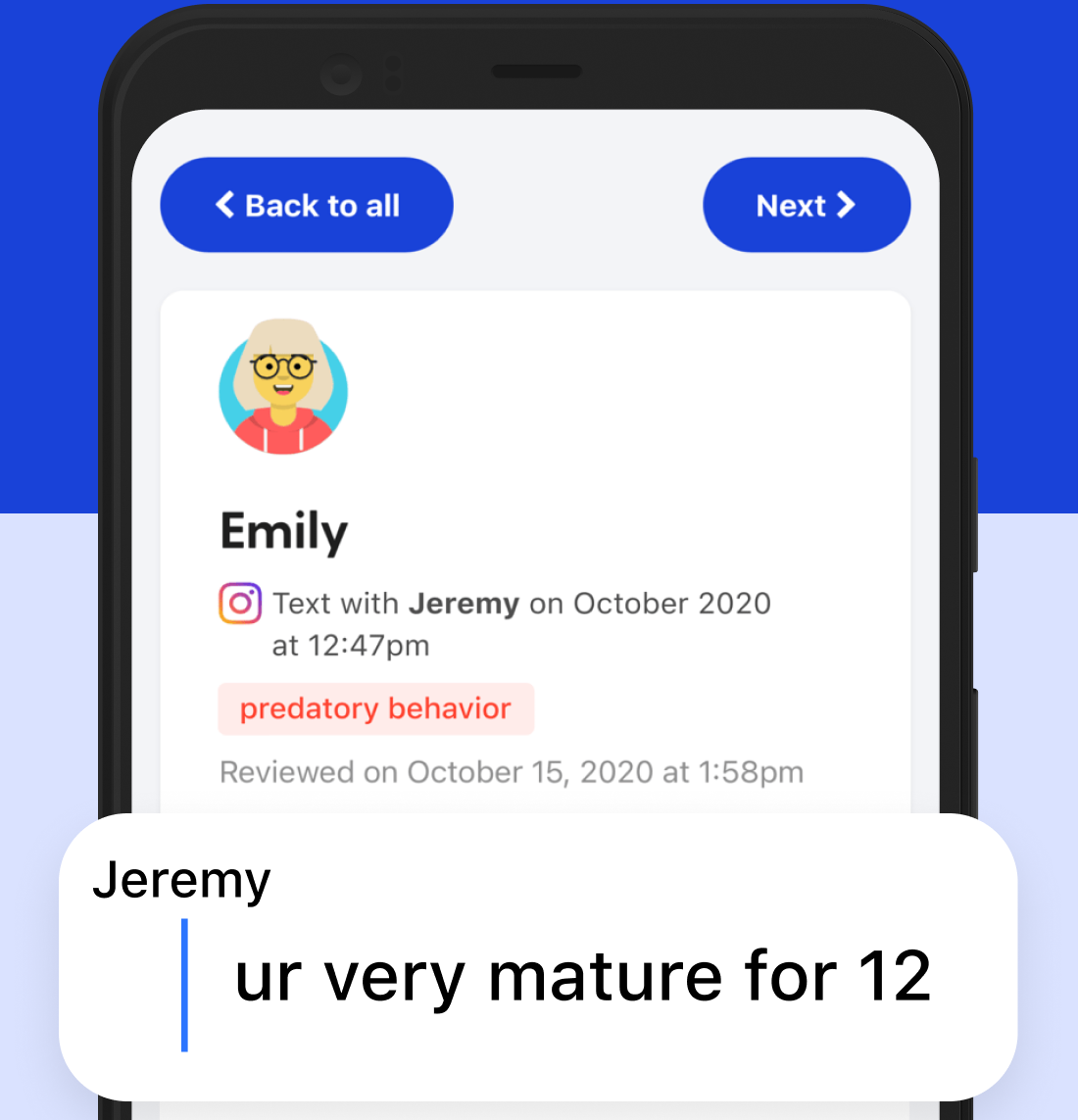 Reviewing Alerts via Email
You will receive an email notice like this, allowing you to click on Review Alerts to take you to your dashboard and see the alert.
NOTE: You will always receive alert emails, even if you have opted out of promotional emails.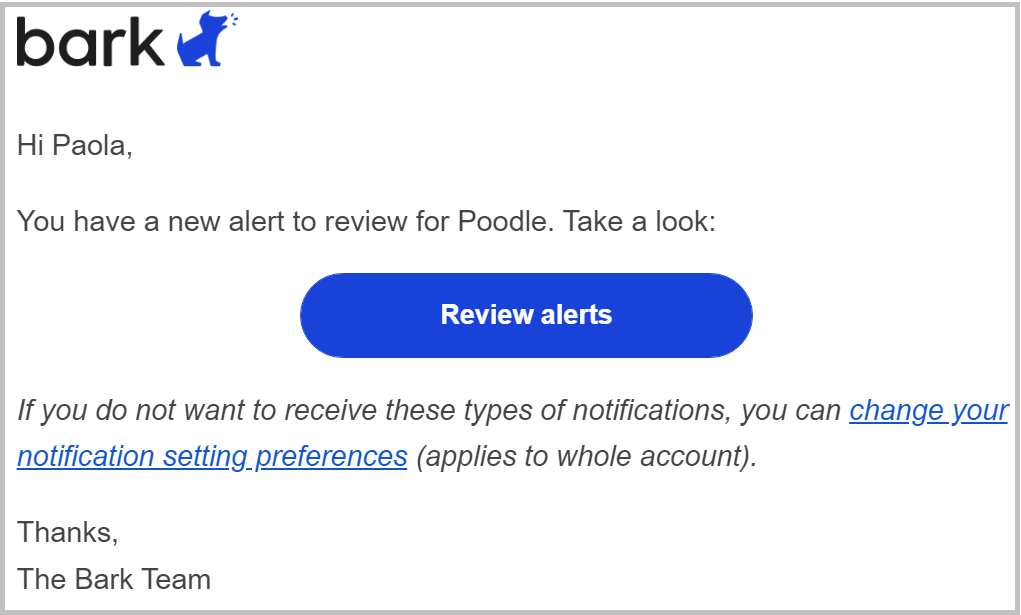 Reviewing Alerts via App
If you've downloaded the Bark parent/guardian application on your Android or iOS device, you will receive an app push notification from Bark, allowing you to tap on the notification to see the alert.
Reviewing Alerts via Text
If you've set up text notifications, you will receive a text notification from Bark saying... 
Bark alert: You have an alert to review for [Your Children]. 
Please review: [link to alert]
This allows you to tap on the link and be taken to your dashboard to see the alert.
How to Use Your Sorting Filters for Alerts
Whether on a computer or on mobile, you can use the sorting filters at the top of your Alerts page to sort by child, platform, reviewed alerts, unreviewed alerts, and more.
You likely are using two sort filters the most: Needs Review vs. Reviewed
To view the issues that haven't been read yet, make sure Needs Review is checkmarked ☑ and that Reviewed is not checkmarked 🔲.
To view issues that have already been marked as read, make sure Reviewed is checkmarked ☑ and that Needs Review is not checkmarked 🔲.
NOTE: If you have another notification contact receiving alerts, they may have reviewed an issue before you did, so you may need to look at the Reviewed issues in that case.
To get more granular with the sort filters, click Show all filters, as seen below: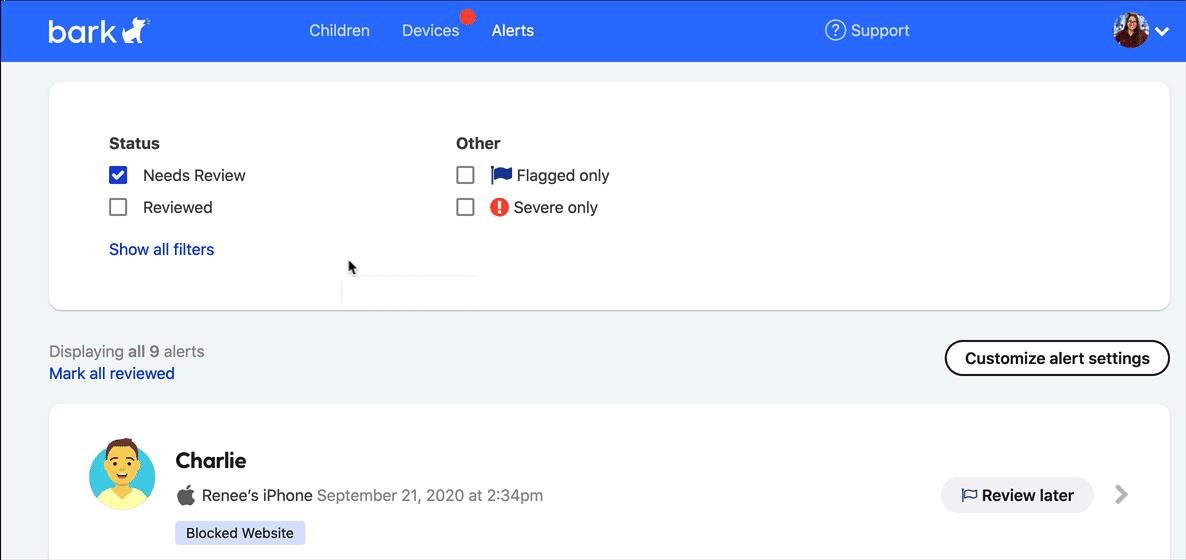 Now, you can sort by the following variables, which you can combine to fit your use-case:
Type: A filter that can be applied to view all issues found for a particular category — such as violence, cyberbullying, and sexual content (this list is not exhaustive).
Children: A filter that can be applied to view all issues found for a particular child.
Accounts: A filter that can be applied to view all issues found on a particular platform, like Android, Twitter, etc.
The saved filter (previously called "flagged") refers to a "save for later" function within an issue (displayed below). This filter allows you to return to an issue quickly.

The severe filter allows you to target any identified severe issue. A severe issue is an issue that has hit a certain threshold of severity, like threat of immediate physical harm as an example. Severe issues are further identified by a red exclamation mark, as seen in the example below:

The delete button on an alert allows you to permanently remove that alert from your account. Use this carefully, since Bark has no way of recovering an alert that was deleted by accident.
💡 Tip: You may instead wish to use your Reviewed and Not Reviewed filters discussed above to better manage alerts, rather than deleting every single one you've viewed, in the case you want to go back to an old alert.

Need help or have additional questions?
We are happy to assist! Reach out to Bark Support, and we'll help every step of the way.