If the activation system is not detecting your Bark Home as online, you may be seeing the message below. If you are seeing that message, let's check the following options.
Verify that you have connected the Bark Home cords to the right ports on your router.
Connect one end of the power cord to the Bark Home and the other end to the wall outlet.
NOTE: You may also want to verify that it's a working wall outlet by plugging in something like a lamp or phone charger.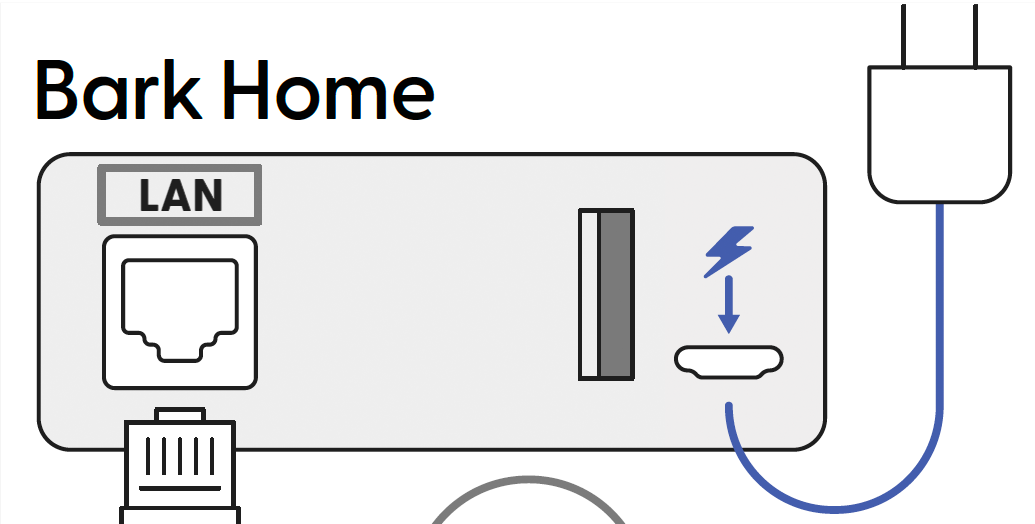 Connect one end of the ethernet cord to the LAN 1 port on your router and the other end to the Bark Home.
NOTE: We do not recommend plugging Bark Home into a network extender or a network switch.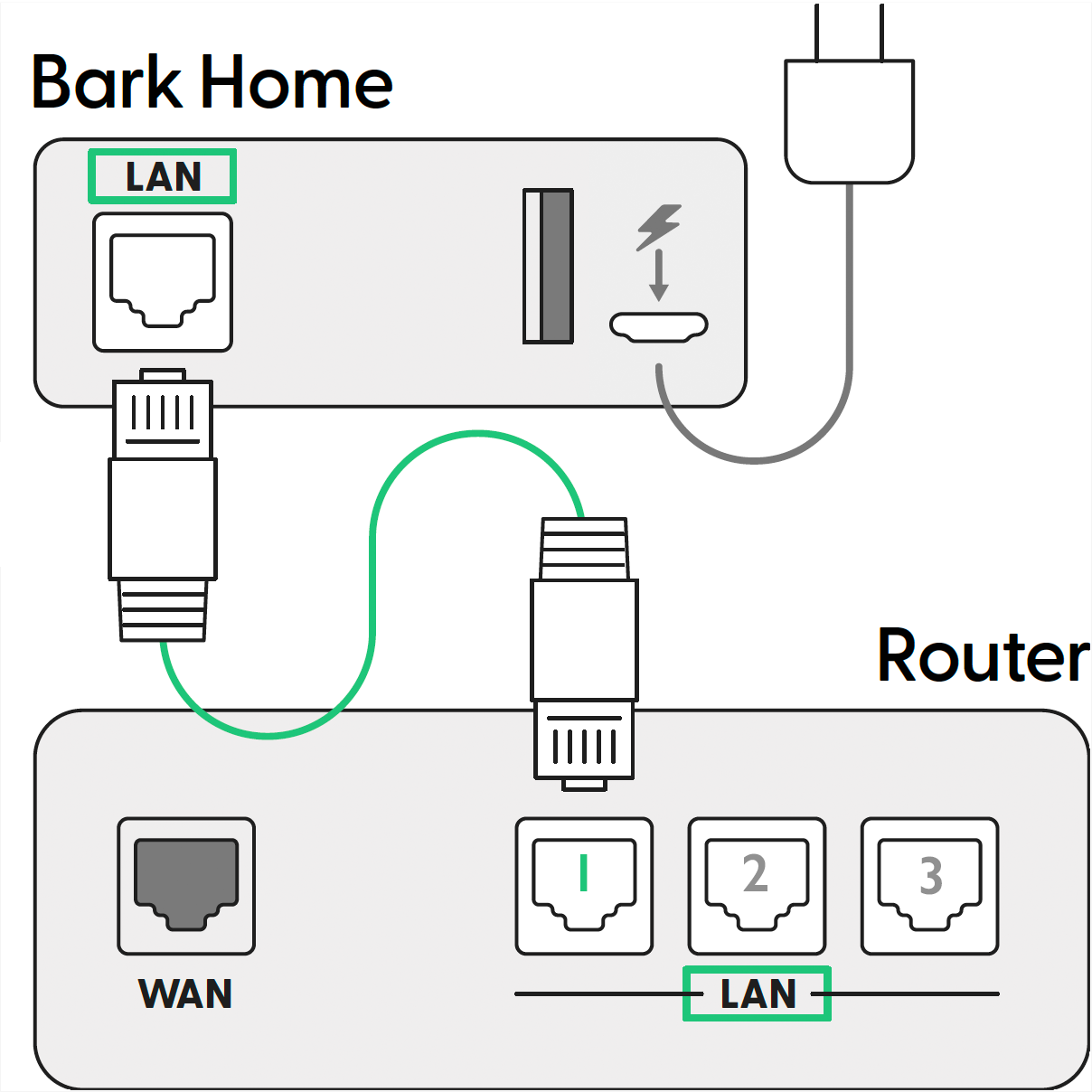 Wait a few minutes.
Then, navigate to go.bark.us to activate your Bark Home for the first time.
Verify that the device you're using to access go.bark.us is on the same network as the Bark Home.
Make sure that you are not connected to a different network or a mobile hotspot.
For example, if your home router generates a Wi-Fi network called "Smith Network," make sure that the computer you are using to activate the Bark Home is also connected to "Smith Network." Then, visit go.bark.us to complete activation.

Verify that your router is compatible with the Bark Home.
The Bark Home was designed to work with as many routers as possible. Although we have tested with hundreds of router models, there are thousands of options available and not all have been tested.
Here is a list of known routers that do not work with the Bark Home, or need some settings changed.
Try an Incognito Browser window.
If you are seeing a blank page when visiting go.bark.us, then open an Incognito Browser window on a computer connected to the home Wi-Fi. It should then show you a page that looks like this: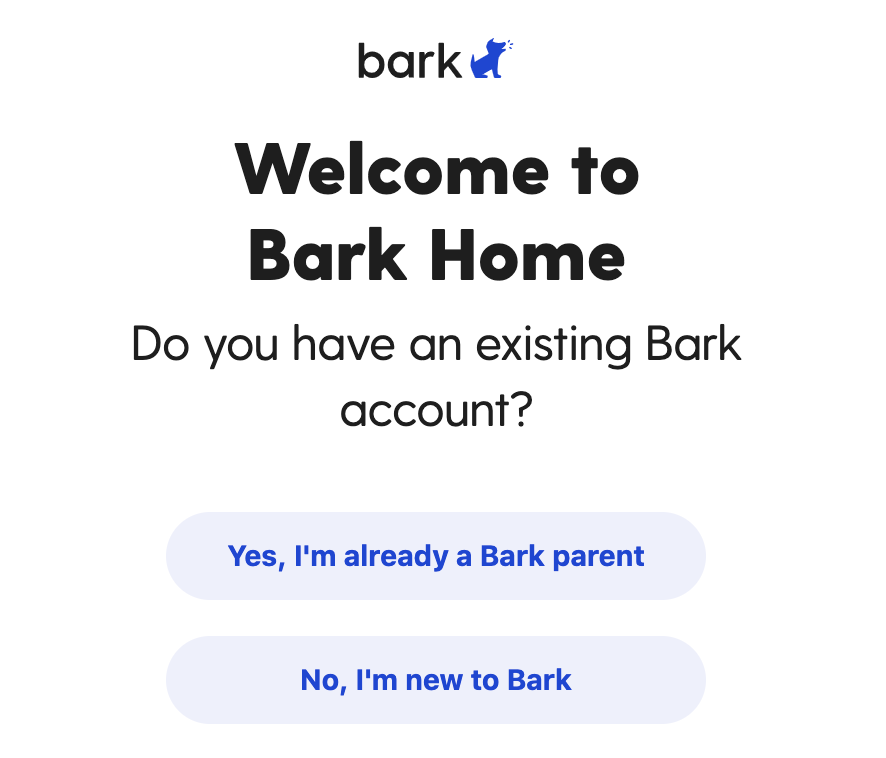 Check your router settings.
Most routers come with a security system commonly called a firewall. A router's firewall tries to make sure that the traffic going through your home network is safe.
Due to the technology Bark Home uses to enforce your web filtering rules, some firewall settings may prevent the Bark Home from activating properly.
To configure your router settings, you will use a web browser that is connected to your home Wi-Fi network to log in to your router's portal.
If you're unsure of how to reach your router's portal, it only takes a little bit of research. In an online search, type out your router model + router settings to find the web address you will use to log in to your router settings. For example, when I search "tp link archer a9 router settings", I can easily find that my router's portal can be accessed via tplinkwifi.net on a browser.

NOTE: If you have forgotten your router's username and/or password, the most common username is "admin" and the password is either blank, "admin", or "password".
Adjusting Router Settings
Once you've logged into your router's portal on a web browser, you're ready to check settings that could be potentially impacting the Bark Home's activation.
Before proceeding, it is a good idea to temporarily disconnect the Bark Home while adjusting the router settings.
Firewall: While we don't recommend turning this entirely off, you may need to adjust the slider to be set to Medium or Low rather than High.
ARP Spoofing: Depending on how it is worded for your router, you may need to turn this setting to the opposite of what it was on. In some routers, like Calix routers, you will enable ARP spoofing to allow Bark Home to get activated.
NAT Acceleration (also known as "Express Forwarding"):

If your router is capable of NAT acceleration and you're having connectivity trouble with Bark Home on your network, we recommend turning NAT acceleration off.

Check your router's knowledge base for instructions on turning off NAT acceleration, and

click here for a list of known routers that need NAT acceleration disabled

.
Once you've adjusted any applicable router settings, plug in the Bark Home and try the setup process again.
If you have a mesh network, consider the following:
Typically mesh networks are networks where they have multiple gateways/routers scattered throughout the home. If you're unsure if you have a mesh network, you may wish to search your router model online to verify.
In mesh networks, one of the many router units is usually the "main hub" while the others are the "satellite units."
When trying to activate Bark Home on mesh networks, you may need to try the following steps:
Unplug the Bark Home from all ports (ie. unplug it from the router and from the power source).
Power down the mesh network's satellite units, while leaving the main hub/router of the mesh network turned on and connected to the internet.
Wait 3-5 minutes.
Plug in the Bark Home to the main hub/router.
Wait up to 15 minutes for the Bark Home to take over the network. (You will know if it's ready for activation based on the LED lights.)
See if any of the Wi-Fi connected devices (like a computer) can go to bark.us on a web browser. If they can, then that's good news. You can then navigate to go.bark.us to try the setup process again.
If you have an advanced network setup...
Review this guide for potential adjustments: Bark Home & Different Network Setups
Need additional assistance?