iOS (Apple)
To calibrate the GPS on your child's iOS device, please see the instructions below:
Calibrate GPS on iOS (using Google Maps)
NOTE:
 

If your child's device does not have cellular data, Bark will only be able to get location information whenever it's connected to a Wi-Fi network.
Next, let's make sure Bark Kids has permission to use Location Services on your child's device. While these instructions may vary slightly, the location permissions for Bark Kids are generally found by doing the following:
Go to Settings > Privacy > Location Services.
Make sure that Location Services is on.
Scroll down to find the Bark Kids app.
Tap the app.
Select Location > While Using the App or the Always option. We recommend choosing "Always" option to take advantage of our location alerts. On newer versions of iOS, you can also enable Precise Location, which is also recommended.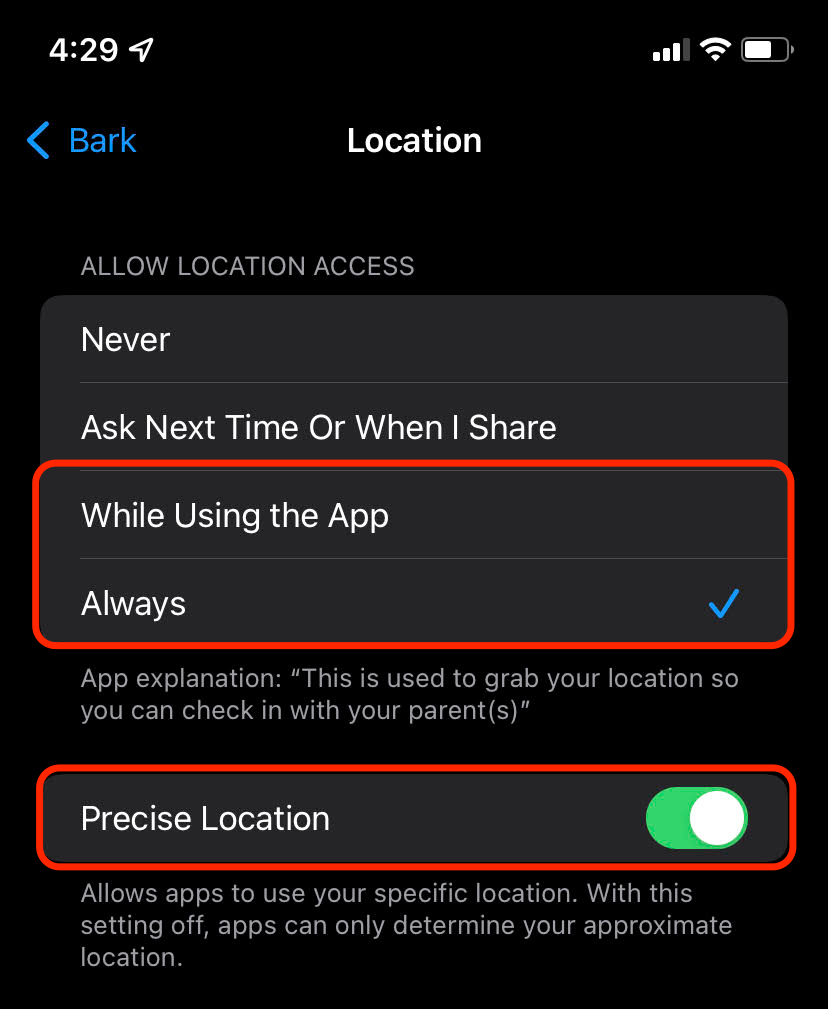 📌 Tired of adjusting location permissions for Bark?
You can ensure the location settings you've set on your child's iOS device remain by using Apple Screen Time to lock them down with an Apple password only you know. Go to Settings > Screen Time > Content and Privacy Restrictions > Location Services > Don't Allow Changes.
Lastly, let's verify that Bark Kids is allowed to use Cellular Data:
Universally, this is found by going to your child's device Settings ⚙ app > scroll down and tap on the Bark Kids app > Cellular Data (iOS) > ensure it's turned on. We also recommend turning on Background App Refresh.
Need help or have additional questions?
We are happy to assist! Reach out to Bark Support, and we'll help every step of the way.