We've developed the Bark for Chrome extension for monitoring student browsing activity within Chrome. This extension is not a filter — it does not prohibit traffic, but it will alert you to inappropriate or concerning web browsing. 
If you'd rather deploy one of our web filters, check out this article instead.
What I can expect to be monitored:
Page titles (URLs) and searches
Get Started
STEP 1: Click the three-dot menu on the top left of the Admin console.
STEP 2: Click on Devices > Chrome management > Apps & extensions.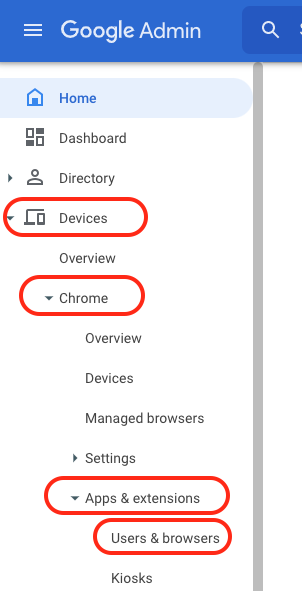 STEP 3: Select the OU(s) that contain the students you wish to enable the extensions for — keep in mind that the top-level OU will force those related sub-OU's to inherit the extension. 
Also, the web filter will be properly deployed if you're selecting OUs that have student Gmail accounts within them. The extension will not work properly if you're deploying to OUs that only contain devices.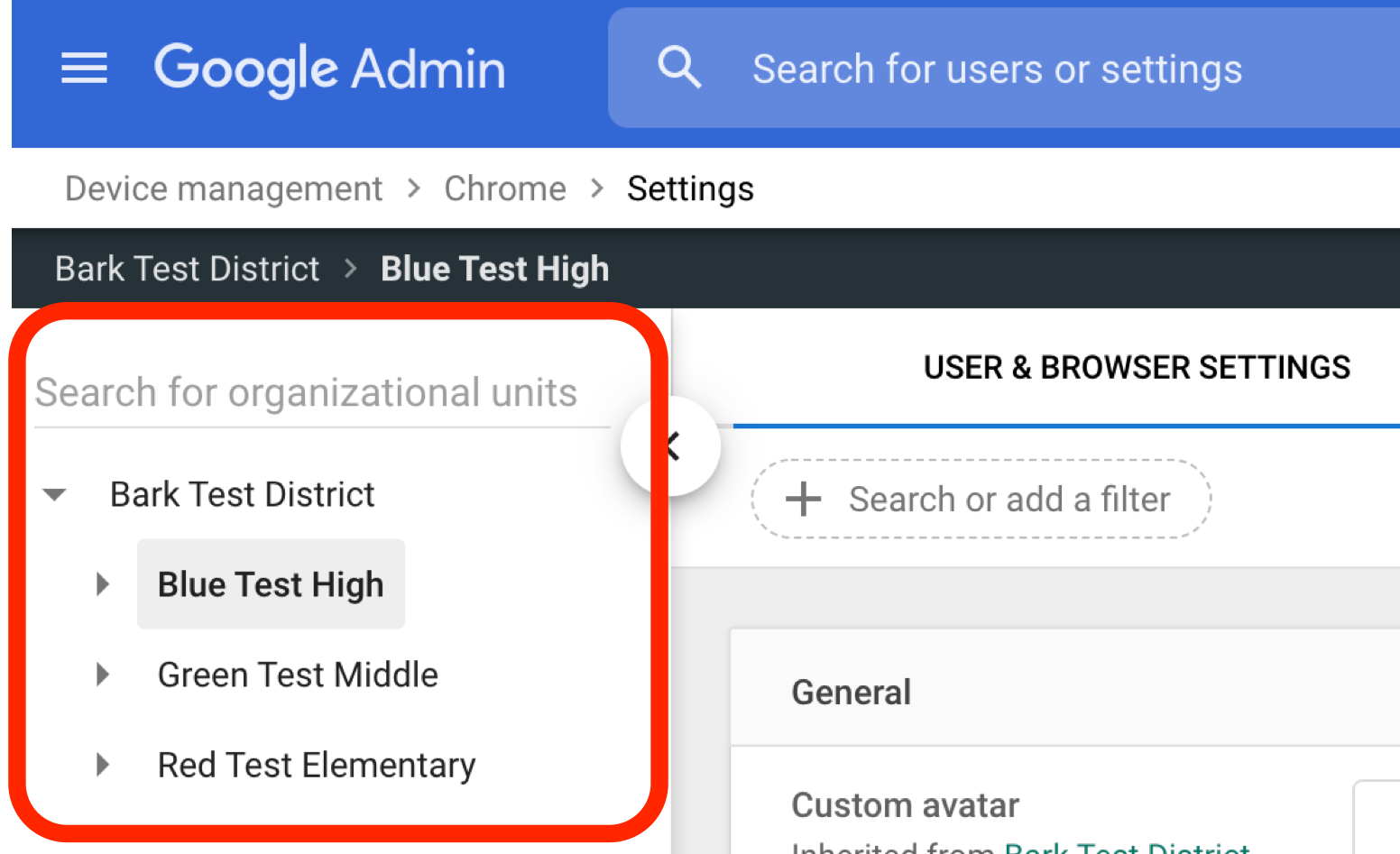 3a. Click on the yellow + symbol on the bottom right.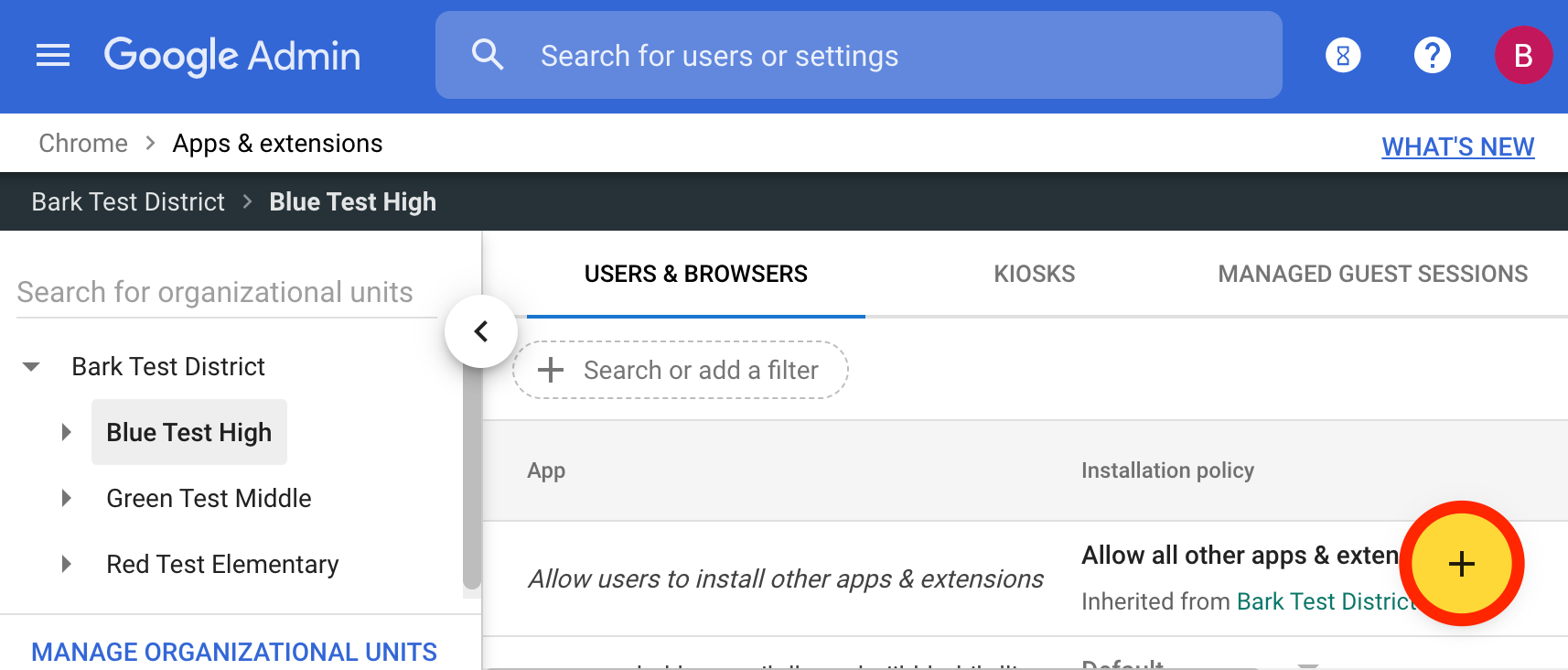 3b. Select Add from Chrome Web Store.

3c. Search Bark and click on Select to install the Bark for Chrome extension for that OU.

STEP 4: Click on the Installation Policy for the Bark for Chrome extension to Force Install and Save your changes on the top right of the screen. 

STEP 5: If you wish to turn on the Bark for Chrome extension for OUs that were not part of the first tree, please repeat steps 3 - 5.
STEP 6: Consider using some of the following Google Workspace tools.
These settings are found in the Google Admin Console under Devices > Chrome Management > User & Browser Settings:
Incognito Mode

 

- you can disable this setting and students will not have the option to use incognito browsing on Chrome. 
Developer Tools

 

- you can select "Never Allow the use of built-in developer tools" to prevent students from disabling Chrome extensions needed for school.
SafeSearch

 

- if you enable this setting, students will have explicit results filtered from their Google searches.
Youtube Restricted Mode

 

- if you enable this setting, students will have explicit results filtered from their Youtube searches and will not be able to view many explicit videos.
Task Manager

 

- you can select "Block users from ending processes with the Chrome task manager" to prevent students from disabling Chrome extensions, apps, etc. needed for school.
If you manage Chromebooks, there is also another useful Google Workspace setting under Devices > Chrome Management > Device Settings > Sign-in Settings > Guest Mode. We highly recommend disabling Guest Mode so that students have to use their school-issued email address to log into the Chromebook.
How do I know it's working?
It will take some time after the first-time setup for Bark to start processing web activity.
What Bark for School produces on student browsing activity falls in line with how we alert on other applications: we will only display data that is concerning, inappropriate, or potentially harmful.
The results from Chrome monitoring issues can be found alongside the rest of the issues under the Review Alerts page, and it will have a Chrome icon designated to it:

Students will also notice the extension is installed on the puzzle piece menu of their Chrome browser when logged in with their student account. The extension will be labeled Bark for Chrome.
 
Additional Resources for Schools
Need help ensuring that your students are set up for success while they're using their devices? Bark for Schools has created helpful resources so you can fully optimize your Google Workspace settings for remote and classroom learning. Check out our complete set of Chromebook resources for schools, this comprehensive guide will help you deploy your technology. Whether your school has been using Chromebooks for a while or you're brand new to them, Bark for Schools has got your back.
For information on Google's available tools for managing users on your organizational units and preventing the removal of the Bark web filtering extension (and unauthorized adding of others), check out this resource.