By purchasing Bark Foundations accounts for their families, a school helps provide a digital safety tool at no cost to their community.
Below is what your journey will look like after you've received an email invitation from your school to create your Bark Foundations account.
Get Started
STEP 1: If you'd like to enroll in your free Bark Foundations account, click Set up my free account in the email you've received:
STEP 2: You will be taken to a page where you create a password for your free Bark Foundations account. Then, click Next.
STEP 3: Enter your child's name, birth month and birth year, and click Save.
NOTE: You will be asked if you have another child once you add the first one. If you don't, simply click Done adding children.
STEP 4: You will be asked if your child has an email account, click on any applicable accounts and click Next. Otherwise, click None of These. 
STEP 6: Let us know what social media accounts your child utilizes and click Next.
STEP 7: Next you'll be prompted to set up the accounts you've chosen. You can always do this at any time if you're not ready right now!
STEP 8: Set Alert Notification Settings.
Add emails to receive

 

alerts

 

(can include partner, spouse, or family member's emails).
Add a US phone number if you'd like to receive

 

text notifications

 

for alerts.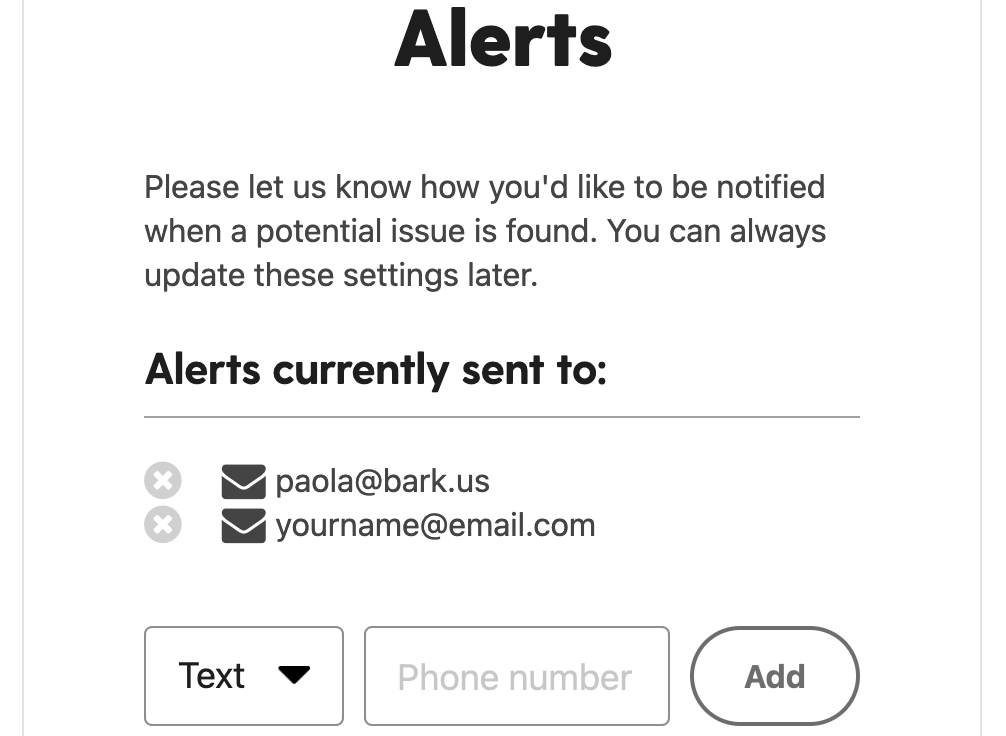 STEP 9: (optional) Download the Bark parent / guardian app.
STEP 10: Now you will see the dashboard you can use to manage your child's accounts. You can access this dashboard from any web browser or via the Bark parent app on iOS and Android.