What makes Pinwheel different from other Android devices?
Pinwheel devices have no browsers, email clients, games, nor social media.
The few apps and texting that work on Pinwheel may be monitored using Bark! This includes...
Location Check-Ins are also supported on Pinwheel devices.
Bark's on-the-go filtering is not supported on Pinwheel devices. Because Pinwheel is a different type of Android device (it already prevents many apps from being accessed on the device), it doesn't need to use Bark's on-the-go filtering capabilities. Thus, you'll want to follow the steps below to disable Bark's on-the-go filtering. This prevents you from getting Bark alerts that the filtering is not set up, but still ensures that you have Bark's content monitoring set up for your child's Pinwheel device.
(What is the difference between web filtering and content monitoring?)
How do I set up Bark on Pinwheel devices?
STEP 1: Log into your Pinwheel Caregiver Portal. Select Apps > search Bark > toggle on the Bark app. This installs the Bark app on your child's device.

STEP 2: Open the Bark for Kids app on your child's Pinwheel device. Log in with your Bark parent/guardian credentials, select the child, and accept the permissions prompted (for more information on what this looks like, start at Step 6 of this article). Once it is set up, tap on the bottom right ⚙️ icon, and select Test Monitoring. You can now exit back to the home screen (do not log out of the Bark for Kids app) and set your child's device aside.
NOTE: At this point you can decide to disable the app on the Pinwheel Caregiver Portal and it will not be accessible by your child, while still being on the phone. Bark is integrated with Pinwheel, so the app will never uninstall itself.
STEP 3: Log in to Bark on a parent/guardian device, and scroll down to the child or home profile. Select View Profile. Find the Pinwheel device and click on it.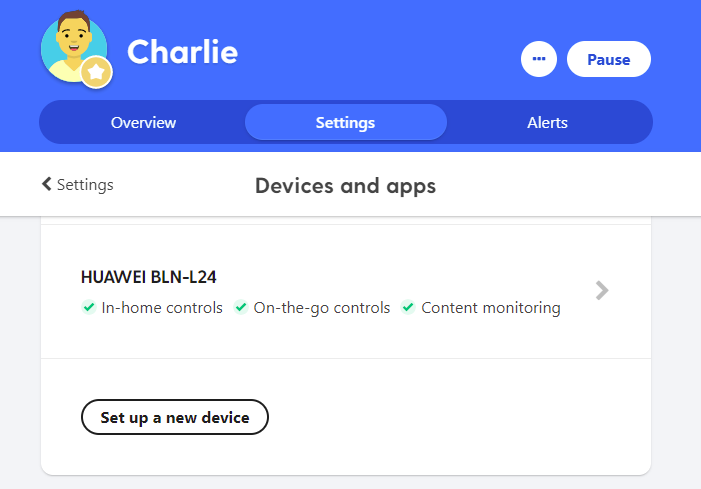 STEP 4: On the top right, click on the ... icon 💬 > select Split device.
This will separate the monitoring from the filtering (VPN). When you split, rename the "second device" (the VPN portion) something like "VPN Pinwheel" so you'll know what it is. This will become important in the next step.
STEP 5: Now, navigate back to the previous page where you could see this child's devices. Click on the "VPN Pinwheel" device. On the top right, click on the ... icon 💬 > select Remove device.
Done! The Pinwheel device will still be monitored with the Bark Kids app, and you won't receive alerts stemming from the system detecting the Bark VPN is disconnected (since you don't need it for Pinwheel). You can always verify that Pinwheel monitoring is working correctly by looking for a ✅ symbol next to content monitoring, as seen in the example below:

Does the Bark for Kids app update automatically?
Once Pinwheel is notified of a new Bark for Kids app update, they go ahead and automatically push out the new app version to all their Pinwheel devices. Thus, it may take a little bit of time for the app to update, but it should update automatically!
How can I reach Pinwheel Support?
You may want to check out this help article about Pinwheel and Bark. If you need to contact Pinwheel directly, they can be reached here.
How can I reach Bark Support?
We have an amazing support team. Don't hesitate to reach out to us!