Parent Portal lets you share alerts and responsibility with parents and guardians in an effort to help keep your students safe 24/7.
Preparing for the Launch
Schools that have reported the best parent engagement start by first:
Once they've done the above, that's when they send the Parent Portal invite email to encourage families to set up their account.
Launching Parent Portal
Settings
Schools can control the severity of the issues parents receive, as well when they're sent.
Severity: Can be adjusted between "Severe Only" and "All."
Time: Can be adjusted between "Anytime" and "After Hours." The after-hours time frame is 3 p.m. to 8 a.m. local time, including during weekends and holidays.
Schools generally select "Severe Only" and "After Hours" while school is in session, and they set them to "Anytime" and "All" on weekends and breaks.
Activation
From your Parent Portal settings page, you can choose from three methods to sync contacts: Clever, ClassLink, or .csv file upload.
With Clever and ClassLink, we only require the student and parent email addresses.
With .csv files, student addresses must be listed on the same row as the addresses of their parent or guardian. If families have multiple children, then list them in a new row, as seen in the example below.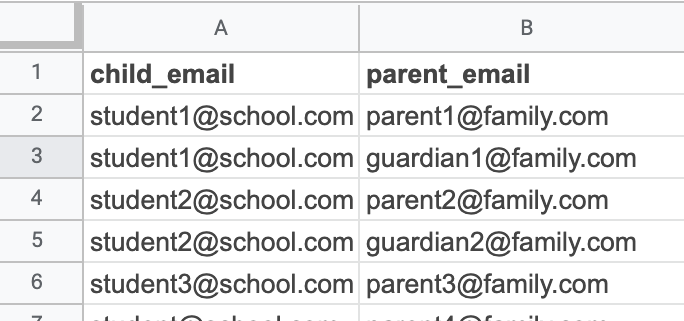 After the Launch
Invitations
Once you've uploaded the student and parent information, the invitations will be sent within a few hours of confirmation. If your school launches Parent Portal after 5pm ET, it will be processed the following business day by 11am ET.
The parents can follow the steps in this guide to set up their Parent Portal account. Once set up, they'll receive alerts on their child's school-issued account(s) according to your settings.
Educating Parents About Digital Dangers
Tech nights are a great way for parents to learn more about what could occur online and how they can best protect their children. Our Tech Night resource page provides information, videos, handouts, and more to help you host a successful gathering.
Resources for Parents
Along with launching Parent Portal, equipping parents with the tools they need for acting on issues they receive is vitally important. Bark has developed our Parents Resource Toolkit for parents who need help with recommended actions after receiving alerts.
Many parents also have children receiving online accounts for the first time at schools. We've got those parents covered with our Parent Start Guide. These resources help parents with what to expect on school-issued accounts.
If families have any questions or need advice on how to approach a difficult topic with their child, please send them our way. The Bark for Schools team is here for your parents and guardians, too! Families can reach our team at any point via the Bark app for Android or iOS, as well as our website. Bark Support is available every day of the year.