STEP 1: Sign in to your school or district's Google admin console as a Super Admin, and select Apps > Google Marketplace apps > Apps list > Add app to domain install list.

STEP 2: Search for Bark and select the resulting marketplace app seen below:
NOTE: If you don't see it, then you are not signed into the marketplace under a Google Super Admin account.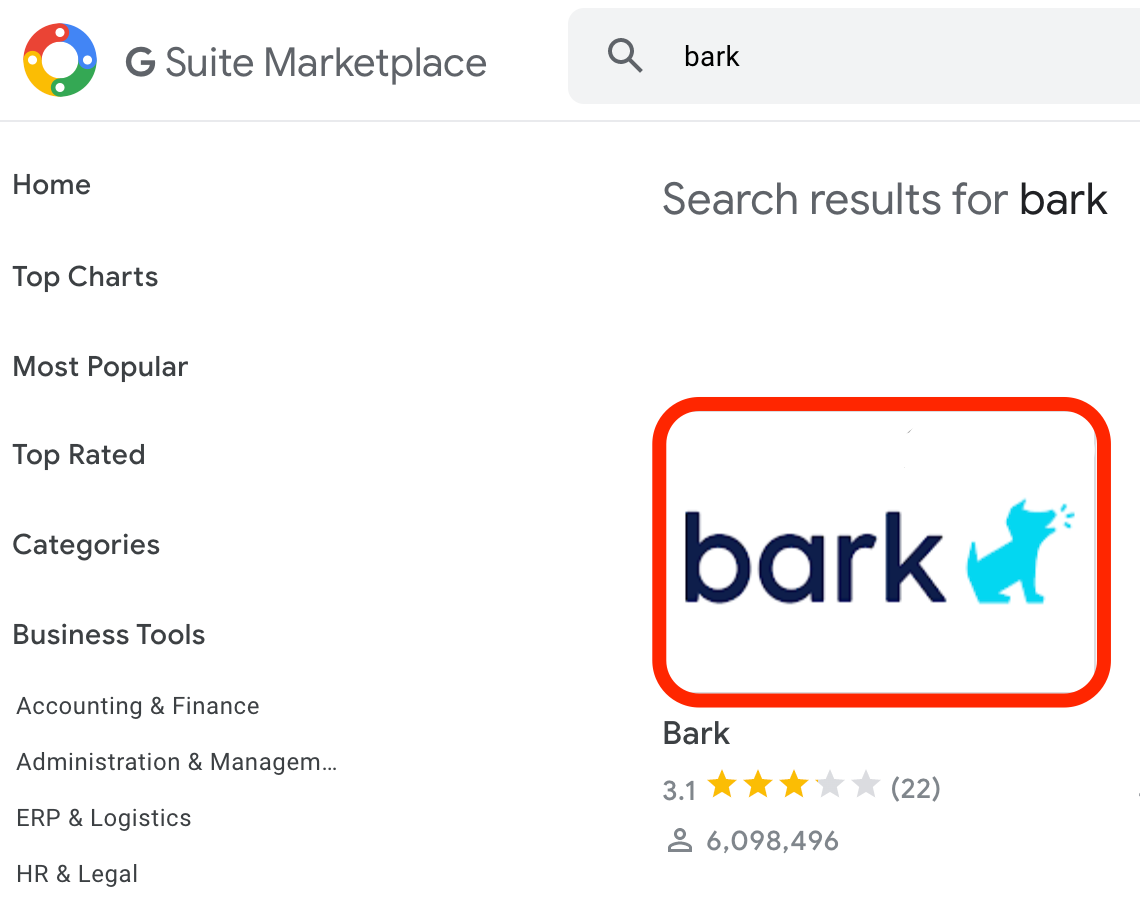 STEP 3: Click the Domain Install button at the top.
NOTE: It needs to be installed on the whole domain for the app to have the proper permissions needed to monitor the student accounts. Rest assured, it will not monitor any organizational units until you are later prompted on your Bark for Schools dashboard to turn on monitoring for specific organizational units.

STEP 5: Click the Continue button at the bottom.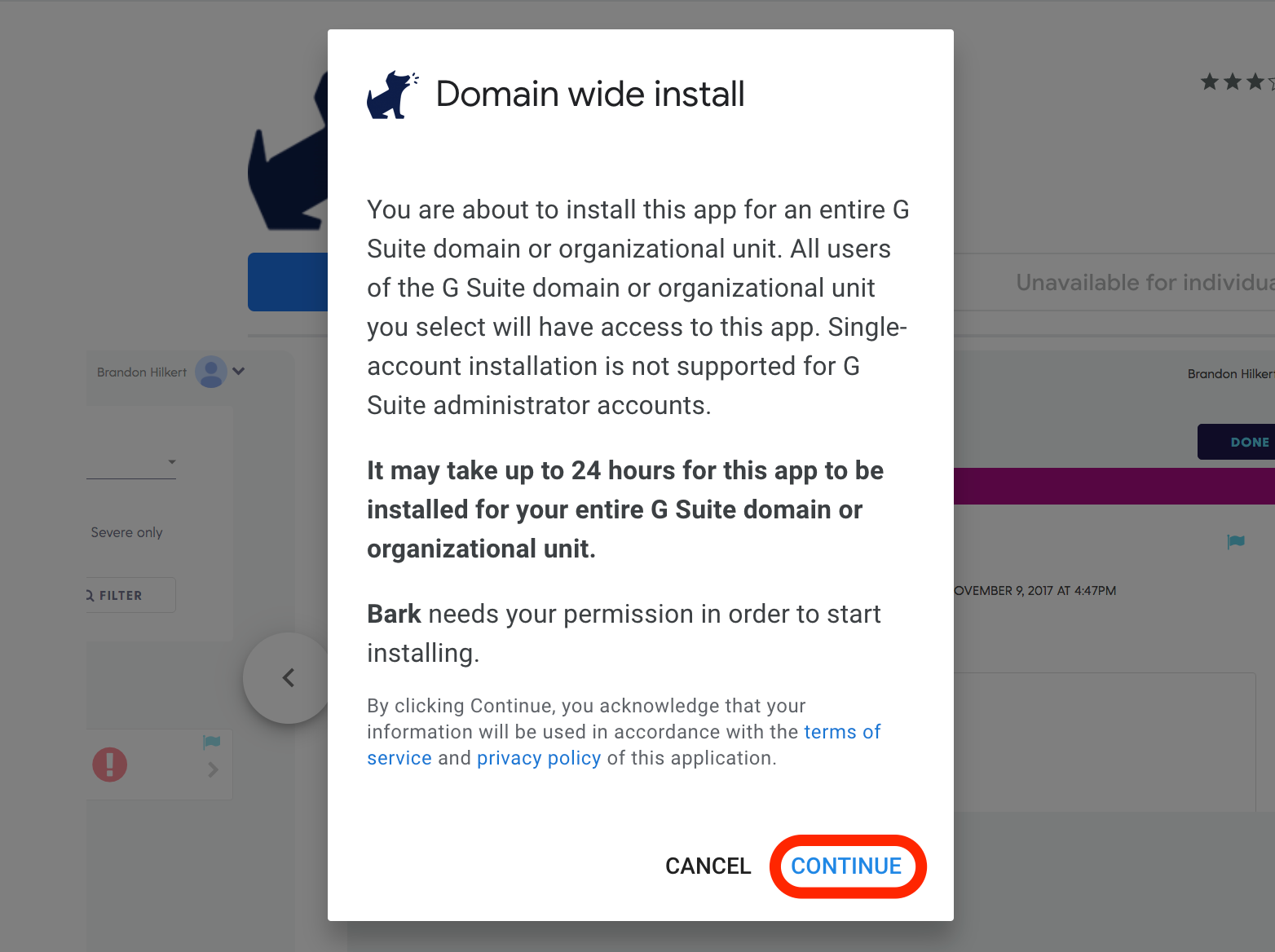 STEP 6: Accept the permissions by checking the "I agree..." checkbox and clicking the Accept button at the bottom.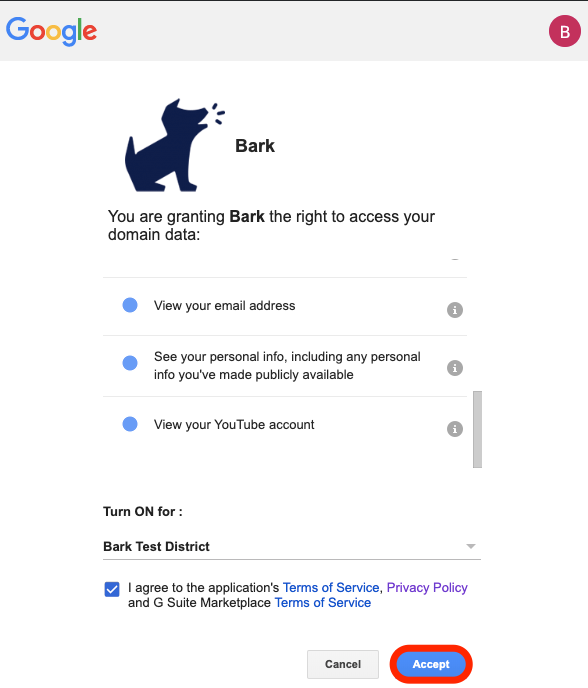 STEP 7: Click the Done button at the bottom.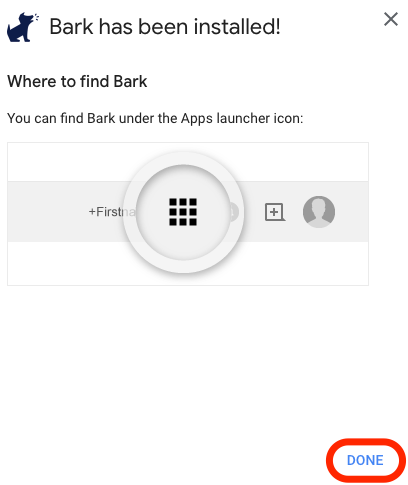 STEP 8: Find Bark in your Marketplace Apps in the Admin Console and scroll down to Universal Navigation Links. Click on the link highlighted in red to log in to Bark for Schools for the first time.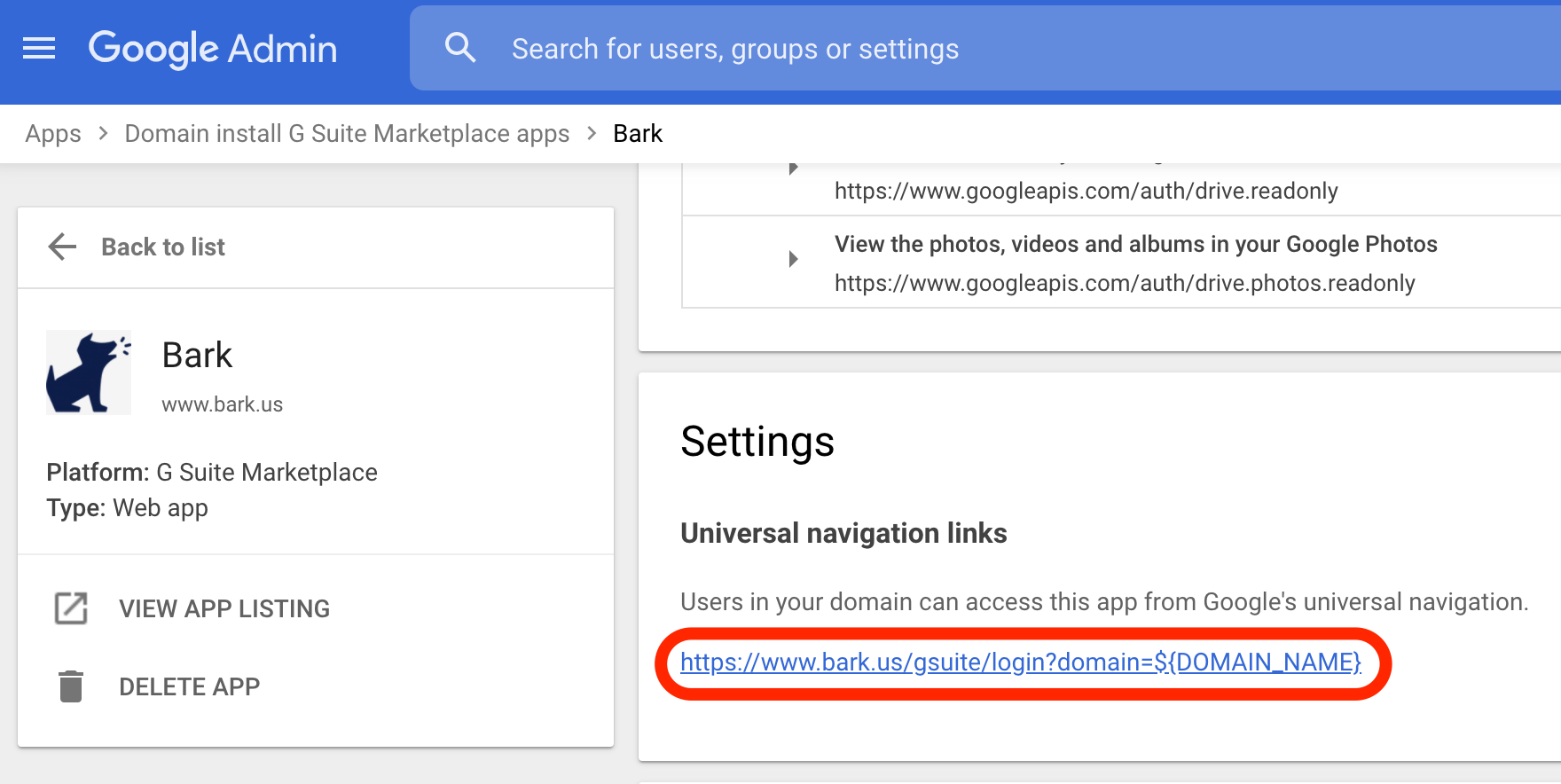 STEP 9: Sign in to your administrator account. This needs to be the highest level permissions administrator account for your domain.
STEP 10: Proceed through the onboarding prompts. You can always change the settings presented during onboarding at a later time.
STEP 11: After onboarding is complete, you may see a message about Bark syncing. After the sync completes, you will see the Bark for Schools administrator dashboard.
Going forward, you will navigate to bark.us/schools to log in, review alerts, and adjust settings within the dashboard.
Recommended Adjustments
If your students use Google Chat, Bark can monitor the text and media attachments in those chats! Ensure we're able to monitor chats by following these additional steps:
How do I know it's working?
It may take up to 24 hours for the first-time sync with Google Workspace to complete.
Then on your Bark dashboard, you will see "Bark is monitoring X students across Y organizational units." We should expect that number of students to be directly related to the number of Gmail / Google Drive accounts you have enabled for monitoring in your Bark Settings.
If that number seems low, ensure you've selected the applicable student organizational units & sub-directories in your Bark Settings. Remember, you will want to select OUs containing student Gmail / Google Drive accounts -- not just OUs containing devices.
Additional Resources
Reference these guides should you need to adjust settings for your Bark account!
Trouble viewing settings or inviting reviewers?
If you have trouble viewing the settings page or inviting other admins, it's likely because we don't have the proper permissions to access the directory API.