OnCall is an upgraded, paid service that provides your school with a dedicated specialist who will contact you via email, text, and phone call when an imminent severe issue is detected.
What OnCall Provides:

In-Person Calls
For urgent alerts that require immediate attention.

Dedicated Support Staff
Trained to effectively communicate in crisis situations.

Peace of Mind
That a live person is reviewing your alerts.
OnCall specialists will notify you of severe and imminent issues, such as:
suicidal ideation
self-harm
threats of violence
OnCall emergencies are highlighted in the dashboard
We never want you to miss an alert - especially when the alert triggers an emergency call. With OnCall, any unviewed emergency alert will appear in red above all other alerts.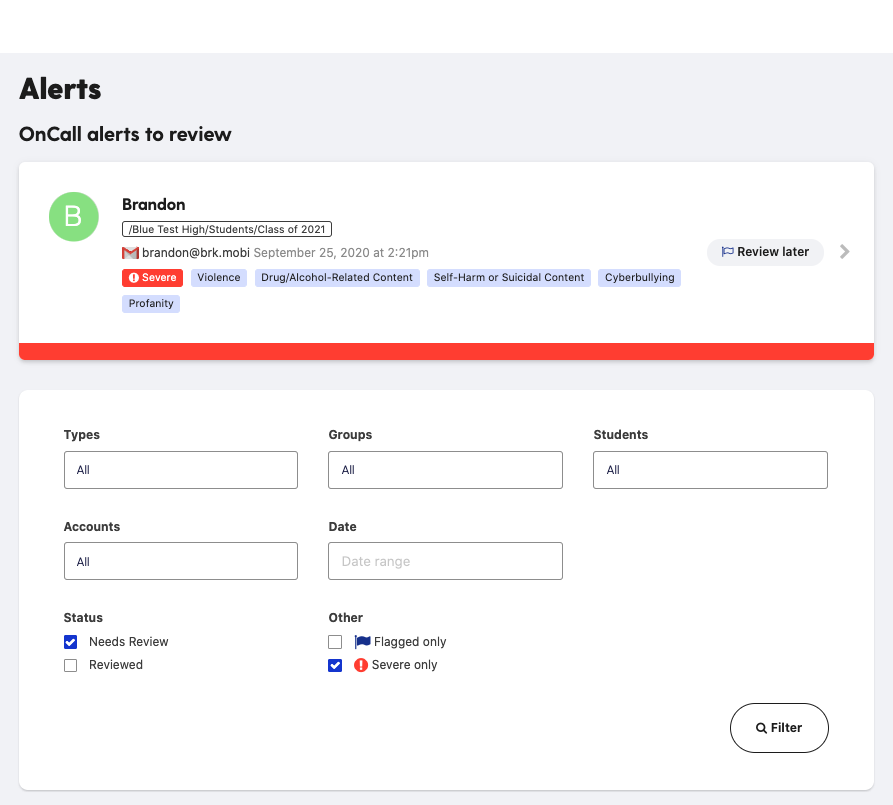 OnCall reviewers can customize notifications
With OnCall schools, reviewers can enable or disable notifications based on the categories they're best suited for.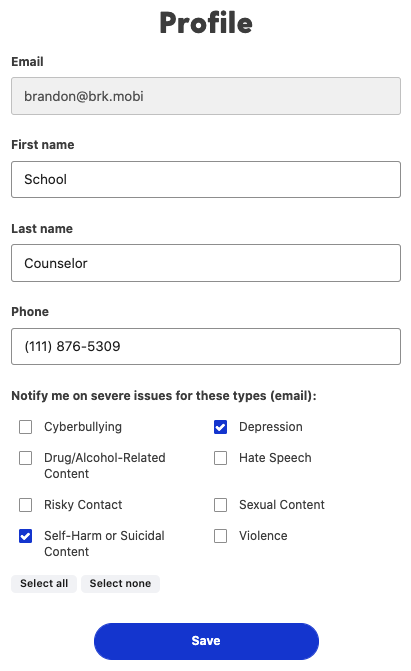 What is the difference between OnCall and Free?
The A.I. and email alerts for each product is the same. With OnCall, our trained and dedicated specialists make your students' safety their first priority by alerting you via text, phone, and email when urgent, time-sensitive alerts need to be addressed 24/7. You can get peace of mind knowing someone is available 24/7 to alert you to potentially urgent dangers facing your students.
If I sign up for OnCall, can I choose the number of students covered?
Absolutely! We want OnCall to work for your school as you need it. We work with schools that choose to select either a grade level or every student. The choice is yours to make.
Do I have to sign up for OnCall in to order help protect my students with Bark?
OnCall is completely optional to schools. The value of OnCall comes with after hours severe notifications, and we have plenty of partner schools solve this problem by launching the Parent Portal. The Parent Portal allows parents to share in the responsibility of the issues detected on their child's student account, after hours or 24/7 based on your settings. You can learn more here: Getting Started With Parent Portal
Where can I enroll or get more information?
OnCall quotes are personalized per school and we're happy to help! You can contact us or find more information about the OnCall program below.