Watch this video to learn how to set up monitoring of your child's accounts and devices when you first sign up for Bark. If you'd like some additional tips — or if the video doesn't play — follow the step-by-step instructions written below.
STEP 1: Add your child(ren).
The first page you will see after signing up is Add Child:
Here you can select your child's name and birthday.
Then select Add.
You will see this for each child that has been added.
When you're done adding children, select Next.
STEP 2: Add your payment information.
The video shown on this page explains how payment information from a parent is required by the Children's Online Privacy Protection Act (COPPA) to give Bark consent to monitor your child's accounts and devices..
Also, make sure your ideal subscription plan (annual versus monthly) is selected before you enter your payment information! You can change your subscription plan later, as well.
STEP 3: Select the email, social media, and device that you know that child uses.
You will later be prompted to do this for any other children you have added to Bark:
In this example, our only child has chosen one from each category:
Then, click Next on the bottom right (you may have to scroll down):
STEP 4: Select Sounds Good, Let's Connect.
NOTE: Select that button even if you've accidentally selected too many accounts, and we'll remove the ones added in error at a later time.
STEP 5: Select Connect or I'll do this later for each selected email, device, and/or social account for each child.
NOTE: Depending on how many selections you made for each child, you may have to go through many screens until Bark is done asking about each one, so just hang in there!
If you'd like to connect that particular account for that particular child, select Connect and enter your child's login credentials for that platform. This will allow Bark to monitor your child's account for that platform going forward. Bark will be able to alert you about potential new accounts in the future as well.
If you'd like your child to retain privacy over their passwords, you can invite them to connect their own accounts by selecting Invite to Connect Accounts. Bark will be able to alert you about potential new accounts in the future as well.
If you'd like to skip any selection for now, just keep selecting I'll do this later or Next for each email and/or social media prompt that comes up.
Then, to finish connecting the social or email account to Bark for monitoring, you will click Allow.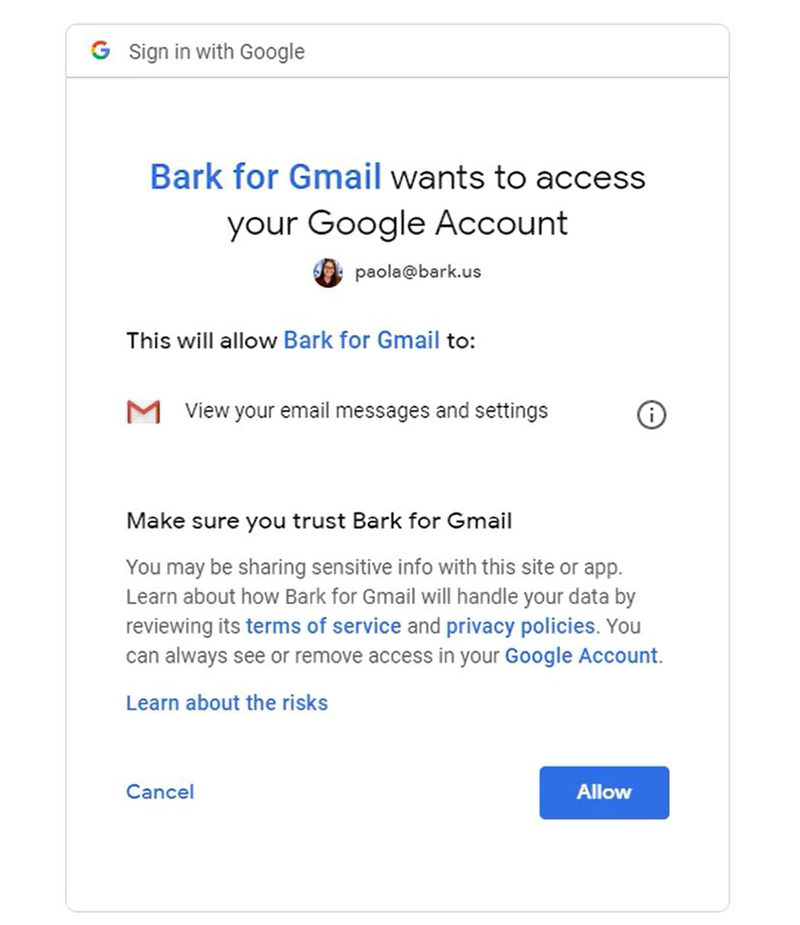 If you are having trouble connecting a social or email account, check out our troubleshooting solutions.
If you are connecting a child's device for monitoring, check out these other guides with detailed instructions:
NOTE: If you are receiving an error message after selecting Allow on a Google connection, it's because your child's Gmail birthday is under 13 years old. When it comes to monitoring Gmail accounts created for those under 13 years old, for some reason, Google restricts any third-party connection, which includes Bark. You can see what birthday you've set for your child's Google account, inside of the Google account settings.
STEP 6: Repeat these steps for all social accounts and devices for each child.
STEP 7: When presented with this page, If you've already selected and connected all accounts you'd like to connect for this child, select Done at the top right or bottom right.
STEP 8: Select Set Up Alerts.
After you've connected your children's accounts and skipped the ones you cannot connect at this time, let's move forward by selecting the button Set Up Alerts:
Then, enter your phone number if you'd like text alerts or add any other contacts you'd like to receive notifications about potential issues found on your child(ren)'s accounts, and select Done!
You did it! You got through the first-time set up even if you did not have all of your children's login credentials or devices at this time.
You will now see this parent dashboard every time you log in or click on an email or text alert.
To remove any accounts added in error, see here!
To finish connecting any accounts you didn't have the password for at the time, select Finish Connecting next to the appropriate platform, as seen below:
To add an additional email or social account for monitoring, since you get an unlimited number of accounts and devices you can monitor with Bark, see our walkthrough here!
Now have the device and ready to connect to Bark?
For your convenience here are our text and video walkthroughs for connecting devices:
Got stuck and or just need help?
Check out our troubleshooting solutions for connecting social media accounts here:
Still no luck? Bark Support has your back! Please do not hesitate to reach out to us.