Bark for Schools is proud to offer this free feature to our partner schools and districts. Thanks to the feedback of our partner schools, we were able to put our efforts into developing a solution that many schools and districts have been paying for that we can now offer at no cost — freeing up those funds for other student safety measures.
Our Chrome web filter is a custom Chrome extension you install and deploy to users on your G Suite admin console at the account-level.
Once in place, the Chrome web filter will allow for whitelisting and blacklisting of any site, and offers the function to disable access to certain sites of a given category.
We also provide granular reports at the school-level, group-level, or student-level within Bark for Schools so that you can make informed decisions on student web traffic behavior.
Before you start, please also check out our Web Filtering FAQ.
Get Started
STEP 1: Log in to your dashboard with a Bark super admin account.
STEP 2: Click the top right drop-down menu and select Web Filters.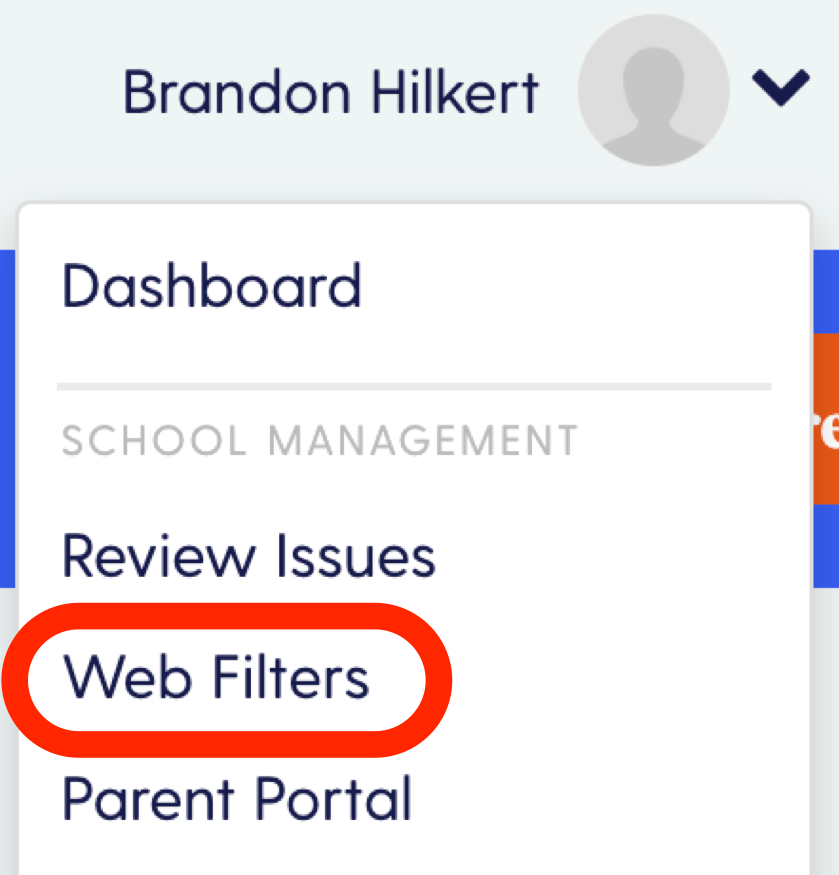 NOTE: Don't see Web Filters in your Bark account's drop-down menu? This means you are not a Bark super admin. Ask your Bark super admin for help. The super admin can also reach out to our support team to get your account elevated to super admin status in Bark.
STEP 3: Under the Chrome category, select Create new Chrome filter.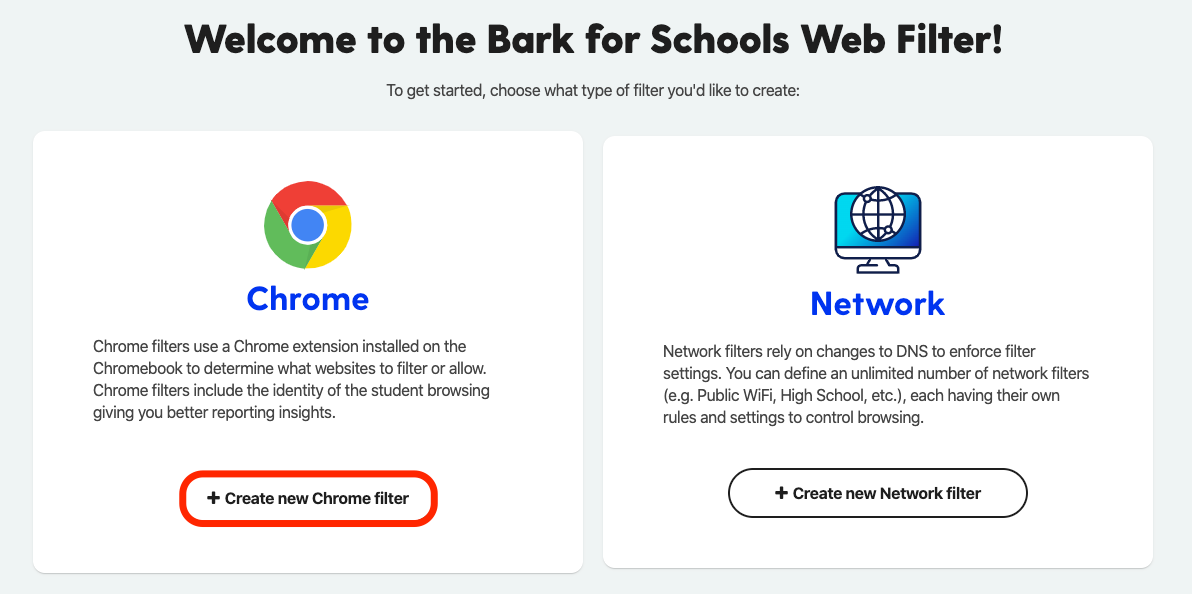 STEP 4: Understand each section.
4a. The first section provides information needed for setting up your custom Chrome extension in G Suite. The Extension ID and Extension URL fields will need to be copied into the extension details page within G Suite in Steps 9-10 of this guide.


4b. The second section allows for the input of any website you would like to blacklist or whitelist. These sites will be on a report within the dashboard for ease of visibility. You can update this at any time.

Bark also supports the use of wildcards at the front (*.youtube.com), middle (sites.google.com/*game*), or end (*.youtube.com/playlist=1234*) of a domain to fit your use-case.
The exceptions entered here are prioritized over category settings below.
4c. The third section will allow the whitelisting / blacklisting of whole categories. This is pulled from our database that houses over half of a million sites that are associated to these categories and is updated every 15 minutes. There are sites that may not fall into these categories that need to be blacklisted using instructions in the section above.
Bark groups websites into the categories shown below. Toggle each category to the appropriate setting for your use-case.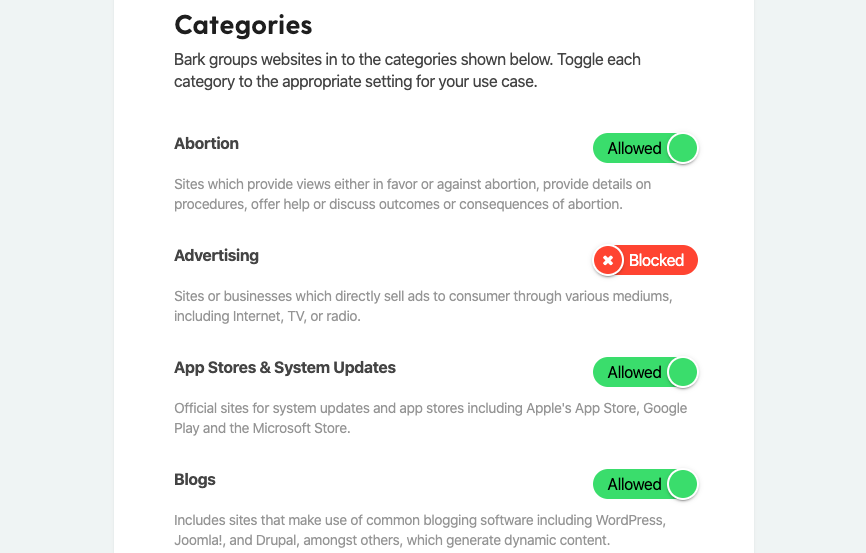 STEP 5: Finalize setup of the Chrome extension in G Suite.
Log in to your administrator-level account on G Suite.
STEP 6: Navigate to Devices.

STEP 7: Click on Chrome Management on the left-hand side.

STEP 8: Select Apps & extensions.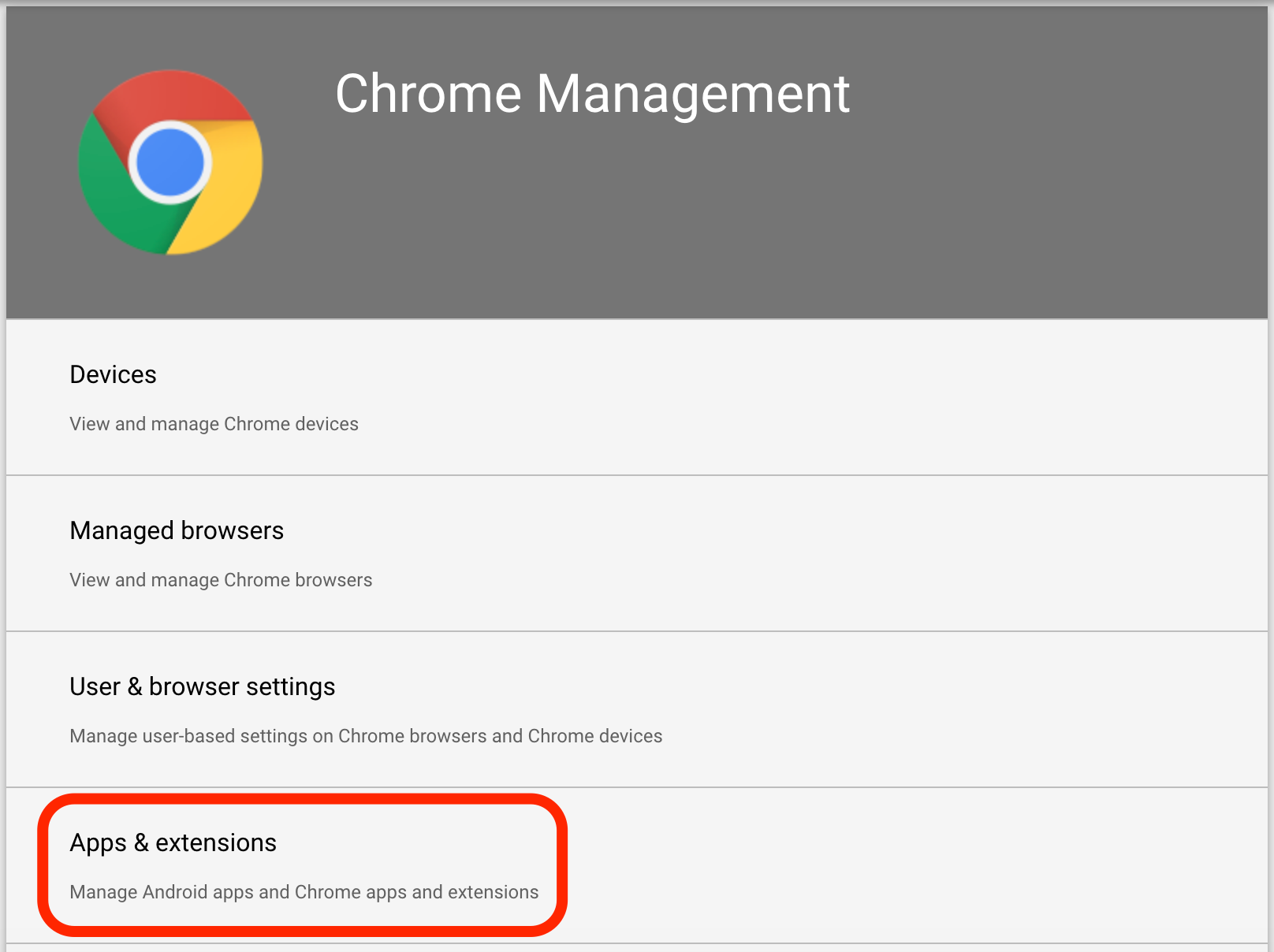 STEP 9: Select the OU(s) that contain the student accounts you wish to enable the extensions for — bear in mind that the top-level OU will force those related sub-OU's to inherit the extension.
Also, keep in mind that the web filter will be properly deployed if you're selecting OUs that have student Gmail accounts within them. The extension will not work properly if you're deploying to OUs that only contain devices.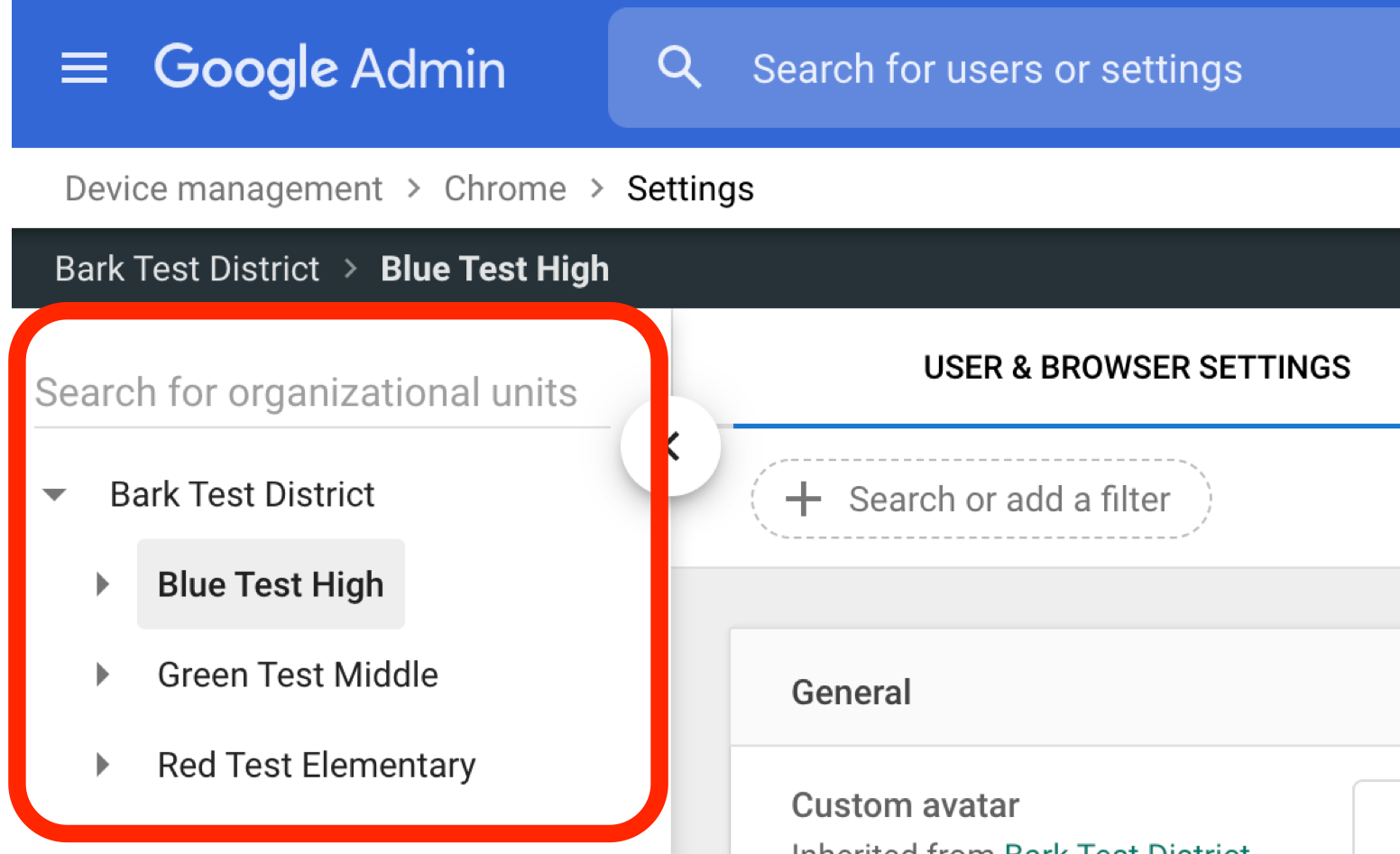 9a. Click on the yellow + symbol on the bottom right.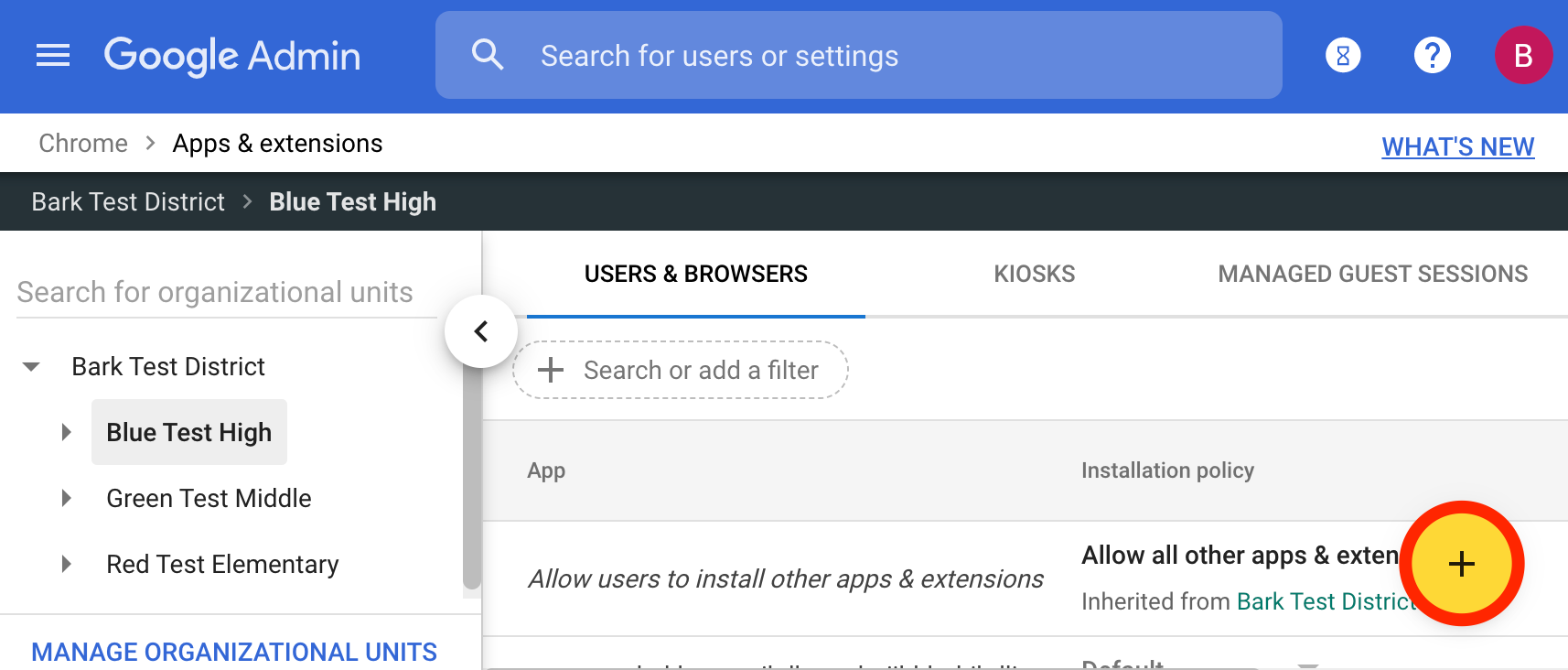 9b. Select Add Chrome app or extension by ID.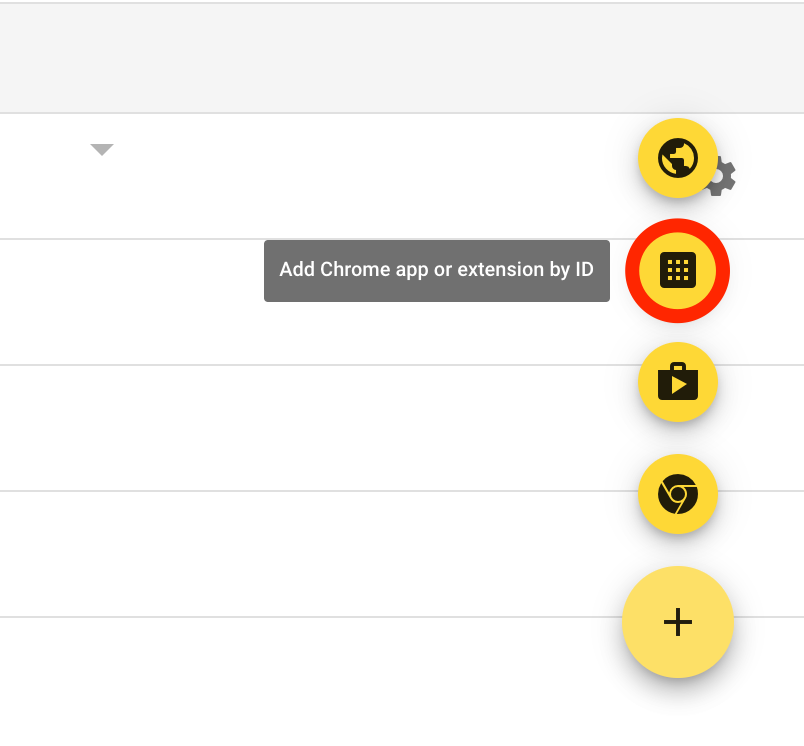 9c. Select From a custom URL.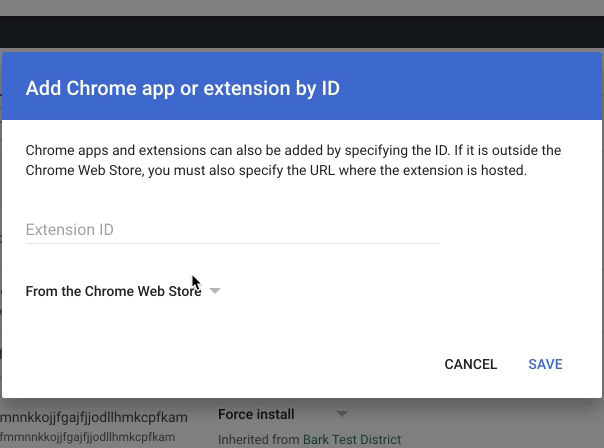 STEP 10: To find the Extension ID and Custom URL, visit your Bark web filters and view Section 1.
Then, copy and paste the Extension ID and Custom URL found in Section 1 of your Bark web filters into each section below and click Save: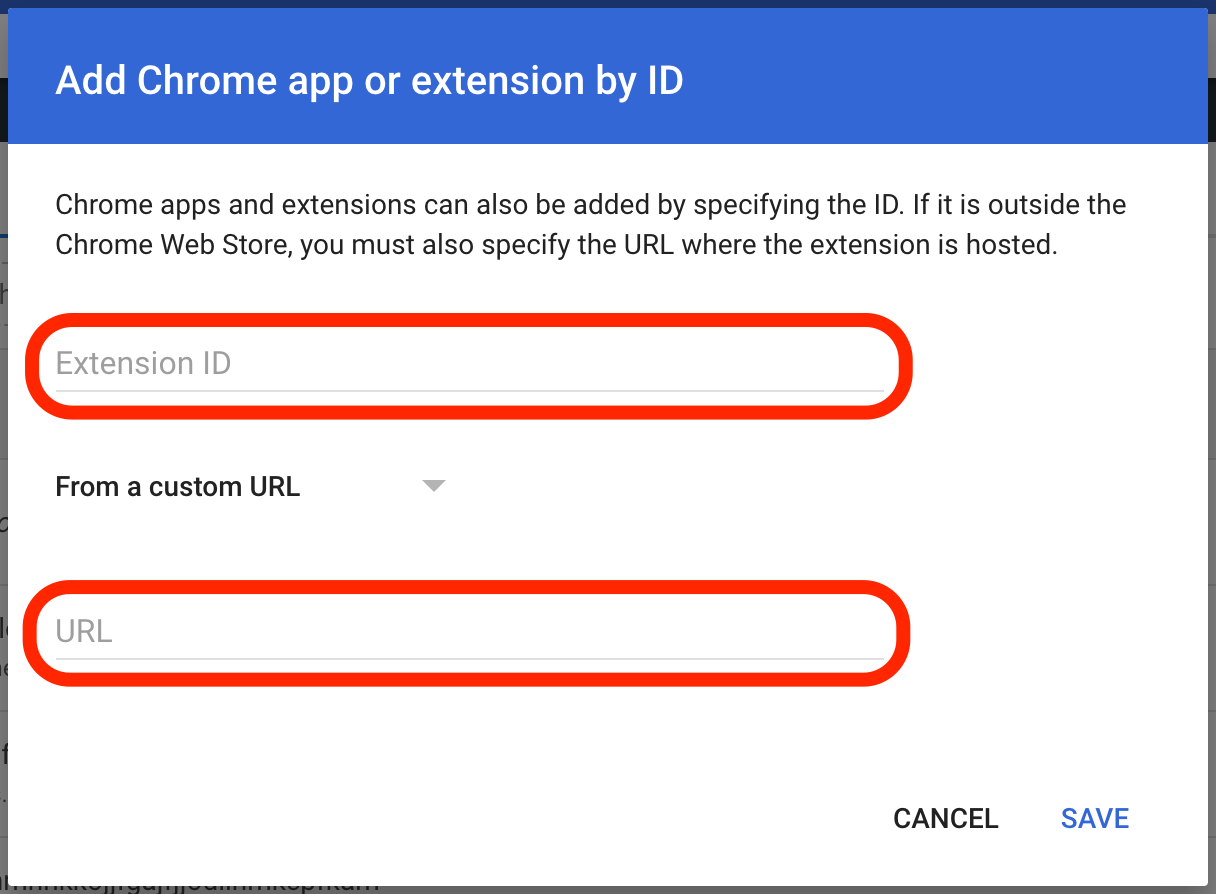 STEP 11: Locate the Bark Chrome extension you have recently added to G Suite for that OU. It will be named a series of unique letters and numbers with a grey icon on the left. Click the Installation policy and select Force Install.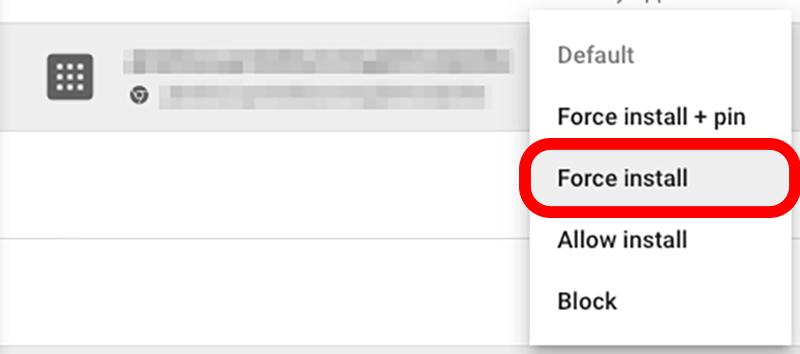 This will allow you to forcibly install the extension across all students in that OU.
Last step: If you wish to turn on the extension for OU's that were not part of the first tree, please repeat steps 5 - 11.
How do I know it's working?
When the filter starts processing web browsing activity on the network, it will display the activity on the web filter reports on the super admin's Bark dashboard, as seen below and described in this article.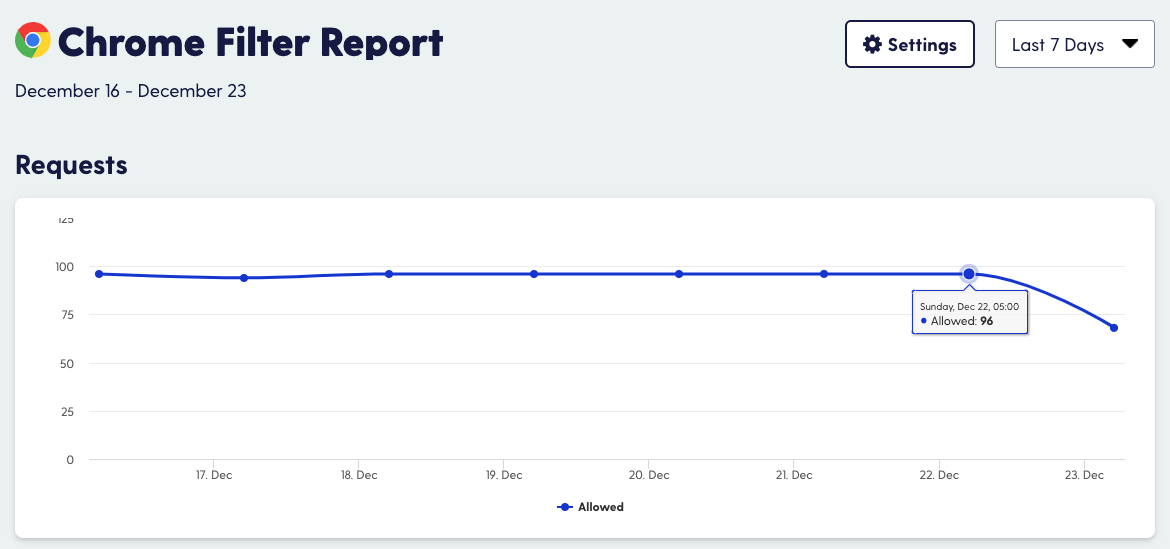 Students will also notice a Bark dog on the top right of their Chrome browser when logged in with their student account:

Additional Resources for Schools
Need help ensuring that your students are set up for success while they're using their devices? Bark for Schools has created helpful resources so you can fully optimize your G Suite settings for remote and classroom learning. Check out our G Suite Remote Readiness Guide to find out what you can do to promote a safer and more productive educational environment. Complete with a set of Chromebook resources for schools, this comprehensive guide will help you deploy your technology. Whether your school has been using Chromebooks for a while or you're brand new to them, Bark for Schools has got your back.
For information on Google's available tools for managing users on your organizational units and preventing the removal of the Bark web filtering extension (and unauthorized adding of others), check out this resource.
Need help?
We have an incredible team behind the scenes here at Bark. For technical questions, we can be reached here. Our team is happy to help!