This article addresses problems that may arise when connecting a social media, email, or online storage account to Bark under the Bark Premium subscription plan.
(What is the difference between monitoring, screen time, and filtering?)
Do I need my child's login information for monitoring?
Bark uses a layered approach to get you as much coverage as possible, meaning some platforms are monitored one way while other platforms are monitored a different way. One of the ways you may need to set up monitoring is by entering your child's login credentials for that platform (e.g. Twitter) when prompted by Bark during setup.
Not all platforms are monitored by entering your child's login credentials to Bark. When you add a monitored app by following these steps, it will tell you what it needs to monitor the particular platform you selected.
If your child doesn't have an account for a particular platform that they use (e.g. Youtube), then you can still set up screen time & filtering rules for that platform!
Managing Screen Time & Web Filtering Rules
How do I connect an account for monitoring?
Check out our connection instructions:
If you're still running into problems, it may be that you're trying to connect a platform that has special instructions, like iCloud Email or Yahoo! Mail.
How do I delete an account from monitoring?
If your child stops using an account you had previously connected to Bark for monitoring, it may be a good idea to leave it connected. This ensures that if the account is used again in the future, Bark's monitoring service can still alert you of any concerning content. With Bark's Premium subscription, you can monitor unlimited accounts and devices.
If you'd still like to remove the account from Bark, follow these steps:
Delete an Account from Monitoring
What does it mean for an account to be "Unauthorized" or "Disconnected"?
Your child may have changed their password or they may have adjusted their account's security settings. When doing either of those things, social media platforms will reset third-party access to the account in question as a security measure (Bark is considered a "third-party" in their eyes).
Luckily, you can resume monitoring by re-connecting your child's account to Bark with their updated login credentials.
How do I change my child's connected Instagram account to another account?
You don't have to change the already connected Instagram account — you can monitor an unlimited number of social accounts! Though your child may have decided they "got a new Instagram account," we recommend leaving all old accounts connected just in case your child starts to use their old account at some point.
To connect an additional Instagram account for monitoring, simply follow the same steps to connect it to Bark with your child's login credentials for the second, third, or Nth account.
Social Media monitoring unsupported on iOS
If seeing the message "Monitoring unsupported on iOS", then we cannot monitor that platform on iPhones, iPads, and iPod Touch.
The good news is, you can still block access to the platform and set a schedule for when your child can use it. We can also monitor your child's iPhone or iPad texts, other social media, and email!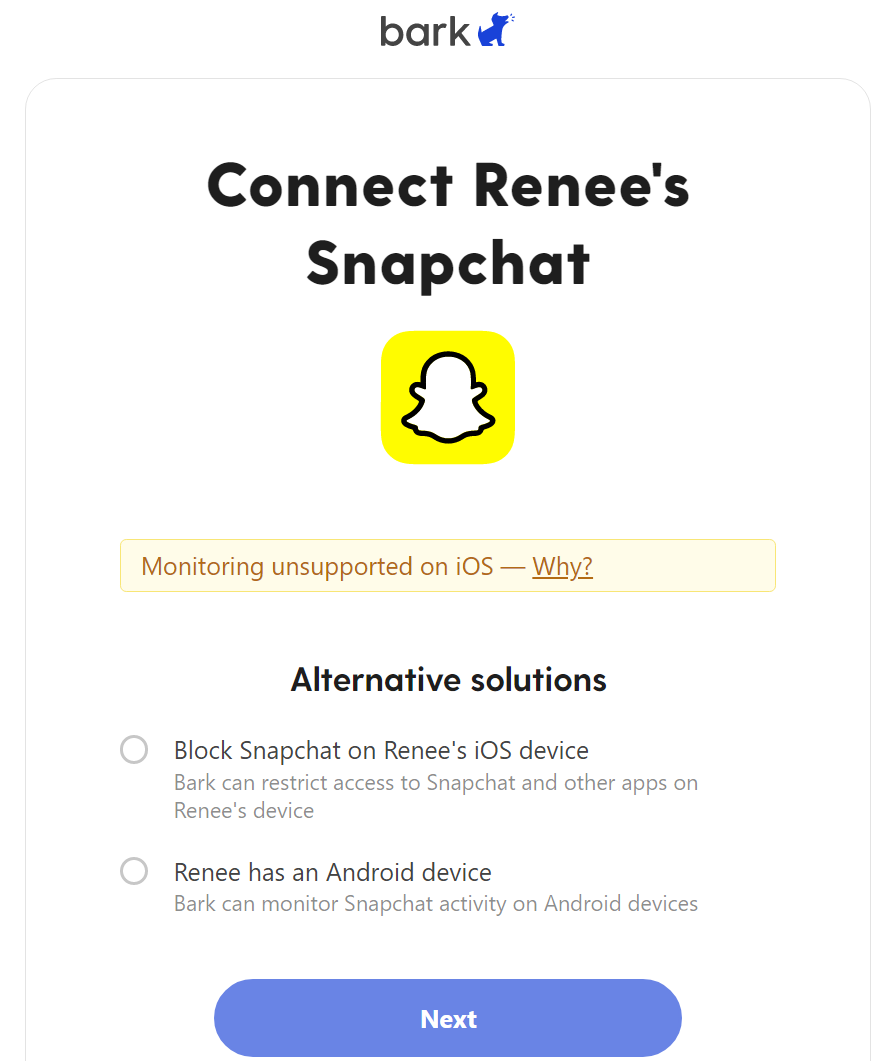 When I input my child's iCloud email login credentials into Bark, it says the password is wrong.
When I go to the iCloud website itself, I can log in no problem.
Bark is able to monitor emails sent and received (including attachments) on connected email accounts like iCloud.
Apple requires the use of app-specific passwords when connecting Apple email accounts to third parties like Bark. Learn how to generate an app-specific password and get iCloud emails monitored by following this guide:
Connect an iCloud Email Account
When I input my child's Yahoo email login credentials into Bark, it says the password is wrong.
When I go to the Yahoo website itself, I can log in no problem.
Bark is able to monitor emails sent and received (including attachments) on connected email accounts like Yahoo. Because of Yahoo's security policies, you will need to follow these instructions to connect your child's Yahoo email account to Bark.
Why am I only getting one side of the conversation in Android alerts?
If it's an Instagram, Snapchat, or Discord alert, this may be something that happens from time to time. However, if it's happening with your child's SMS/text message alerts, reach out to us.
Instagram, Discord, and Snapchat are especially tough platforms to monitor, since they give a short window to capture information. They have refused to work with us on keeping kids safe online, so we are only able to show families the parts of the conversation that we could capture in an alert.
Ultimately, we are glad we are able to alert you about potential issues on these platforms! We are consistently working to improve our service to families and help keep kids safe online and in real life.